In Week 8's college football matchups, the challenge for most teams was simply to follow the bouncing ball. There was a field goal attempt by Rice kicker Collin Riccitelli that ricocheted off of both goal posts and the crossbar — twice — in a failed try, and a pass that caromed off the hands of North Carolina State receiver in the end zone only to be plucked out of midair by a North Carolina defensive back.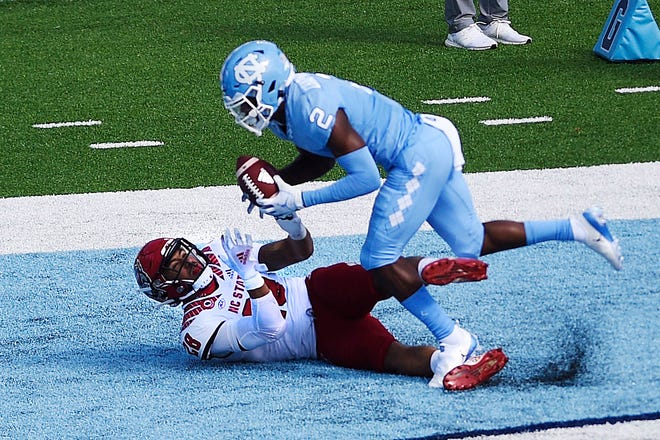 Elsewhere, Florida State quarterback Jordan Travis showed off some impressive concentration to dribble a fumble into his hands and then avoid Louisville defenders to run in for a touchdown.
We take a look at those, and other highlights from Saturday's college football games.
Rice Cooked on Quadruple-Doink Field Goal Try
Rice had a chance to earn a victory in their first game of the season over Middle Tennessee, but were the victims of the unluckiest of bounces. Owls kicker Collin Riccitelli lined up a 45-yarder with no time remaining in the first overtime, then watched in horror as the football acted like a pinball on the goal post.
Rice lost in the second overtime, 40-34, and Owls head coach Mike Bloomgren couldn't believe the bad luck.
"It's heartbreaking for him and heartbreaking for our team," Bloomgren said. "Did it hit four times? I think it hit four times. I don't think you could ever replicate that one."
End Zone Robbery
North Carolina State tight end Dylan Parham was ready to make a spectacular catch for a touchdown, but North Carolina defensive back Don Chapman had other ideas.
NC State makes a big play…for UNC pic.twitter.com/yqDmdVXMBR

— BetOnline.ag (@betonline_ag) October 24, 2020
It was one of three interceptions on the day for the No. 14 Tar Heels in the 48-21 victory. Head coach Mack Brown had told his defense he wanted more turnovers, and Chapman said they listened, giving him four.
"As coach Brown always says, they come in bunches," Chapman said.
Follow the Bouncing Ball
Florida State quarterback Jordan Travis showed some incredible hand-eye coordination against Louisville on Saturday. The signal-caller and running back Jashaun Corbin fumbled the handoff exchange, and then Travis took a potential turnover in for a touchdown.
Florida State probably should've been starting this guy sooner pic.twitter.com/f0SF7dX85u

— BetOnline.ag (@betonline_ag) October 24, 2020
It's hard to figure out what was more impressive, bouncing the football back into his hands, or the sidestepping of the Louisville defenders to get into the end zone. Sadly that was about the only highlight for the Seminoles, as Louisville won, 48-16.
Ball Explodes from QB After Devastating Hit
Michigan linebacker Michael Barrett hit Minnesota quarterback Tanner Morgan so hard in Saturday's game it looked like the ball exploded out of his chest.
Michigan (-150) starts the season out 1-0. 😳#GoBlue -3 💵
Over 54.5 💵#MICHvsMINN pic.twitter.com/k6mtSV5Jo8

— BetAmerica 💵 (@BetAmerica) October 25, 2020
Defensive lineman Donovan Jeter wisely didn't gawk at the hit and had the presence of mind to grab the football out of the air and run in for the 20-yard touchdown. The Wolverines ended up winning its season opener, 49-24.
You Make the Call
Ohio State wide receiver Jaxon Smith-Njigba made what referees couldn't agree on was a catch in bounds. One ref thought Smith-Njigba didn't get his foot down, while the other official thought it was a score.
Just an absurd TD catch by Ohio State pic.twitter.com/qC0pOOPmnQ

— BetOnline.ag (@betonline_ag) October 24, 2020
Video replay confirmed the touchdown, and Ohio State took a 45-17 lead over Nebraska, en route to a 52-17 victory.