Week 7 of college football produced some amazing highlights, including a 300-pound defensive tackle doing his best William "the Refrigerator" Perry impersonation. It was pretty appropriate since Clemson's Nyles Pinckney did it at Perry's alma mater.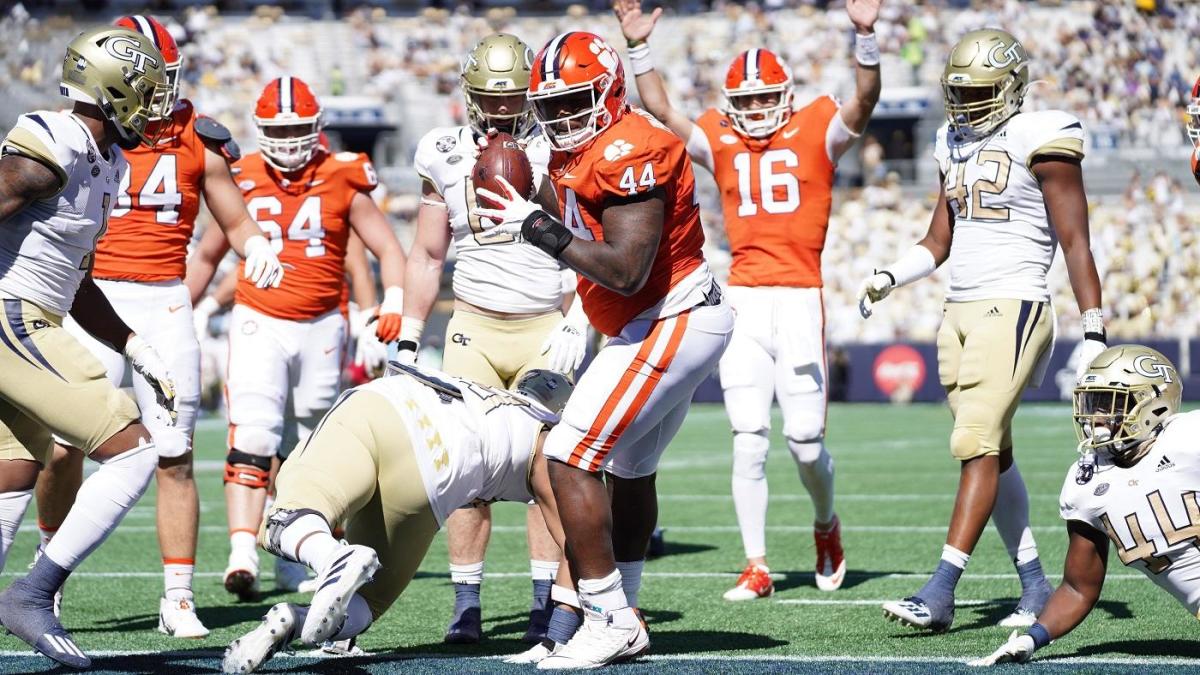 More conventional offensive players chipped in some highlights as well. BYU's wide receiver Dax Milne made not one, but two, incredible grabs in the Cougars victory over Houston on Friday night.
We take a look at some of the week's other worthy highlights below.
Can't Stop This
What do you do when you're on the 1-yard line and don't have a fullback to muscle the ball into the end zone? If you're Clemson, you employ the services of 6-foot-1-inch, 300-pound defensive tackle Nyles Pinckney.
Big man TD and 🦈 celly!

— Bovada (@BovadaOfficial) October 17, 2020
After the score, he emulated the dance actor Jamie Foxx did in the movie "Any Given Sunday."
"I saw the celebration he had when they scored a touchdown," Pinckney said. "So I told myself, 'If I get this touchdown, I'm going to do it.' I didn't lose my mind with it. But I got my chance and I did it."
Clemson, who is No. 1 in the AP Top 25 Poll, clobbered poor Georgia Tech, 73-7.
I'll Take That
BYU wide receiver Dax Milne made an incredible catch against Houston that was one of the week's brightest highlights.
@DaxMilne made this underrated catch.🤩 pic.twitter.com/OcjROLFgwW

— Mikey P (from 6 ft away) (@Mikeyvp) October 17, 2020
It was the second highlight-worthy catch Milne made in the team's win over Houston. The junior finished with three touchdowns and 184 yards. BYU quarterback Zach Wilson said his roommate is a special talent.
"That dude's a playmaker," Wilson said of Milne. "I love that guy. He's one of my best friends I'm so happy for him. I believed in that guy since day one. I've always known he was going to be a big-time player for us."
Pick Six Spells Doom for Tennessee
If anyone needed an early indication on how the Kentucky-Tennessee game was going to go, defensive back Kelvin Joseph provided it at 12:48 of the second quarter. The Wildcats sophomore picked off quarterback Jarrett Guarantano and ran it back 41 yards for a touchdown.
Kentucky's defense came to play 😤 @UKFootball

(via @SportsCenter) pic.twitter.com/DyISabrDgl

— The Checkdown (@thecheckdown) October 17, 2020
Kentucky would get another pick-six two minutes later by Jamin Davis to go up 14-0 as six-point underdogs. They won the game, 34-7. Guarantano was benched, and replaced by sophomore J.T. Shrout after the second interception. Shrout, however, threw an interception of his own, and Guarantano came back in the game.
Punting 101
Want to teach your child to punt? Take a lesson from West Virginia punter, Tyler Sumpter. This gem came late in the first quarter against Kansas.
Punt was a thing of beauty ‼️ #ForTheBrand @WVUfootball @PatMcAfeeShow

(via @CFBONFOX) pic.twitter.com/xeMGMyd87r

— The Checkdown (@thecheckdown) October 17, 2020
An assist has to go to T.K. Williams, who caught the punt on the 1-yard line. West Virginia won the game, 38-17.
Someone Needs a Timeout
Think Auburn's football program isn't unraveling? You may want to think again. This clip of a spat between quarterback Bo Nix and junior wide receiver Seth Williams could be evidence that the team is in trouble.
Some frustration on Auburn's sidelines after that last offensive possession. Chad Morris trying to be the mediator between Bo Nix and Seth Williams.pic.twitter.com/ve1NWgRoVv

— Josh Vitale (@JoshVitale) October 17, 2020
After a poor pass, Nix and Williams got into it and, after Nix was done arguing with Williams, he started in on offensive coordinator Chad Morris.
The 30-22 loss to unranked South Carolina, knocked the Tigers out of the AP Top 25.