Football is a fierce sport, and there were certainly a couple of highlights in Week 14 that showed how brutal it can be. We had one of the most vicious hits of the year on a Notre Dame punt returner. Even the refs weren't safe, as one was the inadvertent target of an over-enthusiastic celebration. Another ref got in the way of a Kellon Mond pass.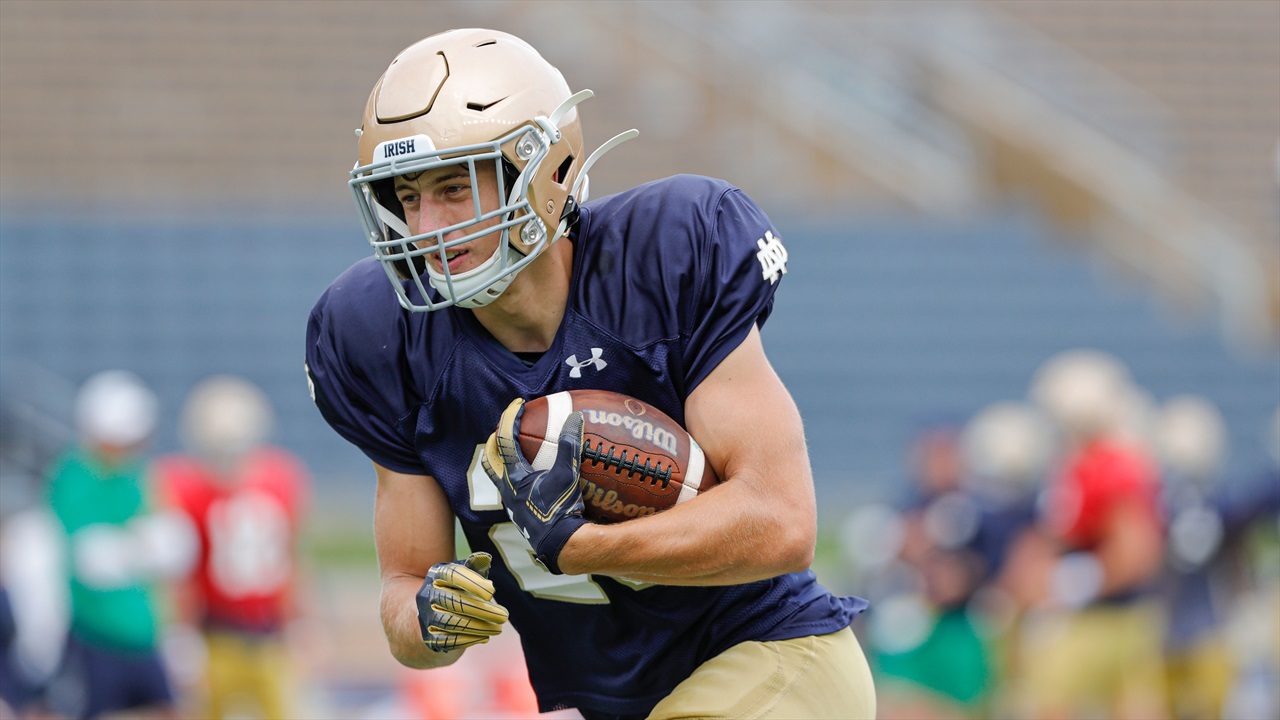 There were also some highlights that illustrated how a little trickery can throw an opponent off guard. Texas Tech displayed some razzle-dazzle that led to a touchdown in its game against Kansas while Auburn quarterback Bo Nix showed some impressive, Houdini-like skills to escape several Texas A&M defenders and find the end zone.
We look at those highlights, as well as a few others in Week 14.
Ouch!
In one of the worst hits all year, Notre Dame punt returner Matt Salerno was the victim of a ruthless hit early in the fourth quarter in the game against Syracuse. Salerno bobbled the punt and, when he regained control received a helmet-to-helmet hit that sent a piece of his equipment flying.
Probably the most violent collision I've seen all year. pic.twitter.com/lPM48bTQtI

— Brad Powers (@BradPowers7) December 5, 2020
Fortunately, Salerno got up under his own power and was able to walk to the sidelines. Syracuse's Markezy Pierre was ejected for targeting and will miss the first half of the Orange's next game.
Refs Should Get Hazard Pay
Not even the referees were safe last Saturday. This linesman was minding his own business when he was the recipient of an unintended haymaker.
15 yards for roughing the ref? 😳 pic.twitter.com/XSIOCTzk9x

— Sportsbet.com.au (@sportsbetcomau) December 6, 2020
Mississippi State quarterback Will Rogers threw a touchdown pass and celebrated with a thrown punch in the air. Unfortunately, the ref got in the way and was sent to the ground.
In another game, Texas A&M quarterback Kellen Mond threw a pass that was so far off target it hit the umpire and knocked his hat off his head.
— no context college football (@nocontextcfb) December 5, 2020
The ref was fine. ESPN analyst Todd Blackledge joked "I thought A&M was supposed to have the 12th man. Auburn's got the 12th man on this play, and it's the umpire."
Razzle-Dazzle Earns TD
Texas Tech had a play that worked much better, however; all it took was a little sleight of hand on a reverse.
Texas Tech Trickery🧙‍♂️

This nifty play puts the Red Raiders (-26.5) up 10-0!

— PointsBet Sportsbook (@PointsBetUSA) December 5, 2020
Mond even threw a block that helped Myles Price spring to the outside and score.
Bo Knows Escapes
If Auburn quarterback Bo Nix wants another career besides football, he might want to look into becoming a magician. On one play Nix evaded several Texas A&M defenders.
BO NIX! HOW?! 😱

(via @SECNetwork)
pic.twitter.com/K8Dz0ldA2R

— FanDuel (@FanDuel) December 5, 2020
His moves were so impressive, announcer Sean McDonough wondered aloud how he escaped. The play didn't help the Tigers in the long run, however; Auburn lost to Texas A&M, 31-20.
How's the Game Going Coach?
When LSU upset Alabama on the road last year, Tigers head coach Ed Orgeron made a point of celebrating in plain view of Crimson Tide players and fans. When the two teams met on Saturday, Alabama head coach Nick Saban paid him back.
LSU (+28.5) backers watching this game against Bama:

— The Action Network (@ActionNetworkHQ) December 6, 2020
At one point early in the second half, Orgeron was so mad he threw a tantrum on the sidelines. After the game, he said he didn't hear anything about Alabama trying to get revenge.
"I don't know, I can't say that," Orgeron said. "I think any time a team beats you, the next time, you want to beat them. That's sports. I ain't heard anything about revenge or nothing like that. I was focused on our team this year. That's it."