One of the biggest upsets in Week 14 betting was also a big win for sportsbooks. Marshall, who was ranked No. 15 in the AP Top 25 Football Poll, was a 23-point favorite against Rice, who was 12/1 on the moneyline. The Owls pulled off the shocker, shutting out the Thundering Herd, 20-0.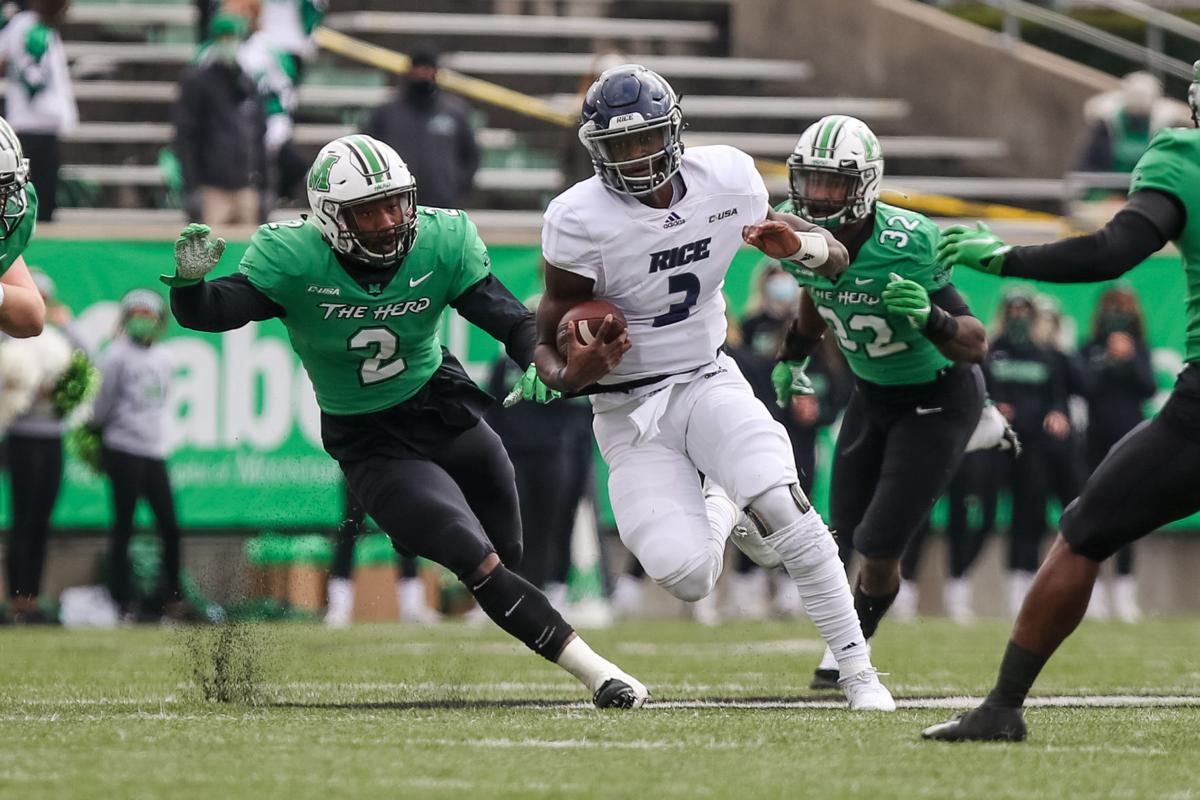 It was the first win for Rice against a ranked opponent since they defeated BYU in 1997, and the first victory against a ranked team on the road since 1991 when they defeated Baylor. The last time they shut out a ranked team was Texas in 1960. It was the first time Marshall had been shut out since falling 42-0 to Toledo in 2000.
William Hill reported that 97% of the money was on Marshall, and several parlay cards were ruined because of the upset. One bettor at the Venetian put down $25,000 on a five-team parlay card with Marshall on it, and watched it go up in flames. The wager would have only netted $3,993.75 had it cashed. One savvy gambler at DraftKings placed a $528.55 bet on Rice and got paid $9,513.
The upset was made possible by five interceptions thrown by Marshall quarterback Grant Wells. Those picks led to 14 Rice points. Thundering Herd head coach Doc Holliday told reporters after the loss that turning the ball over that many times was costly, to say the least.
"Obviously, I'm disappointed in the way we played," Marshall head coach Doc Holliday said. "Credit to [Rice coach] Mike [Bloomgren] and that team. They came in here prepared and played well."
Coastal Carolina Wins Mullets vs. Mormons
Another big upset that helped the sportsbooks was No. 14 Coastal Carolina downing No. 8 BYU. The game was put together quickly after Coastal Carolina's scheduled opponent, Liberty, had to pull out because of players and staff testing positive for COVID-19. The Cougars traveled from Utah to South Carolina on short notice to play the game, but BYU head coach Kalani Sitake told reporters after the game that wasn't an excuse for the loss.
"They earned the win," Sitake said. "We are looking forward to bouncing back and getting a better performance next week. There is no finger pointing or anything like that."
William Hill reported that 75% of the money was on the Cougars, who were a 10-point favorite. One bettor at Hollywood Casino at Charles Town Races in West Virginia saw his four-team parlay card destroyed when BYU failed to win. He had placed $90,679 to win $47,615.
TCU, Cal, Stanford Upset Top-20 Teams
Saturday had other minor upsets within the top 20. TCU defeated No. 19 Oklahoma State 29-22, Stanford downed No. 23 Washington 31-26, and Cal took care of No. 21 Oregon 21-17.
All three favorites had the majority of tickets at William Hill. Oklahoma State, favored by two, had 86% of the tickets, though TCU had 70% of the money. Washington, an 11.5-point pick, had 63% of the tickets and 60% of the money. Oregon, favored by nine, had 72% of the tickets and 85% of the money.
Dumb Bet of the Week
One gambler at BetMGM put $200,000 on the moneyline with Florida to beat Tennessee. The Gators did down the Volunteers, but the bettor walked away with just $10,000.
Stat of the Week
When Indiana defeated No. 18 Wisconsin 14-6 on Saturday, it marked the third ranked opponent they beat this season. They took down No. 8 Penn State, and No. 23 Michigan, earlier in the year. The only other season in which Indiana has three ranked wins came in 1945, when they beat No. 18 Purdue, No. 20 Minnesota, and No. 14 Tulsa.