College football continues to struggle through its COVID-19 issues, with at least 10 games postponed this week alone. On Thursday, one prominent official even discussed the possibility that the College Football Playoff could be delayed, though he worked to walk back those comments a bit on Friday.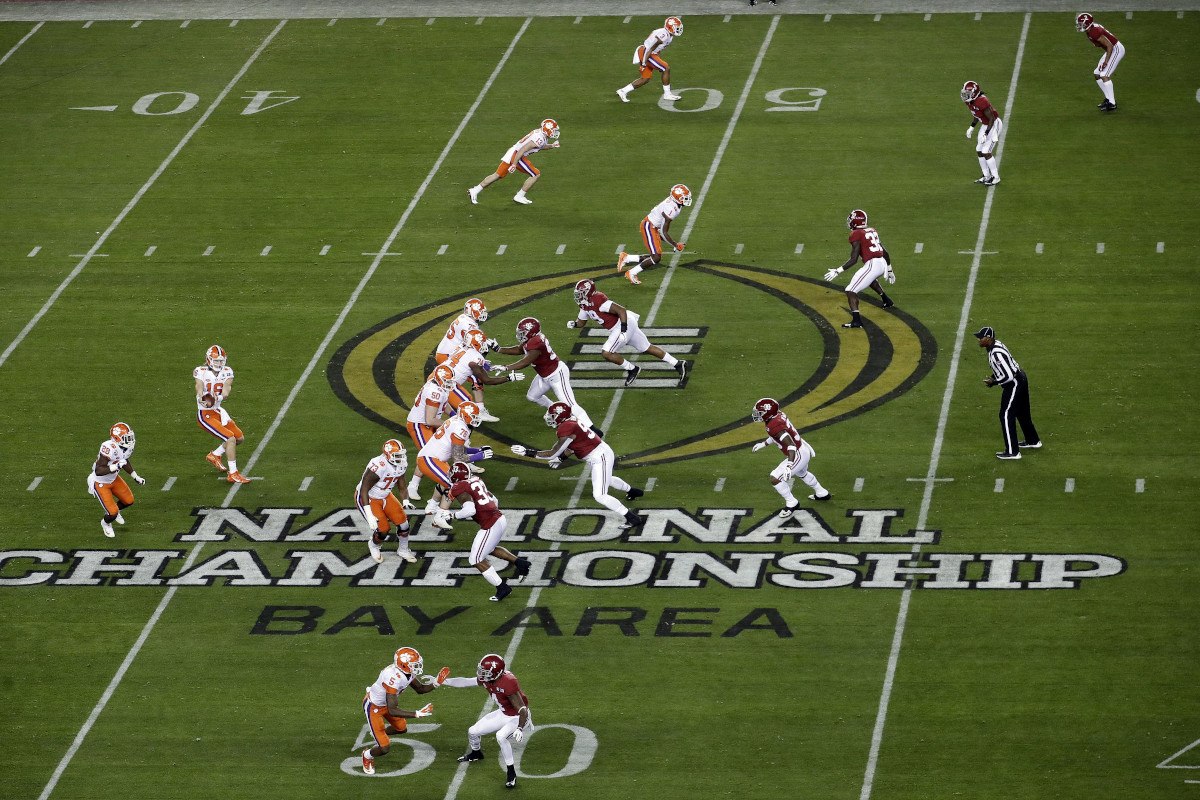 Big 12 commissioner Bob Bowlsby made headlines when he told SiriusXM on Thursday that the College Football Playoff management committee had discussed moving the national championship playoffs back this season.
COVID-19 Issues Lead to Uptick in Game Postponements
While Bowlsby said that no change to the schedule was imminent, he made it clear that officials were keeping an eye on the developing pandemic and its impact on the college football season.
"I am on the CFP operations committee and we spent some time talking about that," Bowlsby said on the radio. "We have not come to any closure on it, but there is some latitude to postpone it if that need should arise. The same is true with some of the New Year's Six games. I don't know if I see us playing a championship game in February, but you just never know."
Unlike some professional sports, college football can't realistically move to a "bubble" concept, and schools can't exercise the kind of control over players that minimized the impact to the MLB and NFL seasons. From the beginning of the season, schools expected to reschedule, delay, or cancel a significant number of games as a result.
Updated CFB COVID situation

– Total games scheduled: 370*
– Games played: 313
– Games postponed/canceled: 57
– Games impacted: 15.4%
*thru Nov. 11

— Ross Dellenger (@RossDellenger) November 12, 2020
But as winter approaches, the COVID-19 pandemic is intensifying in the Northern Hemisphere, including throughout the United States. That has led to more outbreaks on campuses and among teams, forcing an increasing number of changes to the college football schedule.
College Football Playoff Schedule Remains Intact
Two of the top favorites to win the College Football Playoff have postponed their games this weekend. No. 1 Alabama was set to play LSU, while No. 3 Ohio State planned to take on Maryland. Alabama and Ohio State stand as +200 co-favorites to win the national championship this year, according to FanDuel Sportsbook.
On Friday, Bowlsby sought to downplay his comments, saying that the conference commissioners were only being prudent by considering all possibilities.
Could the College Football Playoff get delayed?@CFBHeather says it's being discussed. pic.twitter.com/rIbuIhmbhW

— Get Up (@GetUpESPN) November 13, 2020
"We're not going to move off of that schedule unless we're forced to move off of it," Bowsby told ESPN. "The commissioners regularly engage in scenario planning. We wouldn't be doing our jobs if we weren't. That's been especially true in 2020."
SEC commissioner Greg Sankey made similar comments earlier this week.
"We have finish lines right now," Sankey told reporters on Wednesday. "The semifinals are on [Jan. 1]. The championship is on the 11th. The reality is if you walk in the back of my building, there's a sign that says 'be flexible.'"
The SEC has postponed four games this week. The conference has since designated Dec. 19 as a date for schools to make up games that have been postponed due to COVID-19. The conference has also scheduled the SEC championship game for that date.