Because of the COVID-19 pandemic, many college football players are choosing to opt out of playing this season. Those decisions are having negative impacts on several universities.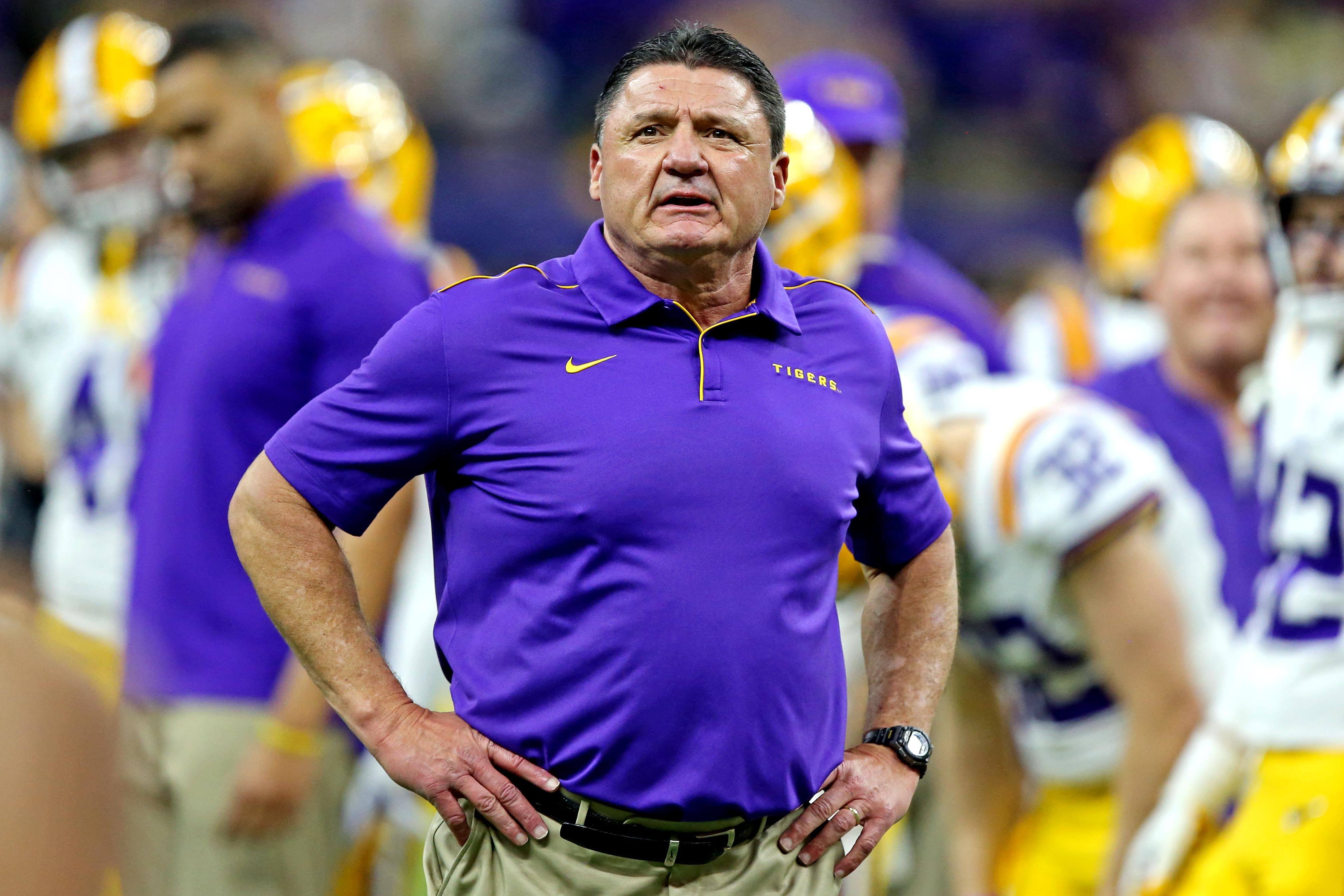 Two schools that are among the most adversely affected by opt outs are defending National Champion LSU, and Central Florida. The Tigers had three of their star players choose not to play this season because of COVID-19 concerns. UCF has seen 10 players opt out for the 2020 season.
As  a result, their odds of winning the National Championship are being impacted. LSU was installed as an 8/1 pick to repeat as National Champions a day after their 42-25 victory over Clemson in the 2020 title game. By August, the odds had increased to 14/1. Now, with players opting out, the Westgate has the Tigers as a 40/1 pick to win.
UCF has seen its odds to win the National Championship stay steady at 80/1. Georgia lost its projected starting quarterback Jamie Newman, but their odds to win the National Championship went from 8/1 to 4/1 on the news.
Player Opt Outs No Concern for Orgeron
LSU lost several starters from its National Championship team, including Heisman Trophy winner Joe Burrow. As a result, head coach Ed Orgeron could hardly afford to have any players opt out, but wide receiver Ja'Marr Chase told Orgeron on Monday he won't be playing.
That came on the heels of star defensive tackle Tyler Shelvin opting out for the season. Both players said they are going to focus on the 2021 NFL Draft.
Two other defensive starters, defensive lineman Neil Farrell and defensive back Kary Vincent, also said they won't be playing.
If Orgeron is worried about the losses, he hasn't expressed it. On a local radio show this week, Orgeron said the COVID-19 pandemic has changed everything.
"Those things are going to happen, that's the time we are living in," Orgeron said. "We wish Ja'Marr and Tyler the best. They helped us win a national championship, they are two great young men from great families. We recruited both of them, we wish them the best, but you know what? We don't blink. Next man up. Are we going to miss those guys? Sure we are. But we got some guys here that can play some football."
Could BIG 10 Return to Football?
The decision for some college football players to opt out this season was taken away from them by school administrators. In the Big 10, athletic directors voted last month to postpone the season. The PAC-12 followed soon after with the same decision.
Recently, however, there have been rumors that the Big 12 season might begin in October. Michigan head coach Jim Harbaugh reportedly told his players to prepare for the season's start.
Iowa athletic director Gary Barta told reporters on Thursday that scenario might be optimistic.
"If a miracle was handed to us today and said, 'If you take this vaccine, you won't get COVID,' yeah, I suppose you could come up with a scenario where you could play in October," Barta said. "I don't know between that miracle and where we are right now, whether or not we could get that done. I'll wait and see what the medical group comes back with and then it will ultimately be up to the college presidents to evaluate that."