In Week 10 college football action, Dartmouth (7-0) heads to Princeton (7-0) with an undefeated season and Ivy League title on the line. Meanwhile, Army and Air Force are battling for the Commander-in-Chief's Trophy.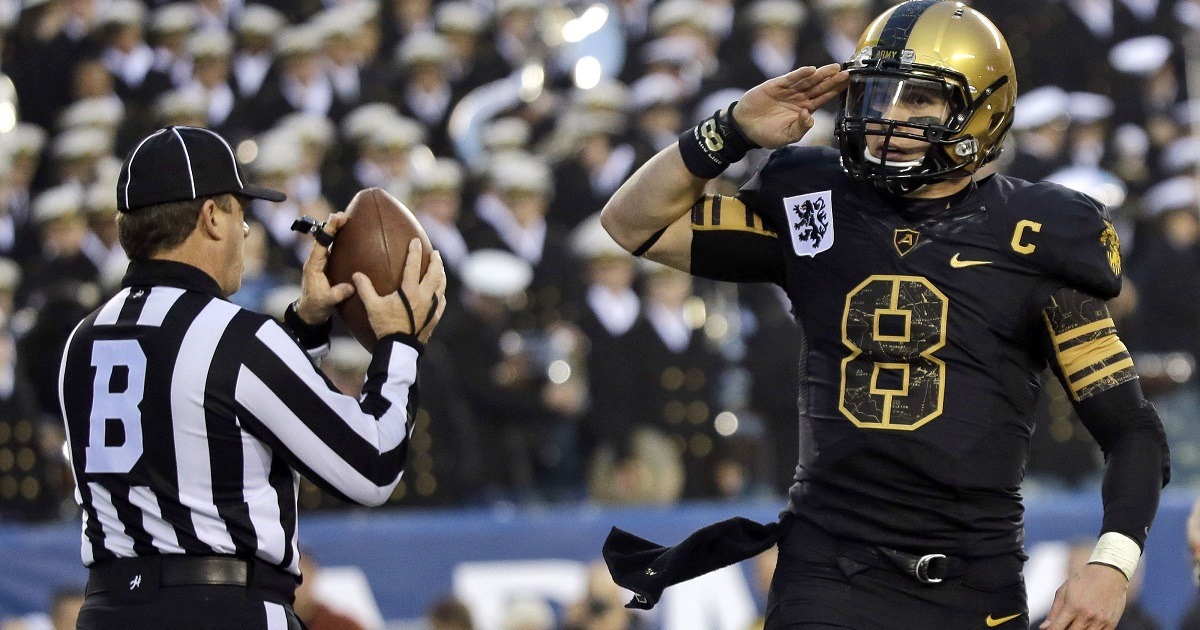 In other under-the-radar games this week, South Florida has an undefeated season online against Tulane, Appalachian State and Coastal Carolina are locked in a Sunbelt Conference battle, and will UTEP finally win a game and snap a 20-game losing streak?
Ivy League Title Fight?
Dartmouth Big Green (7-0) at Princeton Tigers (7-0)
Kickoff: 1 pm ET
Location: Powers Field, Princeton, NJ
Point Spread: -7.5
Over/Under: 57.5
Did you know two undefeated teams are vying for a conference title this week?
The Princeton Tigers mauled Cornell last week in a 66-0 blowout. Only Dartmouth stands in their way of an undefeated season and an Ivy League crown.
Princeton outscored opponents 355-64. Their defense is allowing only 9.1 points per game. They will be tasked with thwarting Dartmouth's high-octane offense that generates 35.3 points per game.
Focusing on a run-heavy offensive attack led by RB Rashaad Cooper, Dartmouth outscored their opponents 247-75 this season en route to an undefeated season. They won a close game against Harvard last week 24-17.
Dartmouth only allows 10.7 points per game, but they must figure out how to stop Princeton's fifth-ranked running game, which averages 288.7 yards per game on the ground.
Princeton is 5-2 against the spread this season and they are also 4-0 at home.
Military Clash for Commander's Trophy
Air Force Falcons (3-5) at Army Black Knights (6-2)
Kickoff: 1 pm ET
Location: West Point, NY
Point Spread: Army -7
Over/Under 47.5
A battle of the service academies with Air Force invading West Point and two of the top rushing teams in the country face each other in a classic ground battle. However, Army football is tougher to beat this year than ever.
Army won last year blanking Air Force in Colorado Springs 14-0. The Air Force is 18-3 in last 21 meetings against Army. Overall, Air Force is 36-15-1 in this military academy series with the Commander-in-Chief's Trophy on the line.
Army boasts the second-best rushing attack in the FBS with 318 yards per game. The Black Knights run the old-school triple option.
Air Force is ranked #8 with 255 yards per game.
0-20 UTEP
UTEP Miners (0-8) at Rice Owls (1-7)
Kickoff: 3:30 pm ET
Location: Rice Stadium, Houston, TX
Point Spread: Pick'em
Over/Under: 47.5
This Conference USA match up has the two worst teams in the West Division clawing their way out of the basement.
UTEP lost its 20th game in a row last week when they were shutout by UAB 19-0. The Miners are facing a 1-7 Rice team with might be their only chance at a win this season.
UTEP failed to cover the spread last week as a +15 dog, but they covered in 4 out of their last 6 games.
Rice won the first game of the season then dropped seven straight. The Owls desperately need a slumpbuster and UTEP is the perfect team for them right now.
Rice won this game 31-7 last season.
SoFla Bounce Back
Tulane Green Wave (3-5) at South Florida Bulls (7-1)
Kickoff: 3:30 pm ET
Location: Tampa, FL
Point Spread: SoFla -7.5
Over/Under: 58.5
American conference match up with first-place South Florida hosting Tulane.
After starting the season 7-0, South Florida is coming off their first loss of the season against Houston 57-35. South Florida was ranked #21, but tumbled out of the Top 25 after the loss. The Bull Dogs need a big win to get back into the rankings.
South Florida is undefeated at home this season, while Tulane is 1-3 away from New Orleans. In addition, South Florida has not beat the spread in five out of their last six games.
Wait, What's a Chanticleer?
Appalachian State Mountaineers (5-2) at Coastal Carolina Chanticleers (5-3)
Kickoff: 5 pm ET
Location: Brooks Stadium, Conway, SC
Point Spread: App St -14.5
Over/Under: 57
Sunbelt Conference action down at Myrtle Beach, South Carolina features two five-win teams.
Appalachian State Mountaineers lost to Georgia Southern 34-14 last week, which snapped a five-game winning streak. During that stretch, the Mountaineers outscored opponents 231-49.
In four of their five wins, App State held opponents to 9 or fewer points.
Chanticleers on a 2-game winning streak after squeaking by Georgia State 37-34. WR Malcolm Williams is coming off his best two games of the season with touchdowns in each game. RB Marcus Outlaw is averaging 5.2 yards per carry with 8 rushing touchdowns.
The Chanticleers beat the spread in five out of their last 7 games. The Chanticleers are 1-1 at home this season. App is only 2-2 on the road.