The Vermont Catamounts (19-5), led by the three Duncan brothers, are currently in first place in the America East and trying to win an automatic bid to March Madness for a second time in three years.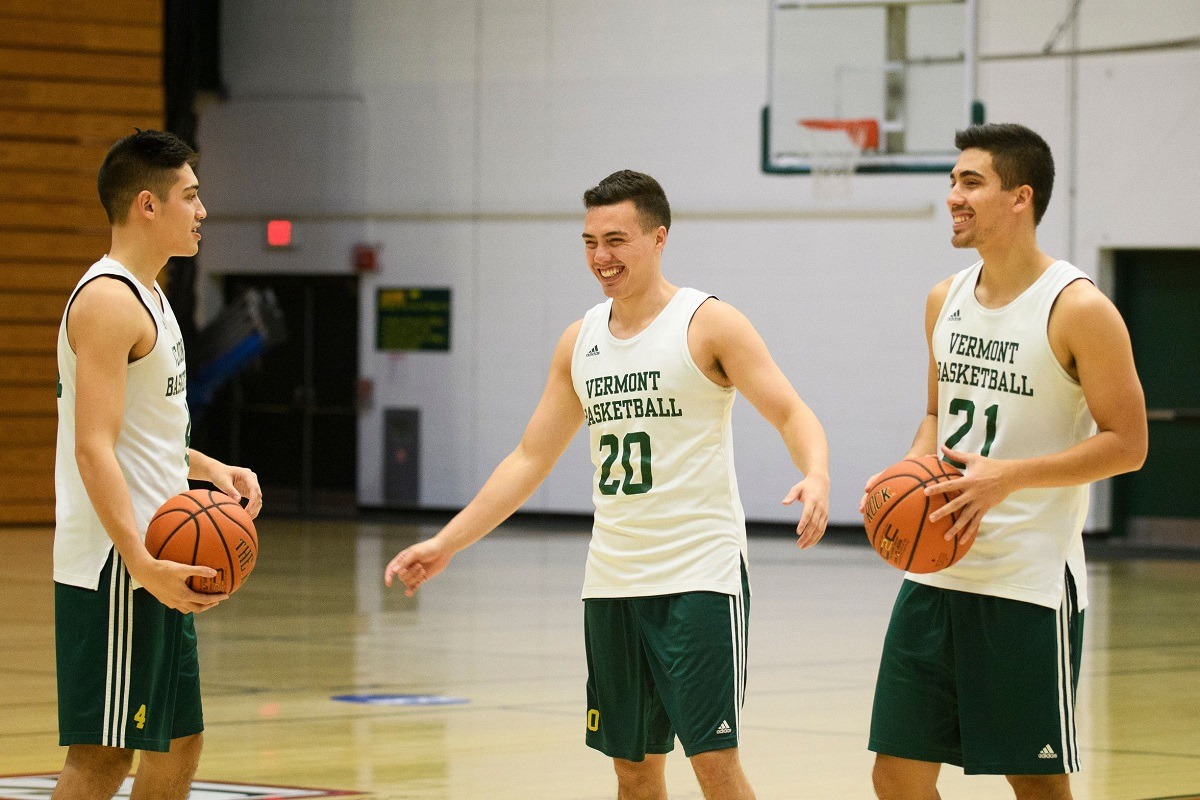 Vermont posted ten straight 20-win seasons. They're one win away from eleven straight.
Last season, Vermont finished the regular season with a 15-1 conference record. They lost in the America East conference tournament to Maryland: Baltimore-County (UMBC). This season, head coach John Becker has Vermont is on a mission to return to March Madness. He has a secret weapon this year with a third Duncan brother. Robin, the youngest brother of Ernie and Everett, is a freshman on the Catamounts, who broke both of his older brothers' scoring records in high school.
Three Duncans in Burlington
Burlington, Vermont is not just the home to Ben & Jerry's and the band Phish. It's also one of the hotbeds for basketball in the Northeast Kingdom. The region of the US near the Canadian border is known as both hockey country and hoops country. Vermont often attracts the top talent in the area, including Canada.
Except the Duncan brothers. The trio from Evansville, Indiana get significant playing time. Ernie Duncan, a 6-foot-3 red-shirt senior, is second on the Catamount in scoring with 15.0 points per games. He's also hitting 44.4 percent of his three-point shots.
"I thought I was doing my own thing," said co-captain Ernie Duncan. "I figured I'd be here by myself. And it's just funny how things happened."
Everett Duncan, a 6-foot-6 junior forward, is fourth in scoring averaging 6.9 points per game. He followed his older brother to Burlington. Everett broke his older brother's scoring record at Harrison High School back in Indiana. The youngest of the Duncan clan, Robin, is a 6-foot-five freshman. He shattered scoring records previously held by both Ernie and Everett at at Harrison. In his first year in Vermont, Robin averages 5.4 points and 4.3 rebounds per game, which is second-best on the team.
"All three of them are like basketball savants," said Vermont head coach John Becker. "They know how to play. They do things that help you win. They're hard-working. They're everything you want in a player."
The three brothers have played together at the same time. It marked the first time since 1977 when the Herron brothers from Villanova achieved the rare feat that happened only five times in Division I basketball. This will be the only year that they will be able to play together before Ernie graduates.
"It's really special to have us three on the team and we're going to appreciate this for a long time," said Everett.
Upset City, UMBC
Last season, Vermont finished the regular season with a 15-1 conference record. They lost in the America East conference tournament to Maryland: Baltimore-County (UMBC). UMBC won by three points and advanced to March Madness as the #16 seed. Vermont's loss is significant because it set forth in motion a historic upset.
UMBC throttled #1 Virginia by twenty points. UMBC knocked off a top-seed and the #1 team in the country at the time. A #16 had never beaten a #1 seed before UMBC's stunner. UMBC made college basketball history and to think that Vermont had a small hand in that massive bracket buster.
UMBC's Cinderella run ended when #9 Kansas State beat them by seven points in the Round of 32. This year, UMBC (15-10) is in third place in the America East standings.
Vermont's biggest rival this season is Stony Brook (20-5). The Seawolves have an 8-2 conference record, yet trail Vermont's 9-1 clip in the America East.
Several other teams stand out this season from the rest of the pack at the prestigious schools. Nevada and Houston are trying to prove that they are as good as any of the schools in the Top 10. Meanwhile, Buffalo from the MAC can't get any respect and they're currently at the bottom end of the Top 25 AP Poll. Meanwhile, Yale is making a run in the Ivy League are trying to lock down a berth to March Madness.