Derek Jeter's most popular rookie card just saw a record sale of $690,000, and some observers say the buyer got a deal.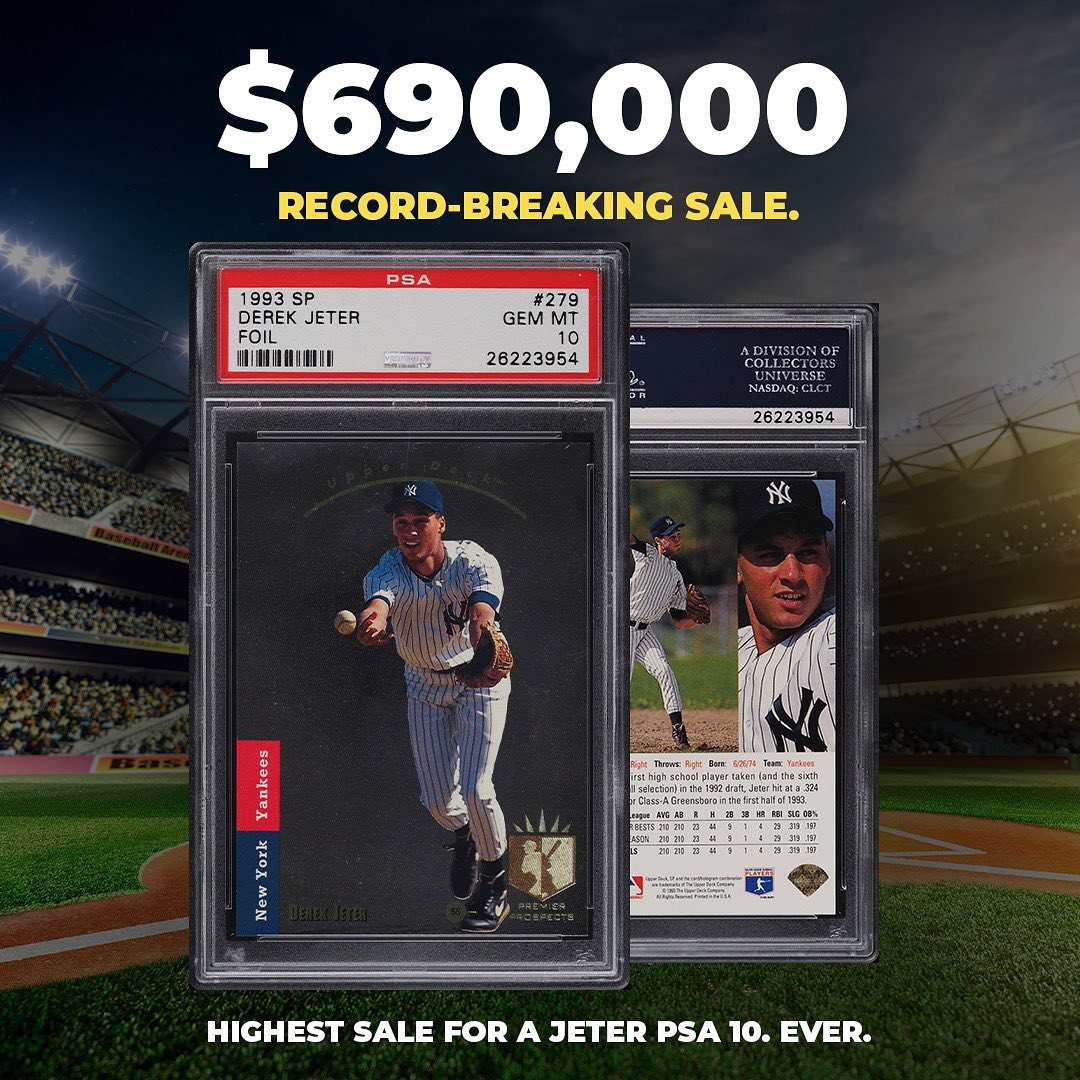 PWCC announced on Facebook Saturday that a version of Jeter's 1993 Upper Deck SP graded Gem Mint 10 by PSA hit that momentous number in a private, fixed-price sale on its marketplace.
"The highest sale for a Jeter PSA 10. Ever," the post said. "That's another record broken. What's next?"
Incredible growth in value for Jeter SP rookie card
To understand the exponential increase in the card's value, PSA's own Sports Market Report price guide lists the value of a PSA 10 Jeter SP rookie at $160,000 based on past sales; less than a quarter of what one just sold for.
The card is notoriously hard to find in mint or gem mint condition. Its dark edges and foil coating create a situation where light damage easily occurs and is very noticeable. PSA notes that many of the cards exhibit "wear from the moment they are removed from a pack."
Just 21 of the more than 18,000 copies of the card that PSA has graded earned the Gem Mint designation. Put another way, only about 1 of every 1,000 copies has been deemed virtually flawless by PSA.
Seven-figure card sales quickly becoming a trend
Because of the exclusivity of that grade, coupled with the boom in the sports card market, some believe the card could top $1 million the next time a gem mint copy comes to auction. If so, it would follow a recent trend of rookie cards of some of the top luminaries in other sports topping seven figures for the first time in recent weeks. An autographed Tom Brady rookie just sold for $1.32 million, while a pristine Kobe Bryant rookie card sold for nearly $1.8 million.
"That's CHEAP!" wrote user here2havefun on the Blowout Cards Forum of the PWCC sale, noting that a PSA 10 Jeter SP last sold for $168,000 in 2019. "Based on what's happened in the hobby since then, plus what's happened to this card in the last 3 months, $690K feels like a good deal," here2havefun wrote.
The Jeter SP card, along with many of his other rookie cards, saw a big bump in values in recent months in advance of the Yankees great's Baseball Hall of Fame induction in July.