It was a busy weekend for Cole Custer. The 21-year-old returned to his Southern California roots and was eager to race in front of family and friends at the Auto Club Xfinity series on Saturday.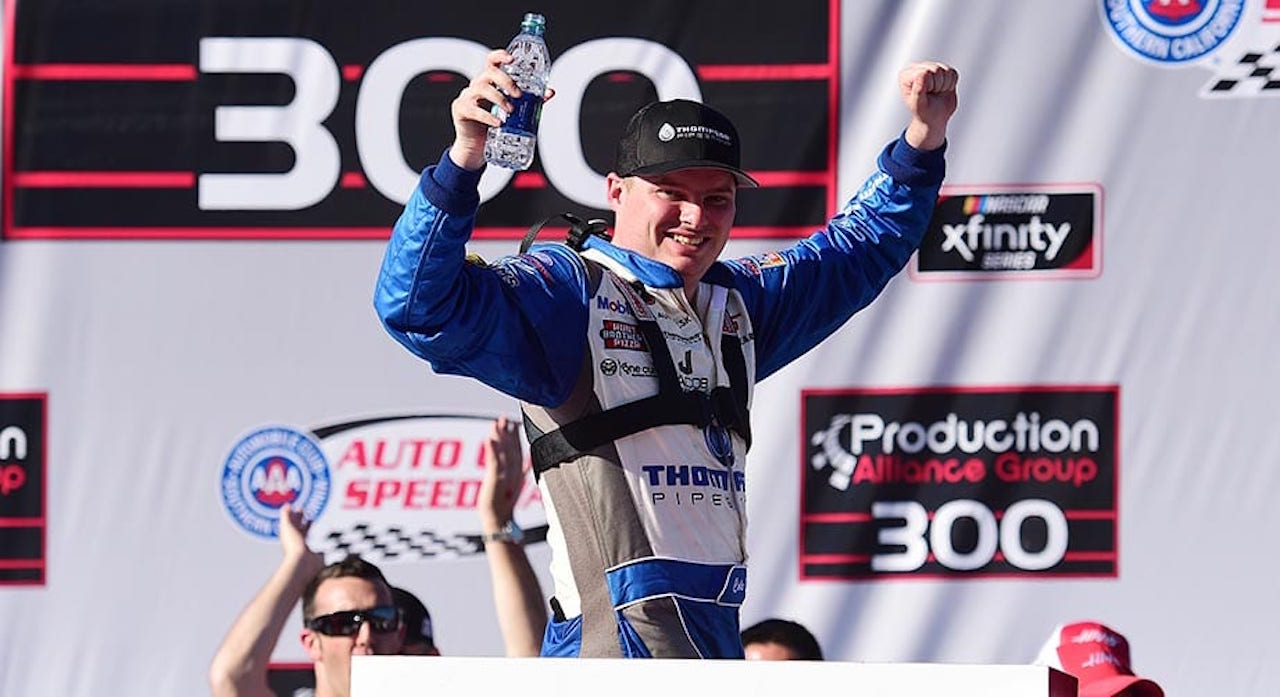 There he held off Kyle Busch in the Production Alliance Group 300 Xfinity Series race, denying Busch his 200th victory. It meant a lot to Custer to prevent Busch getting the victory that would tie Richard Petty's all-time mark.
"I grew up racing at Orange Show and Irwindale, and both are about 20 minutes from here," Custer said. "We had tons of people here taking pictures. Every driver wants to win here because of how cool the track is. I mean come on. It means a ton to beat him (Busch). He is one of the legends of the sport and will be in the hall of fame. It means a ton to keep him at 199."
The following day, Custer almost had a chance to duel with Busch again. He was summoned to Auto Club Speedway on Sunday as a possible replacement driver for Austin Dillon, who was battling an illness.
Custer told NBC Sports that got a call about 90 minutes before the race, and was in the middle of "eating a jumbo platter at a fast food restaurant. That wasn't the unusual part. Custer is a Ford driver and Dillon drives a Chevrolet.
It's not like Custer hasn't been in a Cup Series race before. He had three starts last year for Rick Ware Racing. He raced at Las Vegas, Pocono and Richmond, with he best finish 25th in Vegas.
Owner Richard Childress said the two car companies gave their blessing, but he didn't think Dillon was going to pull out of the race.
"I think he'll go," Childress said on pit road shortly before the race. "You'll have to go and pry him out of the car. He'll drive it. He's just so weak."
Dillon, who had the pole, told his team before the race that he thought he had the flu, but thought "racing will help."
Busch Gets 200
It took a day longer than he would have liked, but Busch got his 200th victory on Sunday at the Auto Club 400. After his victory, Busch was quick to credit others.
"Just awesome, to win 200, I mean, whatever it means, it means a lot to me," Busch said. "It means a lot to all my guys, everybody at Joe Gibbs Racing. You guys are all the best. Toyota, TRD. It's an amazing opportunity to drive for Joe Gibbs. I cherish every minute of it, love it always."
Busch got some love from his older brother, Kurt.
"This is a big day. For my little brother to have 200 wins, they're all added up through his hard work and his dedication to perfection," Kurt Busch said. "Not bad for two kids with an attitude from Vegas."
Penalty for Hamlin's Crew Chief
This was the fourth consecutive week for a fine levied at a driver or a member of his crew. Sunday it was Denny Hamlin's crew chief, Chris Gabehart.
Gabehart was fined $10,000 for lug nuts not properly installed following the race Auto Club Speedway. The inspection found one lug nut was not safe and secure.
Hamlin finished seventh.
This Week's Odds, Pick
The drivers head east for the STP 500 at Martinsville Raceway in Ridgeway, Virginia. Busch is the overwhelming favorite at +160. Martin Truex Jr. and Brad Keselowski are next at +500.
We like Joey Logano. He is at 7/1, and besides Busch, has the best record in 10 races at Martinsville.