As Florida's men's basketball team puts its regular schedule on hold to travel to Connecticut's Mohegan Sun Casino for a pair of games in the Legends Classic tournament, other programs will have to start getting more creative to remain viable.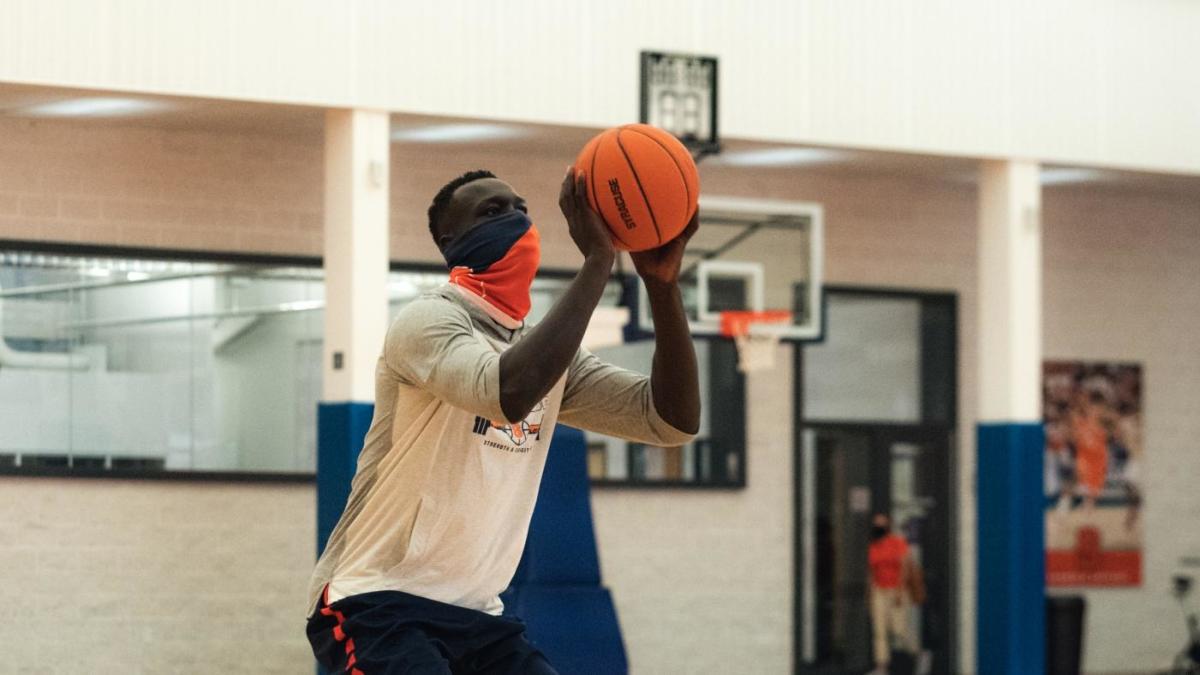 The Gators will tipoff against Army on Wednesday and Boston College on Thursday night in the casino's self-proclaimed "Bubbleville." The games were initially scheduled for Nov. 25 and 27, but Florida had several positive COVID-19 test results.
Florida was set to play at Oklahoma on Wednesday, but the Sooners were forced to cancel because of their current outbreak.
Vanderbilt's men's team won't play in the Legends Classic vs. host UConn on Tuesday, as their program is on pause due to COVID-19 protocols.
They also had to cancel their second-round game, which would have been vs. Southern California or BYU on Thursday.
Instead, St. Johns will play BYU at the Legends Classic on Wednesday after canceling at No. 17 Texas Tech on Thursday. The Red Storm decided not to travel to Lubbock, citing concerns with picking up the virus in Texas.
No. 21 Oregon added a game with Missouri at CenturyLink Center Omaha on Wednesday after both programs pulled out of the Legends Classic, citing travel concerns. Missouri was set to face Oregon and Boston College in the tournament, and the programs agreed to meet halfway in the Midwest.
West Coast Seasons On Pause
UCLA was set for its first home tipoff Tuesday vs. Long Beach State, but the game was called off because of Long Beach State's COVID-19 protocols. CSULB's program will continue its basketball activities without pausing, said Roger Kirk, Long Beach State's assistant athletic director. The game has yet to be rescheduled.
Up the road at Pauley Pavillion in Malibu, the Pepperdine men's basketball team saw its home opener vs. San Jose State canceled because of the new COVID-19 regulations in Santa Clara County, home of the Spartans.
There is currently a three-week ban in the county on all practices and games for teams that play contact sports. This includes the San Francisco 49ers, who are now in the market for a new home, along with Stanford and San Jose State's sports programs. Players who travel more than 150 miles for games are also mandated to quarantine for two weeks by the county. The game has yet to be rescheduled.
Pepperdine also won't have an opponent for its Saturday game vs. Fresno State, as the Bulldogs' program has been put on pause for weeks after its outbreak. The Waves' next scheduled game is against Cal on Dec. 9 at home. Its athletic department said it may look to schedule last-minute replacement games between now and then.
Northern Arizona's back-to-back games vs. Eastern Washington scheduled for last weekend in Flagstaff have been rescheduled to tipoff on Dec. 18-19. The Lumberjacks also canceled their opener at Arizona last week due to positive COVID tests and contact tracing.
Boise State and New Mexico's back-to-back tilts on Thursday and Saturday have been postponed due to contact tracing protocols for both programs.
Some Midwest Hoops on Hold this Week
Wake Forest's men's basketball program is pausing team activities for the rest of this week due to positive tests and contact tracing protocols. Their next game was supposed to be vs. Troy on Wednesday.
The Demon Deacons will potentially host Presbyterian on Dec. 13.
On Tuesday, Maryland and Towson's matchup was canceled following positive tests from Towson support staff members. The Terps (3-0) are still scheduled to play George Mason on Friday.
The South is Scrambling
Tennessee State postponed the start of its men's basketball season because positive tests and contact-tracing protocols have left the team short of available players. The Tigers were to host Belmont on Wednesday night. The game will tip on Dec. 18 instead.
The Georgia Bulldogs added a game to their schedule, announcing they'll host Division II North Georgia on Wednesday night. The game is a make-up for last Wednesday's home opener vs. Columbus State, which was canceled right before tipoff because of a positive COVID-19 test.
Georgia ended up opening the season Sunday with an 85-75 win over Florida A&M, which was also a substitution after original opponent Gardner-Webb canceled.
William & Mary has paused all men's basketball activities following a positive COVID-19 test, including Monday night's game at N.C. State. The team will quarantine for two weeks and is set to return to practice on Dec. 14.