Hall of Fame coach Mike Krzyzewski was on the sideline once more on Saturday as No. 21 (5-2) Duke beat Wake Forest, 79-68.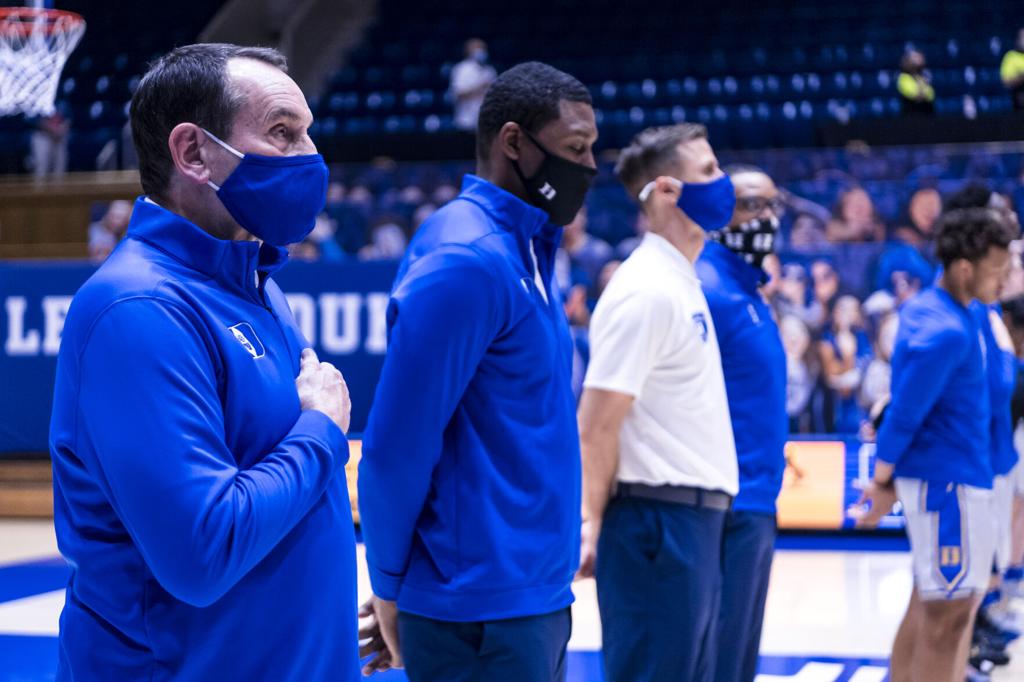 Krzyzewski, 73, missed Duke's win Wednesday against Boston College while he and his wife quarantined after family members tested positive for COVID-19. Krzyzewski said he tested negative throughout quarantine, and is in good health.
The Blue Devils' coach was tested again early Saturday before tip-off and added that his daughter and granddaughter are infected, and "doing OK, but not great."
In the postgame press conference Krzyzewski, in addition to addressing his health status, spoke of the nation's well-being amid the pandemic and the storming of the nation's Capitol on Wednesday by Trump supporters at the outgoing president's urging. The insurrection has resulted in at least five deaths.
Former Army Captain Says Symbol for Our Democracy 'Spit On'
Krzyzewski, a West Point graduate, and a former Army Captain, said he watched the storming of the Capitol from home and referred to it as a "horrible day" that "went to the very fabric of this great country."
"The symbol for our democracy is that Capitol. We allowed that symbol to be really just spit on and stepped on. It was a sorry day," he said. "My prayers go out to the officer's family who was killed by the Capitol police, just like my prayers go out to the 16,000 families that have lost loved ones in this last week. Are you kidding me? There's 16,000. And that whole thing, like, what the hell are we doing? What the hell are we doing?"
The Duke coach called for all involved in the act of sedition to be prosecuted, and for the politicians encouraging or defending the incident to be singled out and chastised.
He also expressed sadness, anger, frustration, and confusion about the slow rollout of the COVID-19 vaccine, and the lack of responsibility from the current administration and other lawmakers.
Duke Travels to No. 19 Virginia Tech Tuesday
This season, Krzyzewski has been outspoken about the inherent risk of playing through a pandemic. Duke's program has been put on pause multiple times, despite having some of the strictest protocols. In mid-December, Duke women's basketball became the first NCAA Power Five school to cancel its season.
Krzyzewski, a known conservative who has supported the Republican Party in the past, said the nature of the riots and the lead-up to and fall out from them is "not about being a Republican or a Democrat, it's about being a damn American."
Duke travels to No. 19 Virginia Tech (8-2) on Tuesday night, starting a scheduled stretch of three road games.