Duke head coach Mike Krzyzewski has been one of the most outspoken figures in sport, questioning the necessity of putting amateur athletes at-risk during a pandemic. Now, Coach K is starting the new year off in quarantine after being exposed to a COVID-19 positive person within the Blue Devils' program.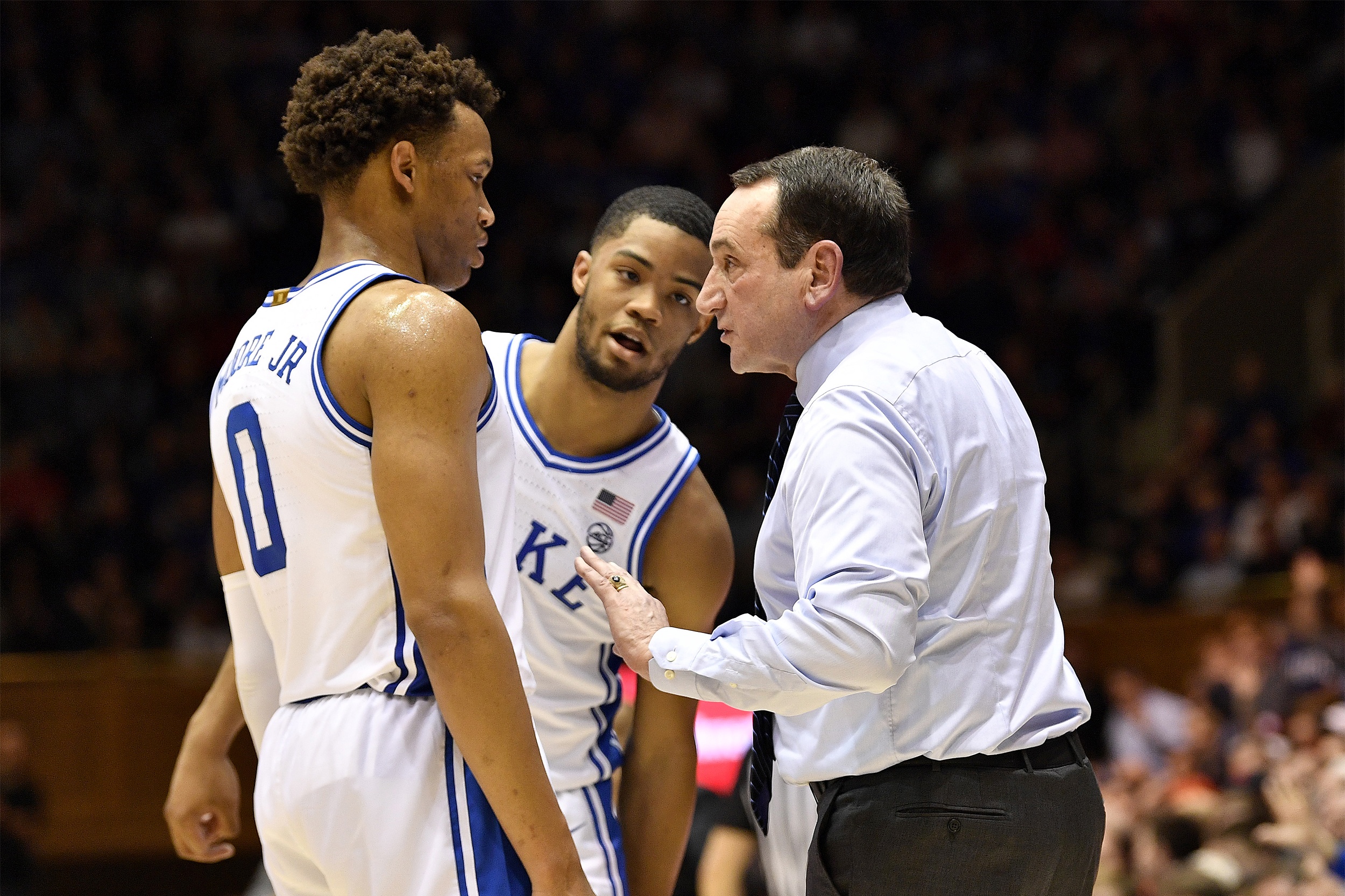 Krzyzewski has not yet tested positive for COVID-19, Duke officials said Friday.
He is also not currently with the team, which traveled to Tallahassee, Florida on Friday ahead of Saturday's scheduled Atlantic Coast Conference game, pitting the No. 20 Blue Devils against the No. 19 Seminoles.
NEWS: Coach K will miss tomorrow's game at FSU pic.twitter.com/lQeyRiQa92

— Duke Men's Basketball (@DukeMBB) January 2, 2021
A few hours after Duke's announcement, the ACC released a statement Friday night that the game had been postponed following a positive test and contact tracing from the Florida State program.
By then, the team sans Krzyzewski had already settled at their Tallahassee hotel. They are scheduled to fly back to Durham sometime on Saturday. Assistant head coach Jon Scheyer was to take over the clipboard in Krzyzewski's place. Duke was 1.5-point underdogs just prior to the game's cancellation.
Coach K's Return Unknown
The return of Krzyzewski, 74, is up in the air for early January games, including contests including the Jan. 6 game at home vs. Boston College.
Duke (3-2) has not played since mid-December turning in a 75-65 win vs. Notre Dame on Dec. 16. Its game against Pittsburgh last week was postponed because of a COVID-19 positive test within the Panthers program. The cancellation led to comments about whether college basketball should be playing at all from Pitt head coach and Krzyzewski protege Jeff Capel who had the virus.
"The players aren't getting paid to do this," Capel said. "It's different to me when you are a professional athlete. That's different. That's your job, and you can make a choice. You can make a choice whether you want to do it. And on the professional level, the rules are the same for each team. I don't think we should be playing right now."."
Duke women's basketball canceled its season entirely on Christmas Day. The team was the first Power Five squad to opt-out of the season. The Ivy League shut down all winter sports in November before the season's starting, and a handful of smaller programs across the nation also decided to put their plans on pause amid the pandemic's spike.
Other ACC and Pac 12 Contests Off this Weekend Due to COVID-19
Duke vs. Florida State is the most recent postponement and right on the heels of another ACC showdown called off for Saturday. No. 23 Virginia and No. 24 Virginia Tech was postponed Friday because a Virginia staffer has tested positive for COVID-19.
This is the second time in a month COVID-19 has led to a disruption in Virginia's schedule. The most recent national champions halted activities for ten days in mid-December.
The Pac-12 also postponed Saturday's Arizona State vs. Washington due to COVID-19 issues within the Sun Devils program. It is UW's first Pac-12 game to be postponed by COVID-19 protocols.