With QB Baker Mayfield at the helm and the addition of Odell Beckham Jr, the Cleveland Browns are favorites to win the AFC North and they're 12/1 odds to win Super Bowl LIV according to William Hill.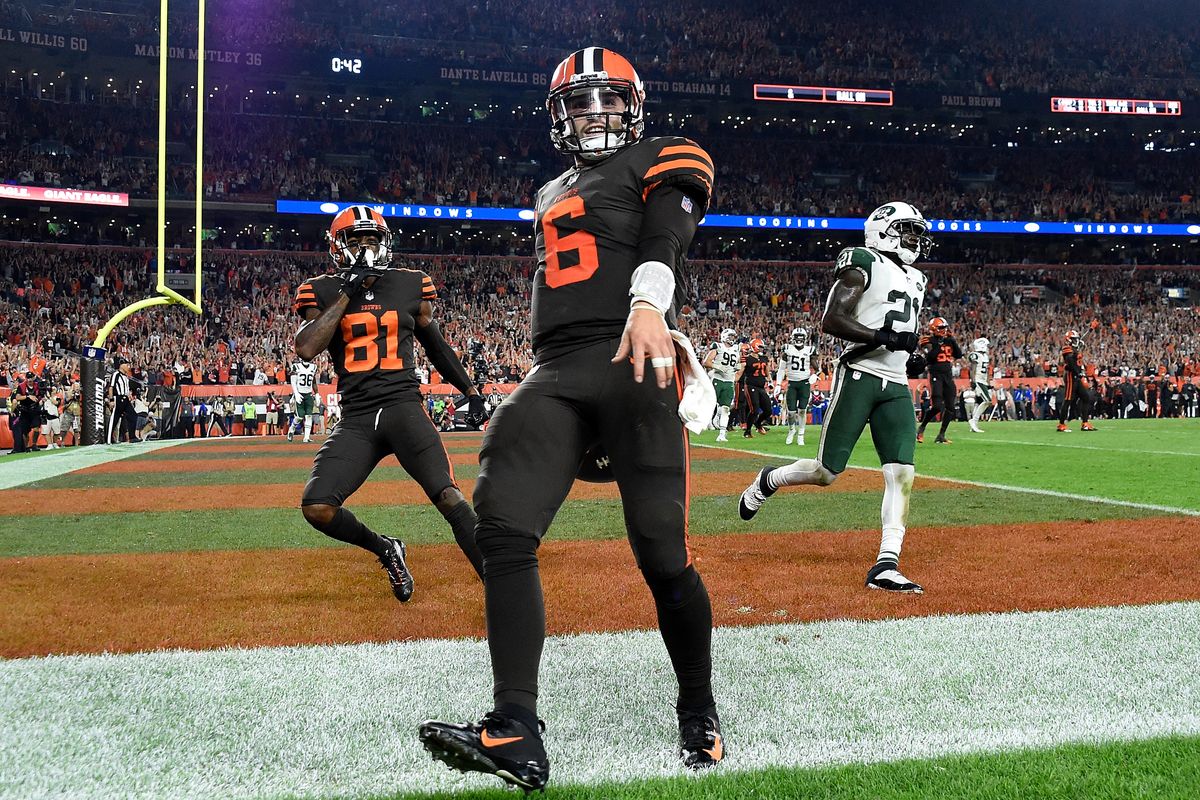 The Browns (7-8-1) in 2018 looked like a different team when Freddie Kitchens took over as interim head coach. The Browns decided to keep Kitchens and named him full-time head coach.
Along the way, the Browns upgraded their offense by adding suspended RB Kareem Hunt and ex-Giants WR Odell Beckham, Jr.
AFC NORTH SUPERBOWL ODDS
Cleveland Browns 12/1
Pittsburgh Steelers 28/1
Baltimore Ravens 33/1
Cincinnati Bengals 100/1
The Cleveland Browns are the team to beat with 12/1 Super Bowl Odds. Meanwhile, the Cincinnati Bengals are stuck in rebuilding mode and one of the longshots on the board at 100/1 odds.
The Baltimore Ravens let Joey Flacco go in order to give Lamar Jackson full reign of the offense. As a rookie, Jackson turned around last season and led the Ravens to the playoffs. Jackson is the wild card once again and if he can figure out how to pass more efficiently, the Ravens will be a legit threat to the Browns.
The Pittsburgh Steelers shed their disgruntled players. Antonio Brown headed to the Oakland Raiders, while Le'Veon Bell signed with the NY Jets. Oddsmakers do not think they have enough leftover to be serious contenders in what will probably be Big Ben's final season.
Mayfield Mania
It's hard not to root for Baker Mayfield once he showed up in Cleveland as a rookie. Even while the team went through the ringer during an obvious rift between OC Todd Haley and head coach Hue Jackson, Mayfield remained positive. As soon as the Browns axed both Jackson and Haley, it was Mayfield turn to shine.
Mayfield is a year older and everyone in the Dog Pound is eager to see what the kid can do for a full season at QB.
The Browns added a new offensive coordinator and hired Todd Monken, who opened up the Tampa Bay Bucs offense last year. All that Fitzmagic didn't happen by itself. Monken made Ryan Fitzpatrick look like Brett Favre by stretching the defense and attacking downfield. Everyone expects Monken will do the same with Mayfield.
Meanwhile, the Browns have two bona fide big dogs on offense with Jarvis Landry and ODB after a huge trade with the NY Giants.
"It is kind of pick your poison now," said Mayfield. "We have some pretty good talent all around. Tight ends, running backs, receivers and then going in with the same offensive line. Now it is, what are we going to do with it."
Ex-Chiefs RB Kareem Hunt is not eligible to play until Week 10 after sitting out an 8-game suspension for a domestic abuse incident. Who knows if he will be able to contribute, but it's Nick Chubb's team until then.