It seems more like a publicity stunt than an actual possibility, but ESPN's Adam Schefter had a report that the Cleveland Browns were interested in interviewing former Secretary of State Condoleezza Rice about becoming the Browns next head coach. The team fired Hue Jackson, along with offensive coordinator Todd Haley a little less than a month ago.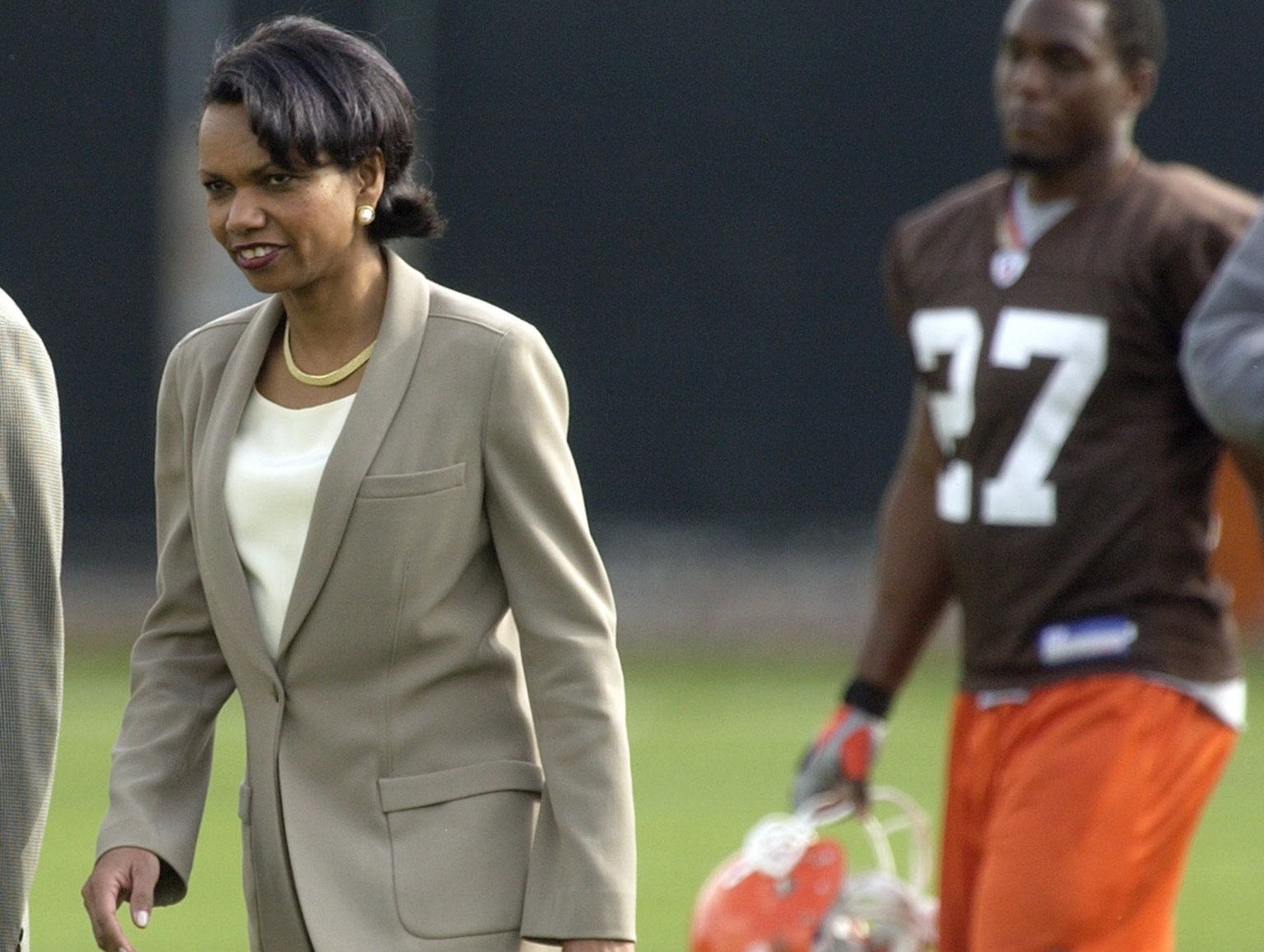 Citing unnamed sources, Schefter said that Rice, who is a life long Browns fan, had been named as a possible replacement. It didn't take long for both Rice, and Cleveland general manager John Dorsey to deny the reports.
"Former Secretary of State Condoleezza Rice is a great leader, possesses the highest possible character and also happens to be a Browns fan," Dorsey said. "I have the utmost respect and admiration for all she's accomplished and was honored to meet her for the first time earlier this season. Our coaching search will be thorough and deliberate, but we are still in the process of composing the list of candidates and Secretary Rice has not been discussed."
Rice went on Facebook and posted a statement denying interest in the job, but said there should be more female coaches.
"I love my Browns — and I know they will hire an experienced coach to take us to the next level," Rice said. "I'm not ready to coach but I would like to call a play or two next season if the Browns need ideas! And at no time will I call for a "prevent defense."
Alex Smith's Horrible Injury
It was a difficult injury to watch, and Alex Smith's broken right fibula and tibia against Houston on Sunday was reminiscent of another gruesome injury caught on television. Turns out the injury to Smith and to Joe Theismann had some eerie coincidences.
It was 33 years ago to the day Theismann suffered that horrifying broken leg on Monday Night Football, and he was actually in the stands on Sunday to watch Smith's injury.
"I saw a pile of people go down, and then I saw Alex's leg in the position it was in. And I turned away after that. It brought back vivid memories," Theismann told The Associated Press.
There were other similarities regarding the two injuries. Both happened at the 40-yard line. Romeo Crennel was an assistant coach on the opposing sideline of both games. Washington won the 1985 game 23-21 and Houston won Sunday's game 23-21.
Race to the Bottom
If the Oakland Raiders are going to get the No. 1 pick in next year's draft, they are going to have to do better than they did on Sunday. The Raiders were 4.5-point underdogs to fellow cellar-dwellers Arizona, but won outright on the road.
They improved their record to 2-8, same as Arizona and San Francisco, but now hold the tie breaker if Oakland and the Cardinals finish with identical records. They did get beat by the 49ers, so they hold the advantage there.
Oakland has the advantage to finish with the worst record, though. They play Pittsburgh, Baltimore, and Kansas City twice.
Consider the Over
The New Orleans Saints are one of the hottest teams in the NFL right now, and have been scoring points in bunches. Sunday's game was the sixth time in 10 games –and third straight – that the Saints scored 40 or more points.
The over/under for Thanksgiving's evening contest with Atlanta is 59, the highest mark for the Saints this season. In the six games the team has reached 40 or more points, the over hit five times, but on Sunday with it at 57, the team defeated Philadelphia 48-7 to miss by one.