It only took Clemson quarterback Trevor Lawrence four games to win the starting job over senior QB Kelly Bryant. Coach Dabo Swinney named the true freshman as the starter for the No. 3 Tigers when they host Syracuse on Saturday. Clemson opened as a 21-point favorite, but the line quickly moved to 23 after the announcement.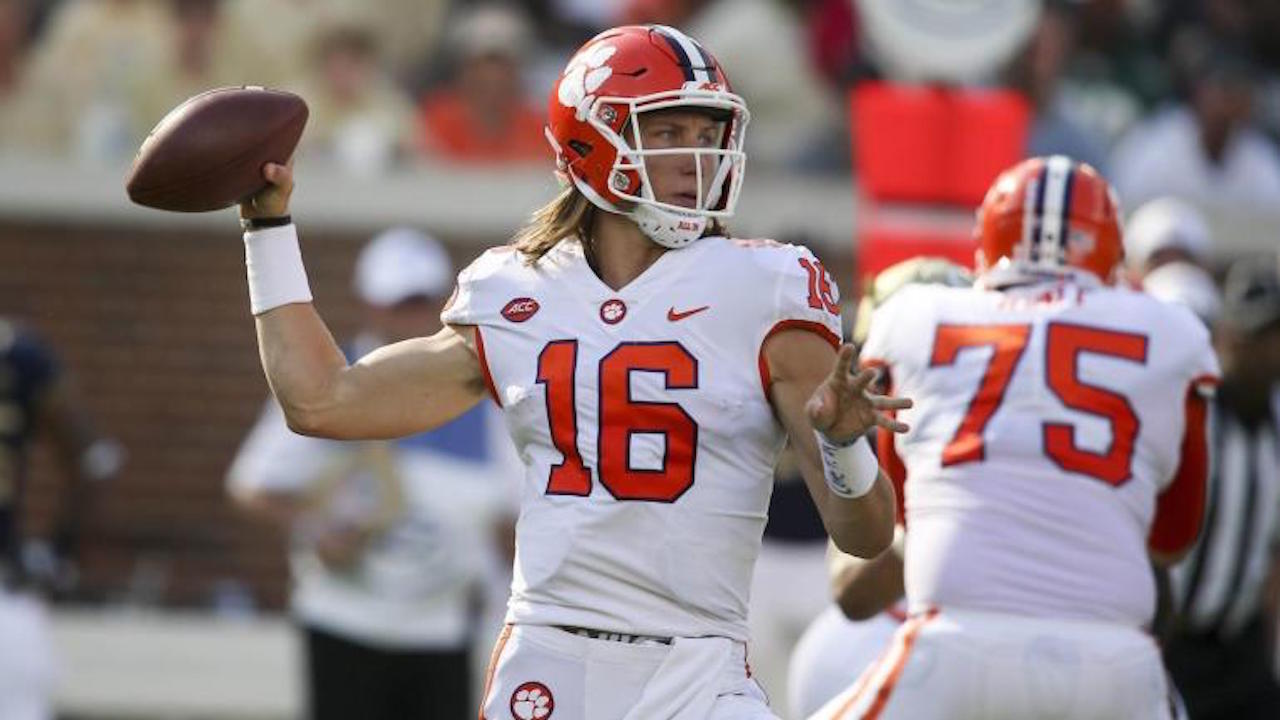 Lawrence was the No. 1 high school recruit, and was pursued by not only Clemson, but by Georgia and other top programs. Despite being a resident of the Peach State, he committed to the Tigers in December 2016, and was expected to be the quarterback of the future.
That timetable got sped up a bit after his impressive performance against Georgia Tech last Saturday. The 5-star recruit was 13 of 18 for 176 yards, four touchdowns and one interception.
"The game has slowed down for (Lawrence) and he's decisive with the ball," Swinney said on Sunday. "I mean, he made some beautiful throws. Some beautiful throws. Thought he managed pocket well and was patient outside the pocket. The other thing I was pleased with is he took advantage of what I call some layups in the run game when there was soft coverage. It was definitely his best game."
Rewarding Productivity
The move was not made because Bryant struggled. The senior performed quite well in his four starts. He was 36 for 54 passing for 461 yards with two touchdowns and an interception. Clemson is undefeated, winning its four games by an average of 25.5 points, but still Swinney felt the need to change his starting quarterback.
Clemson co-offensive coordinator Tony Elliott told reporters on Monday that it was more about Lawrence's play and how impressive he has been.
"Just like we do every week, we sit down and have a staff meeting and evaluate every player and their performance. And after four games, just looking at it, it just came down to more productivity," Elliott said. "He's taken advantage of his opportunities. Kelly didn't do anything wrong. It's just a situation where (Trevor's) been in the game and he's been productive, and to be fair to competition, coaches decided to name him the starter for this game."
The move might have also been made now to allow Bryant to transfer and keep his eligibility. Last year he guided Clemson to a 12-2 record and a third consecutive College Football Playoff berth.
Comparisons to Watson Inevitable
When Clemson signed Lawrence he was immediately likened to the school's most famous quarterback, DeShaun Watson.
"He's just so physically developed for a young guy," Swinney said nearly a year ago. "He's just way ahead of Deshaun from a physical standpoint. We'll see where he is mentally and how he transitions and all that once he gets here and we start coaching. I don't think that you really know that until you start coaching a guy, but he's been well prepared, well groomed."
He becomes the first freshman to start at quarterback for Clemson since Watson was named the starter over Cole Stoudt for the fourth game of the 2014 season. Watson passed for a school-record six touchdowns in that first start, a 50-35 victory against North Carolina.