CJ McCollum scored 37 points including a huge jump shot with 12 seconds remaining to help push the Portland Trail Blazers over the Denver Nuggets to a 100-96 victory in Game 7 of the Western Conference Semifinals.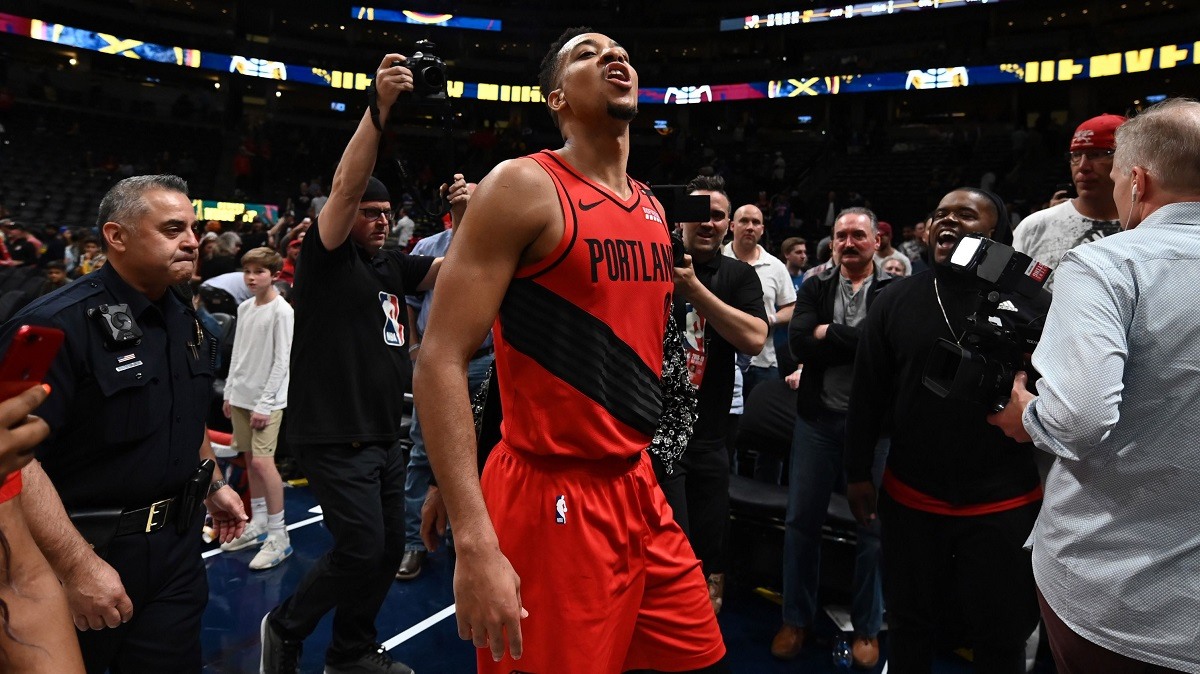 The Blazers trailed 3-2 at one point in this series. They avoided an elimination with a big win in Game 6 in Portland. Although they went on the road for Game 7, the Blazers beat the Nuggets in Denver. The Nuggets lost only nine games at the Pepsi Center in the regular season and postseason before a heartbreaking loss in Game 7.
Despite an off game from Damian Lillard, the Blazers backcourt still combined for 50 points. Lillard scored 13 points on 3-for-17 shooting. He hit just one bucket coming into the fourth quarter. But even the terrible night did not prevent him for knocking down huge clutch three-pointers in the fourth quarter.
Lillard finished two assists shy of a triple-double with 13 points, 10 rebounds, and 8 assists. He also contributed two steals.
PDX Best Backcourt No One Knows About
CJ McCollum and Damian Lillard make up the best backcourt in the NBA. Insiders and fantasy geeks know that the guard tandem is as good as they come. However, the rest of America got to catch a whiff at their awesomeness, particularly CJ McCollum.
Damian Lillard garners the majority of what little attention the Portland duo receive. Lillard is a scoring machine. But McCollum put his skills on display in Game 6 and Game 7. Lillard and McCollum combined for 62 points in Game 6, with McCollum scoring 30 points.
"It's a luxury to have two guys like that who can find different ways to score in different ways," said Blazers head coach Terry Stotts. "CJ does it one way, Dame does it in another. On a night when Dame struggled shooting the ball CJ came up big."
McCollum unleashed back-to-back 30-point games. He also scored 41 in the quadruple overtime victory in Game 3.
McCollum is used to playing the role of underdog. He played his collegiate ball at Lehigh and was not heavily recruited out of high school.
"I got enough motivation," McCollum told ESPN's Doris Burke. "I went to Lehigh University. You know what I'm saying? No one has ever been drafted there. So, for me it's about showing what I can do every night and keeping the door open for the next mid-major."
The Blazers took a flier on McCollum and selected him with the tenth overall pick in the 2013 NBA Draft. He's averaged 17.8 points over his career, including 21 points this season. In the playoffs, McCollum increased his scoring output to 25.6 points per game, while hitting 40.7 percent of his three-pointers.
"I told coach 'flatten it out and I'll get us a bucket." – @CJMcCollum

AND HE DID EXACTLY THAT. pic.twitter.com/fhm3c0zyPw

— Trail Blazers (@trailblazers) May 12, 2019
Down Go the Nugs
The Nuggets (54-28) finished the regular season with the second-most wins in the Western Conference. They locked up the #2 seed and hoped they would be meeting the Golden State Warriors in the Western Finals. Alas, Michael Malone's team came up short.
Nikola Jokic blamed himself for the loss, which was absurd. Jokic had an MVP-like performance this postseason. He led the Nuggets with 29 points and 13 rebounds. The center averaged 20.1 points and 10.8 rebounds per game in the regular season, but cranked it up in the playoffs with a 25.1 points and 13.0 rebounds per game average.
"I hope after 14 playoff games, America, everyone around the world, came to appreciate his game," said head coach Michael Malone. "For him to be as emotional and upset as he was speaks to his caring. He was upset because he thinks he didn't do enough for us to win tonight."
Jamal Murray added 17 points in the loss. The Blazers were in his face entire game and he missed 14 shots (including 0-for-4 from three-point land). The Nuggets not-so-deep bench got outscored by the Blazers' bench 28-17. And that's with the Blazers' Rodney Hood going down in the third quarter with a hyper-extended knee. Hood left the game with only 6 points. Evan Turner stepped up and added 14 points including a clutch 8-for-9 from the free throw line.
According to the South Point Casino and Sports Book in Las Vegas, the Portland Trailblazers are the long shot on the board with four teams remaining in the hunt for the NBA title. The Blazers are 15/1 odds to win the NBA title. They will face the Golden State Warriors on Tuesday night.