After not hosting the Kentucky Derby on the first Saturday in May for the first time in 75 years, Churchill Downs officials released its first condition book of races and its entire stakes schedule for its spring meet. The proposed slate features 16 stakes races and offers $2.25 million in purses.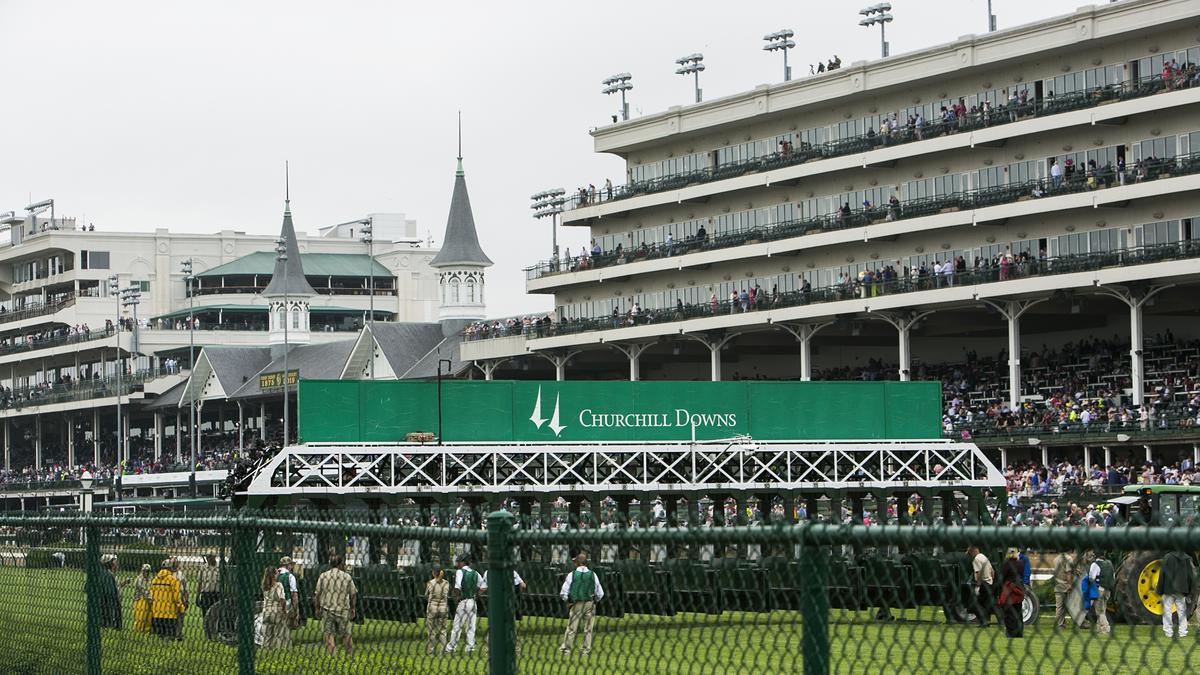 The iconic Kentucky track opens its abbreviated, 26-day spring meet on May 16, with racing running Thursdays through Sundays through June 27. Churchill Downs' meet will run spectator-free unless state officials deem it safe for fans to attend races.
Track officials on Sunday released the first condition book covering races from opening day through June 5. The 125 races in that book offer $7,265,000 in purses. While none of the stakes races are Grade 1s, the $150,000 Grade 3 Matt Winn opens the stakes proceedings on May 23 as a newcomer to the Derby Trail. It offers Derby qualifying points on a 10-4-2-1 basis.
Derby hopeful Maxfield could make his 3-year-old debut in that 1 1/16-mile race. One of the main beneficiaries of the Derby postponement, Maxfield underwent surgery to remove a bone chip in his ankle last November. The son of 2007 Kentucky Derby winner Street Sense, Maxfield is unbeaten in two races, including the Grade 1 Breeders' Futurity at Keeneland last fall.
Track officials moved the Kentucky Derby from May 2 to Sept. 5 in response to the COVID-19 pandemic.
Breeders Cup Spots Up for Grabs in Stakes Races
Two other key stakes races are the $500,000 Grade 2 Stephen Foster and the $200,000 Grade 2 Fleur de Lis. Both are 1 1/8-mile races for older horses on closing day, June 27, and both are Breeders Cup "Win & You're In" races. The Stephen Foster winner earns a place in the Breeders Cup Classic, while the Fleur de Lis champion gets into the Breeders Cup Distaff.
---
Key Stakes Races
May 23 — Grade 3 Matt Winn Stakes (1 1/16 miles/3-yr-olds)
June 13 — Grade 3 Louisville Stakes (1 1/2 miles turf/4-yr-olds and up)
June 20 — Grade 2 Wise Dan Stakes (1 1/16 miles turf/4-yr-olds and up)
June 27 — Grade 2 Stephen Foster (1 1/8 miles/4-yr-olds and up)
June 27 — Grade 2 Fleur de Lis (1 1/8 miles/4-yr-olds and up fillies & mares)
June 27 — Grade 3 Bashford Manor Stakes (6 furlongs/2-yr-olds)
---
The schedule was released after Kentucky Gov. Andy Beshear approved the track's request to open stables and training areas on May 11. Churchill Downs officials postponed the track's stable opening twice in the wake of the coronavirus pandemic.
Beshear approved the request along with safety restrictions designed to prevent further spread of the coronavirus. Those include allowing only authorized racetrack employees and others providing support for horses already stabled to enter the facility. Trainers with horses stabled or racing, veterinarians, grooms, exercise riders, and farriers are the only others allowed inside.
Phasing In New Arrivals
Along with that, track officials will enforce social distancing in other ways. They will open the stable area in phases to prevent a stampede. Horses from Fair Grounds in New Orleans are the first allowed shippers (May 11-13), followed by Florida horses (May 14-16), Oaklawn Park in Arkansas shippers (May 17-19), and then horses from everywhere else (May 20).
Churchill Downs is expected to release its second condition book, covering races from June 6-27, by the end of the month.