The Red Sox are taking no chances with Chris Sale's elbow, as team officials have now sought a third opinion on the pitcher's health before they decide what to do with their ace this season.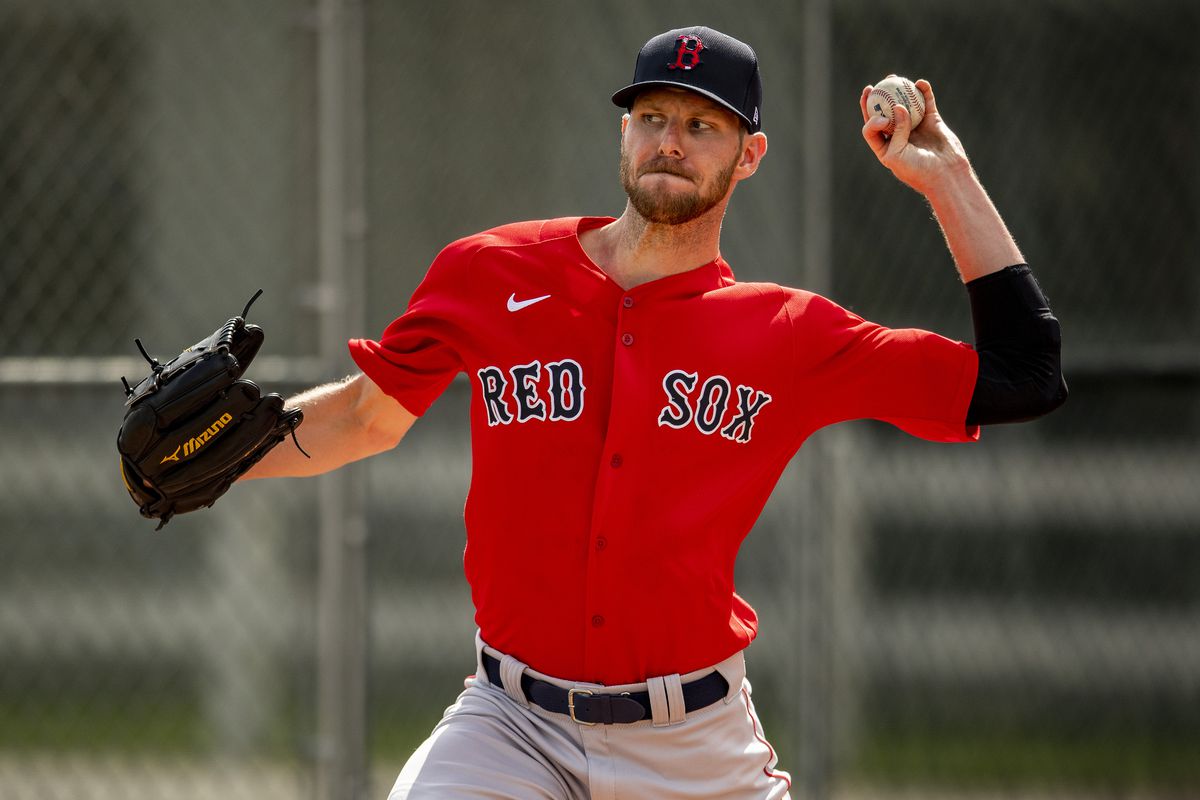 Sale suffered from elbow inflammation last season and didn't appear in a game after an Aug. 13 appearance against the Cleveland Indians.
Andrews, ElAttrache Review Sale's MRI
At the time, Sale opted for a plasma injection in the hopes of avoiding surgery. But when he took the mound on Sunday and threw to live batters, he once again complained of soreness in his elbow.
The Red Sox medical staff has already reviewed Sale's MRI. Dr. James Andrews – famous for performing Tommy John surgery on many pitchers – has also taken a look at the imaging.
Now, interim manager Ron Roenicke says that surgeon Dr. Neal ElAttrache will also review the MRI before the team makes a decision on Sale's season.
"We need to get this right," Roenicke told reporters. "We want as many opinions as we can. Dr. Andrews saw it and read the MRI. I don't want to comment on it until we get one more opinion.
On Tuesday, Red Sox chief baseball officer Chaim Bloom admitted that he's concerned about Sale, but also cautioned that the soreness might be entirely normal.
"Anytime something like this happens, it's going to make you concerned," Bloom told reporters. "I also know, in building up when you do hit these milestones, you can get sore. He hasn't faced hitters in a long time. To speculate too much would be irresponsible. Needless to say, everything has gone so well to this point. This is our first bump in the road."
Sale has dealt with multiple setbacks since he stopped throwing last August, including coming down with pneumonia this spring, which delayed his preparations for the season.
Red Sox Looking Like Playoff Long Shot
Sale is a seven-time All-Star, but is coming off the worst year of his career. The 30-year-old finished just 6-11 with a 4.40 ERA, one of many disappointing performances for the defending World Series champions. Sale signed a five-year, $145 million contract extension with Boston last March.
The Red Sox ended with an 84-78 record last season, a result that left the team 12 games out of playoff position. Bookmakers don't like Boston's chances of making a playoff run in 2020: FanDuel Sportsbook lists the Red Sox as a +3500 pick to win the World Series, and gives the team an over/under of 84.5 wins on the season.
The Sox are also reeling from the loss of their manager in the offseason. Alex Cora was caught up in the wake of the Astros sign-stealing scandal, as he was the bench coast for Houston in the 2017 season. The Red Sox parted ways with Cora, and MLB officials are investigating whether Boston used a similar scheme during their 2018 campaign.