The Chicago Cubs have added veteran catcher Martin Maldonado, acquiring the 32-year-old from the Kansas City Royals in exchange for left-handed pitcher Mike Montgomery.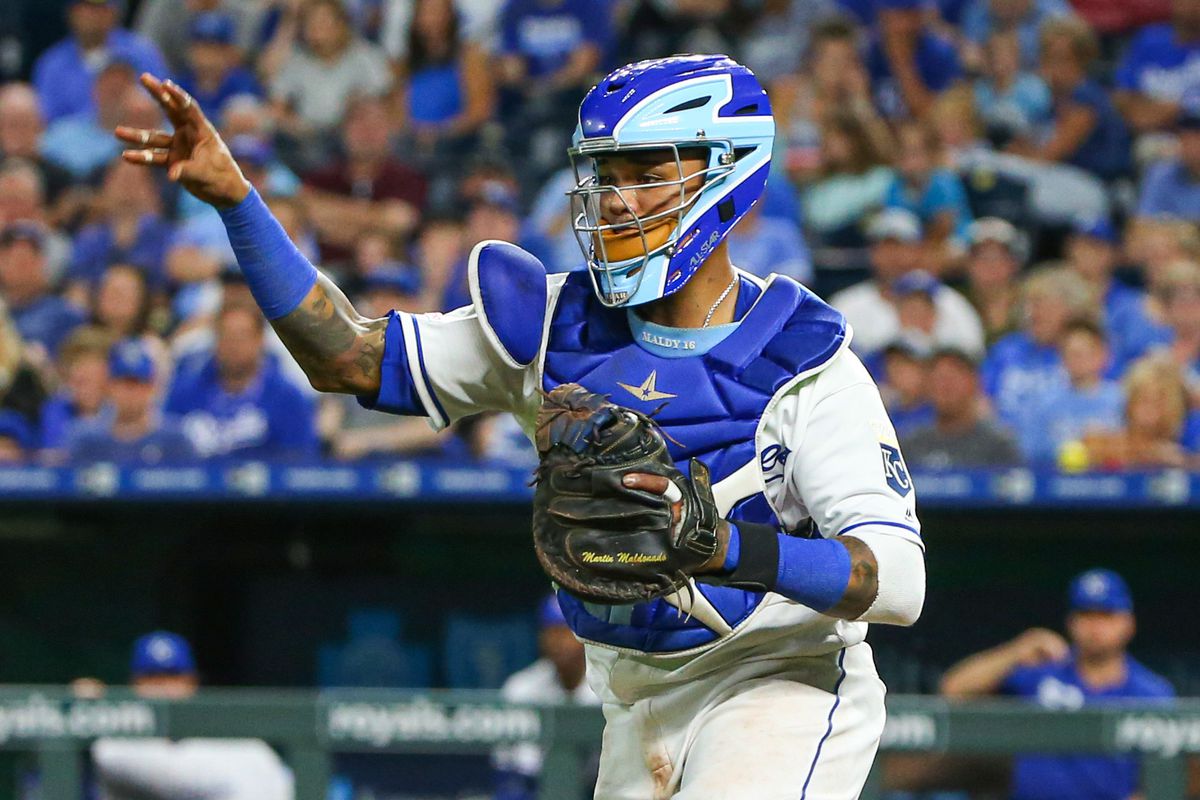 The move will give the Cubs a third viable option at catcher, and in the short term, will help cover for the foot injury to All-Star backstop Willson Contreras.
Contreras Injury Not Considered Serious
While Contreras isn't expected to be out for long – likely no more than 10 days or so – having Maldonado on the roster will allow Chicago to feel comfortable that it can survive the loss of one of its catchers without having a serious issue down the stretch run.
While Contreras felt that he could potentially play through the injury, team president Theo Epistein said it was more important to keep their starter healthy, and decided to place him on the 10-day injured list retroactive to Sunday.
"We have to get ahead of it, take it out of Willie's hands," Epstein told reporters. "Our medical staff feels if he tried to play on it that he would be exacerbating the injury and turning it into something long term."
Maldonado won't be able to replace Contreras' production at the plate. While Contreras sported a .286 average, 19 homers, and a .947 OPS on the season, Maldonado is hitting just .227 with a .657 OPS and six home runs in 2019.
But Maldonado comes in with a reputation as one of the better defensive catchers in the majors. He won an American League Gold Glove award in 2017, and has thrown out over 37 percent of attempted base stealers for his career.
"He's an established catcher in this league who does a lot of great things behind the plate," Epstein told reporters. "He can really receive, throw, he's caught playoffs games, handled some of the best pitchers in the game."
Montgomery Remembered for Historic Cubs Out
In exchange, the Royals get Montgomery, the reliever who was on the mound for the final out of Chicago's 2016 World Series victory. Since then, Montgomery has filled a variety of roles for the Cubs, both as a starter and a reliever. In 2019, he has exclusively come out of the bullpen, posting a 5.67 ERA in 20 appearances.
You threw the most important pitch in Cubs history and we will be forever grateful for what you helped bring the city of Chicago.

Thank you to a true champion, @MikeMontgum22. pic.twitter.com/7rcV43v6II

— Chicago Cubs (@Cubs) July 16, 2019
Montgomery told ESPN that he had been asking for a trade from the Cubs, as he wanted to go back to being a starting pitcher.
"From a career perspective, looking at how it was taking shape, I thought I was best suited to be a starter," Montgomery told ESPN. "I understood, from who they had here, that might not happen for me."
The deal sends Montgomery back to the organization that drafted him, as the Royals took him in the first round back in 2008.
New Trade Deadline Influencing Team Behavior
While this trade was hardly earthshattering in scope, it could be a sign of what's to come over the next two weeks. With changes in MLB rules eliminating the August 31 waiver wire deadline, July 31 is now the strict deadline for all trades, meaning teams will have to think about how they want their rosters to look for the stretch run right now.
"Teams need to keep depth in mind a little bit more, that you have to anticipate where you might be vulnerable to an injury and try to build that depth in advance," Epstein said. "There's no escape valve in August."
While the Cubs have a 50-44 record and a two-game lead in the NL Central, they are no longer considered among the top tier contenders for a World Series title. At FanDuel Sportsbook, the Cubs are listed at +2100, far behind favorites like the Dodgers (+290), Yankees (+350), and Astros (+420).