No one has been able to stop Chicago Bulls rookie Coby White during his sizzling hot streak over the previous three games. White scored 33 points in back-to-back games over the weekend, before he exploded for a career-high 35 points against the Oklahoma City Thunder.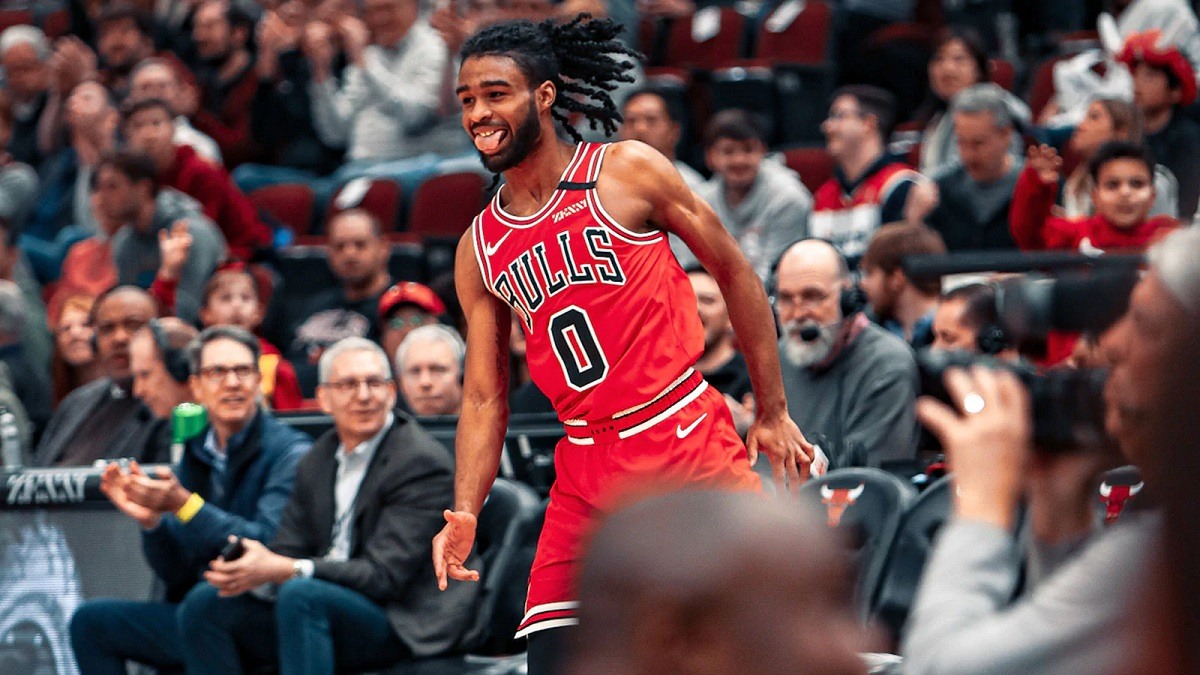 White, 20, increased his scoring average to 12.3 points per game. He's been doing all this scoring damage while coming off the bench for the Bulls. In his last three games, White notched 33, 33, and 35 points.
Over the weekend, White also set a rookie record that put him in good company with a former North Carolina guard by the name of Michael Jordan. White became the first Bulls rookie since Jordan to score 30 points in back-to-back games. How did the rube respond to the news? White went out and dropped a career-high 35 points on Tuesday night.
"Once he gets going, he's hard to stop," said Washington Wizards head coach Scott Brooks.
White's streak began with 33 points in a 112-104 loss to the Phoenix Suns on Saturday. White torched the Wizards for 33 points in a 126-11 loss on Sunday.
On Tuesday night, White came off the bench to score points in a 124-122 loss to the OKC Thunder. He shot 13-for-21 from the field, including 6-for-9 from 3-point land.
33, 33, and 35
The Chicago Bulls selected Coby White with the #7 overall pick in the 2019 NBA Draft. White, a 6-foot-4 guard, played a one-and-done season at North Carolina under Roy Williams. White, best-known for his outrageous hair, impressed scouts in pre-draft workouts and his stock quickly rose.
During his recent scoring binge, White tallied 101 points in three games thanks to a hot hand. White knocked down seven treys against the Suns, hit five more against the Wizards, and unleashed six triples against the Thunder. In his last three games, he connected on 18-for-31 from downtown for a sizzling 58%.
Before the streak, White was shut out from beyond the arc in two of four previous games in which he shot 4-for-23 from 3-point range.
White has been streaky and inconsistent during his first season in the NBA. He averaged only 10.3 ppg in January, but nearly doubled his scoring output in February with 19.9 ppg. When White heats up, it's been fun to watch.
"Coby White is an explosive scorer," said teammate Zach LaVine. "We've seen that so many times already. If that dude catches fire, it's like gasoline. He gets hot. He gets hot quick. You love having a dude like that on your team."
In his rookie season, White averages 35.6% from 3-point land. Overall, he's shooting 38.7% from the floor, and only 77.7% from the free-throw line.
The LaVine and White Show in Chi-Town
The future looks bright in Chicago with the tandem of Zach LaVine and Coby White. LaVine ranks #11 in the NBA in scoring with 25.5 points per game.
LaVine, 24, has been picking the rookie's brain about his dazzling moves and footwork.
"Coby doesn't have the most handles in the world or anything like that," said LaVine. "But he has a stepback that not a lot of players in the NBA do. He does, like, a double stepback. He's able to have the ball float in his hand."
Head coach Jim Boylen slated White as a role player, so the world has only seen glimpses of his explosive scoring ability.
"I feel like I have a lot more in me," said White. "And I feel like I have a lot more that I can show. I've just got to start off being more comfortable on the court and then just finding a rhythm."
"We really haven't got to see the full Coby and what Coby can do," said LaVine.
This is wholesome content. This is the future. pic.twitter.com/zFHARAwevz

— Bulls Talk (@NBCSBulls) February 7, 2020
Ja Morant is running away with Rookie of the Year honors and Zion Williamson lived up to the hype in the dozen or so games he's played since missing the first half of the season recovering from knee surgery. However, in the last week or so, White has emerged as the hottest rookie in the league. He's been a valuable fantasy hoops player in February, averaging 19.9 ppg. If he's still available on the waiver wire, you might want to snatch him up as soon as possible.