When the Detroit Lions traveled to play the Chicago Bears two weeks ago, they were handed a 34-22 defeat. It was the third straight double-digit loss for the Lions.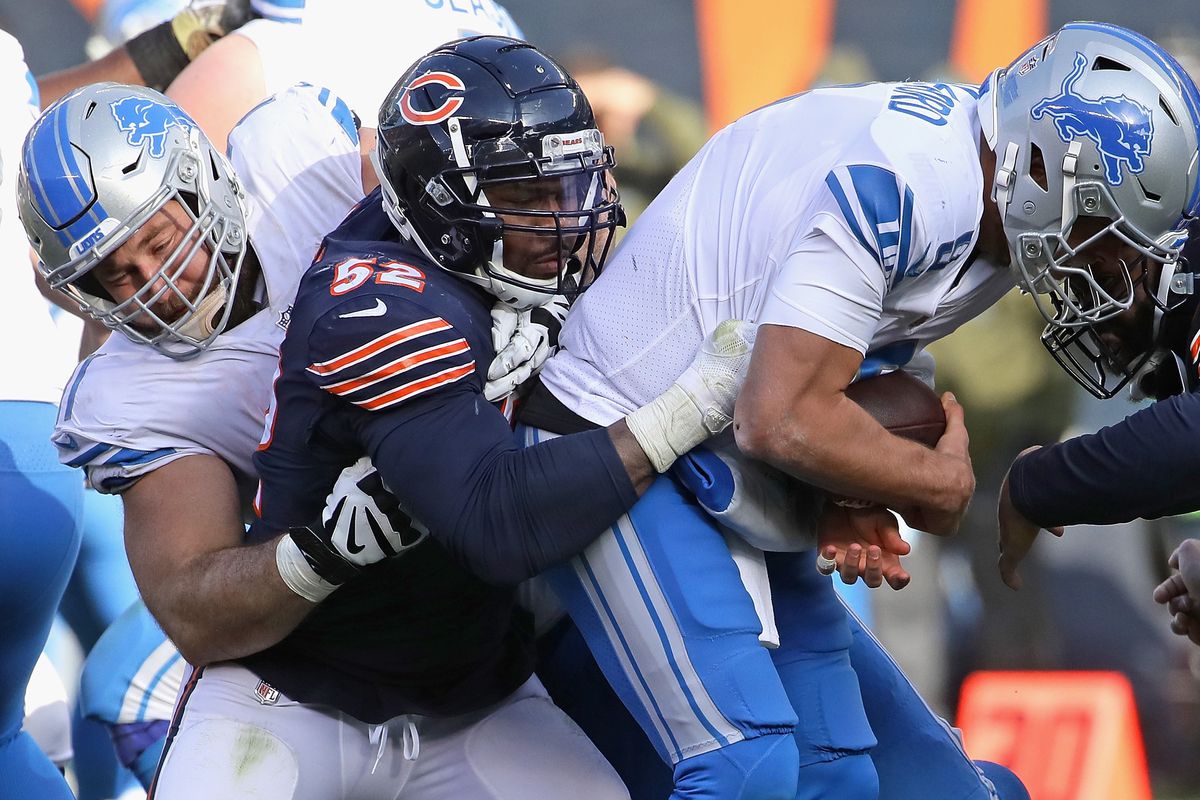 Detroit broke the losing streak on Sunday, and is hoping to pay the Bears back at home on the first of three Thanksgiving NFL games. It will not be easy for the 4-6 Lions, who are a four-point underdog, and facing a Chicago team that is looking more and more like a Super Bowl contender.
The Bears are in the midst of a four-game winning streak in which they beat not only the Lions, but the Vikings last Sunday. They are leading the NFC North by two games, and would like to add to that margin. Coach Matt Nagy has been trying to preach blocking out distractions.
"When it's the other way, and people tell you how bad of a coach you are, how poor of a player you are, and you should be cut and you should be fired, we don't listen to it," Nagy said. "So it's the same thing when you're having success. You don't listen to it."
Trubisky Suffers Injury
Something Nagy and the team won't be able to ignore is the health of their starting quarterback, Mitchell Trubisky. The second-year signal caller suffered an unspecified shoulder injury and was put on the team's injury report. The team did not practice on Monday, so he had a day to rest, but his status was still up in the air.
He finished the game against the Vikings, so Nagy wasn't overly concerned about whether he will play on Thursday. Nagy did praise Trubisky's performance against Minnesota.
"(He was) staying completely composed throughout that entire game," Nagy said. "It was a challenging defense that presented a lot of different parts to the game that gave him different looks. They're good at what they do. He never got rattled, not at all. He continued to stay very composed, with the next-play mentality. Nothing changed. He never got too high, never got too low."
Trubisky is starting to find a grove with the Bears offense. Against Minnesota he finished 20 of 31 with one touchdown, but did throw two interceptions, that Nagy blamed on aggressive throws.
Bears Defense Ready
Chicago is No. 3 in total defense and has been dominating teams. Against Minnesota they had an interception returned for a touchdown, another interception, a forced fumble and recovery, and five tackles for loss.
While the Bears are No. 1 in rush defense, they are 12th in passing defense, giving Detroit starter Matthew Stafford an opportunity.
He had mixed results in the first meeting two weeks ago. Stafford threw for 274 yards with two touchdowns and two interceptions. He will need to be dominant since the Lions are without starting running back Kerryon Johnson, and the team will use a committee of running backs.
The goal first-year Detroit coach Matt Patricia said is to make the offense as diverse as possible.
"I think we have good players, we have dynamic guys, guys that can make plays in different ways and it's not cookie cutter," Patricia said. "Football is not that way. When you have a different player that's in and in the same position, it doesn't mean that they can do the same thing. You have to be able to adjust with that and do a good job of handling that, whatever the situation is, whoever those guys are."