Chase Elliott let 80 of 90 laps on Sunday on his way to winning on the road course at Watkins Glen International for the second straight year.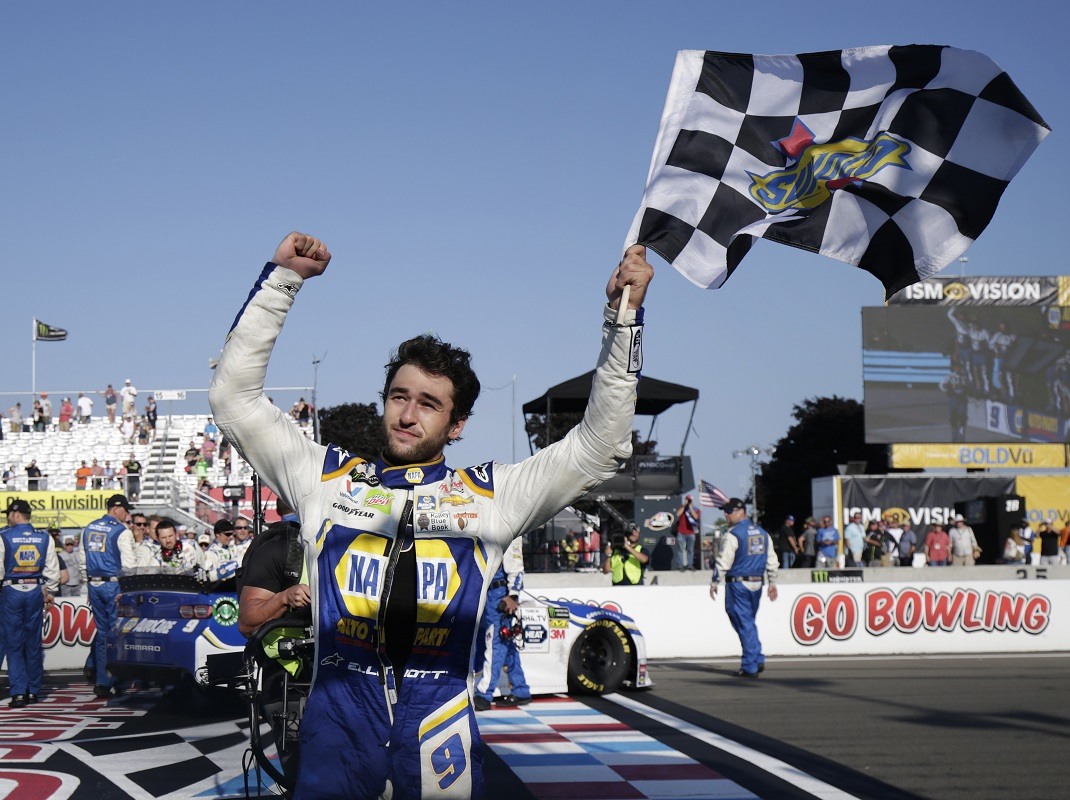 Elliott finished .454 seconds ahead of Martin Truex Jr., who also finished second at last year's race at Watkins Glen.
Elliott Wins Two-Car Race
Last year's victory was Elliott's first on the NASCAR Cup Series. Since then, he has won a total of five times, including once earlier this year at Talladega, which had already clinched him a spot in the NASCAR postseason. But defending his title at Watkins Glen was still a special experience for the 23-year-old.
"This is wild," Elliott said after the race. "Thank you, guys, that was pretty awesome. I've never been so far from home and thought I was at my house. Thank you, what a day!"
Elliott started on the pole, and his dominance meant he won both the first and second stages as well as the overall race. By the midpoint of the contest, it was clear that only two cars had a realistic chance of winning, as both the leader and Truex had distanced themselves from the pack.
But while Truex was right behind Elliott for much of the final 25 laps, he was never able to find the breakthrough to take the lead and reverse last year's finish.
"Chase did an excellent job, just not making mistakes, and really all I could do was get to two car lengths…and just try to force a mistake," Truex told reporters. "But he hit his marks. His car was really fast in the key areas that you need to be, leaving a few of the key corners. I just couldn't get a run on him, and we just were kind of stuck there."
While the top two cars were within a half-second of each other, third-place finisher Denny Hamlin ended the race over 11 seconds back of Elliott. Erik Jones and Ryan Blaney rounded out the top five. Matt DiBenedetto finished in sixth place, and was followed in the top ten by Kevin Harvick, Kyle Larson, Brad Keselowski, and Kurt Busch. Kyle Busch finished in 11th place to retake the lead in the driver standings ahead of Joey Logano, who ended up in 23rd on Sunday.
Johnson Moves Into Playoff Position
With only four races left in the NASCAR Cup Series regular season, points are at a premium, especially for those drivers who have yet to win a race and are hoping to reach the playoffs based on their position in the driver standings.
As of now, the battle for the final playoff position is too close to call. Jimmie Johnson and Ryan Newman are tied for 16th position with 544 points, though if the season ended today, Johnson would get into the playoffs on tiebreakers. Johnson had come into the race behind Newman, but made up ground by finishing 19th, while Newman ran 25th.
Kyle Busch remains the favorite to win the 2019 NASCAR Cup Series championship, with Unibet giving him 3/1 odds of taking home the title. That puts him ahead of other perennial contenders like Truex (4/1) and Harvick (11/2). Meanwhile, Elliott has established himself as a real threat, as his odds have shortened to just 8/1 to win his first championship.