Magnus Carlsen dismissed one of his biggest rivals on Wednesday at the Champions Chess Tour Finals, winning twice against Hikaru Nakamura to stretch his lead and officially eliminate much of the field from title contention.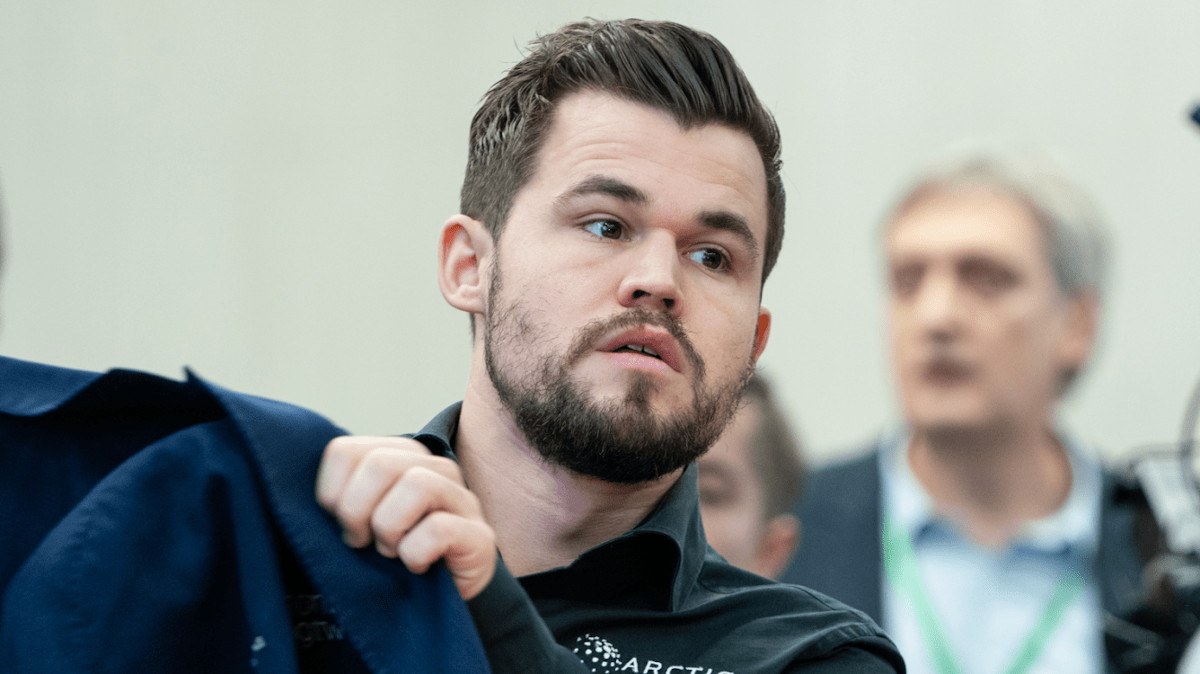 Carlsen won both of his White games to take a quick 2.5-0.5 victory over Nakamura and earn the full three points in their Round 5 matchup.
Tour Finals bonus points boost Carlsen's lead
That pushed Carlsen's overall lead in the Tour Finals to five points, as Wesley So could only collect two points after beating Anish Giri in tiebreakers. Not only did Carlsen start the tournament with a staggering 16.5 bonus points due to his overall performance during the Champions Chess Tour season, but he also collected the most points during the event, scoring 10 over his first five matches.
Carlsen said he had an easy time of things on Wednesday, with Nakamura putting up an uncharacteristically tepid fight.
It was an impressive double victory with the white pieces by @MagnusCarlsen on the fifth day of the #TourFinals2021. Here are the highlights. #ChessChamps pic.twitter.com/0o76dB07Jk

— Meltwater Champions Chess Tour (@ChampChessTour) September 29, 2021
"With this kind of resistance I got today, it's not difficult to play well," Carlsen told Norway's TV 2.
So now stands as the only player with any realistic chance to catch Carlsen with four rounds remaining. Levon Aronian and Teimour Radjabov are mathematically alive, but only barely: each stands 11.5 points back of the World Champion, meaning one of them would have to run the table and collect the full 12 points while Carlsen failed to score a single point the rest of the way.
Carlsen extends his lead after scoring 3 points against Nakamura, while So with his 2 points is now 5 points behind. But still 4 rounds to go! #ChessChamps #TourFinals https://t.co/N1VgdaCOR6 pic.twitter.com/lq37sr6gjE

— Meltwater Champions Chess Tour (@ChampChessTour) September 29, 2021
Even So faces a daunting task in having to make up five points on the top player in the world. But, he has a chance, as the two leaders won't face off until the ninth and final round of the Tour Finals. If So can close the gap to under three points before Sunday, then he'll have a fighting chance of snatching the title away from Carlsen.
Tour NFTs commemorate players, moments from 2021
Carlsen will try to close in on victory on Thursday when he faces off against Giri. Meanwhile, So will take on Radjabov, with the American realistically needing to pick up three points to make a dent in Carlsen's advantage.
The Champions Chess Tour has also launched a series of NFTs to commemorate the 2021 season. Fans and collectors can buy a variety of different digital collectibles, ranging from the pawn series – which commemorates memorable moments from the tour – for a fixed price of 0.025 Ethereum ($74), up through the bishop and rook series, which represent tournaments and individual players, respectively.
Future releases include the limited-edition knight and queen series, the latter of which comes in three different editions of various rarity. The crown jewel is the two-of-a-kind Champion's Trophy. The winner of the Tour Finals will take home one of these NFTs, while an auction winner will claim the other. That auction ends on Oct. 8, with the top bid as of Thursday evening standing at 1.06 ETH ($3,135).