Two days before the start of the Travelers Championship, Cameron Champ tested positive for COVID-19. Graeme McDowell and Brooks Koepka also withdrew because their caddies tested positive for the disease. Champ and McDowell were both listed as 150/1 by William Hill to win the PGA Tour event, which begins Thursday at TPC River Highlands in Cromwell, Connecticut. Koepka was at 20/1 to win.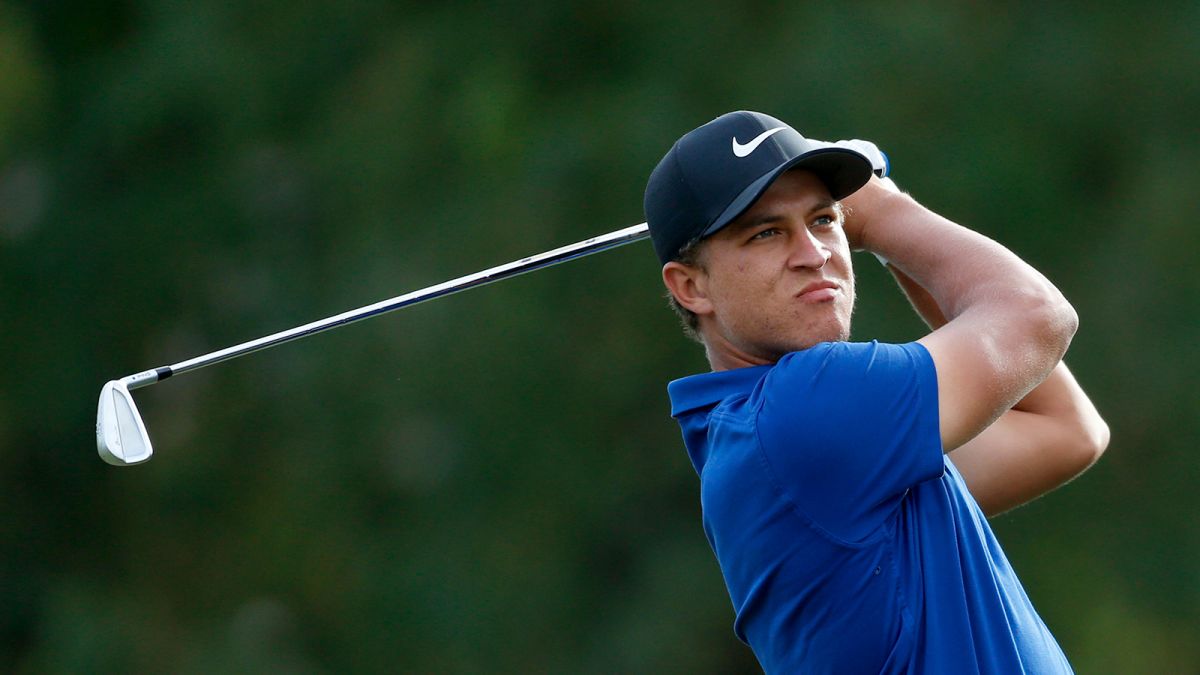 Champ becomes the second PGA Tour player to test positive for COVID-19. Nick Watney withdrew last Friday after the first round of the RBC Heritage following a positive test.
Champ's COVID-19 result came after a mandatory prescreening check at the Travelers Championship. The screening is one of several protocols the tour put in place when golf resumed three weeks ago at the Charles Schwab Challenge.
Champ, 25, has won twice on tour, most recently at September's Safeway Open. He said in a statement that he returned home after hearing the news.
"I feel great physically and I was obviously surprised and disappointed to learn of the test result," Champ said. "It's important now to take the necessary steps and measures to protect others, including my loved ones."
Two COVID-19 Cases at Travelers Championship
Champ wasn't the only one affected by COVID-19 at the Travelers Championship. McDowell's longtime caddy, Ken Comboy, tested positive on Wednesday.
Despite testing negative for COVID-19, McDowell withdrew from the Travelers Championship and headed home to Florida. He told Golfweek Magazine that he's not playing out of an abundance of caution.
"For the protection of the field and for my own physical and mental well-being, I'm going to take a test tomorrow morning then jump on a private plane," McDowell said. "I'm going to get myself out of here, home to Florida and decide whether I need to quarantine myself from my family."
In addition to being around Comboy for the first two rounds of the RBC Heritage, the two drove home to Orlando after missing the cut. They had also attended a funeral for a friend on Monday, McDowell told Golfweek.
"I'd been through a huge amount emotionally and mentally, and a couple of weeks back into it after a few months off you're going to be a little tired getting your golf legs back," McDowell said. "But the alarm bells have started to ring now that Kenny has failed this test. We're a close-knit team. We roomed together last week, we spent six hours in a car. He's carrying the virus so, in some way, I have to be carrying it too."
Koepka Withdraws as Preventative Measure
McDowell began another PGA Tour protocol, which is to trace back and notify the people he was in contact with. He played a practice round with fellow tour players Brooks Koepka and Shane Lowry on Tuesday. Lowry was 100/1 to win.
Koepka, who has so far tested negative for COVID-19, told Golfweek that withdrawing from the tournament is prudent.
"I'm going to pull out to protect everybody else, I think it's the right thing to do," Koepka said. "I don't want to risk anyone's life if they have respiratory issues or underlying conditions. The only way this Tour can continue is if guys do this sort of thing and be proactive about it."
Last week's winner, Webb Simpson, also withdrew from the Travelers Championship. Simpson cited COVID-19 concerns as the reason for not playing this week.