We love Central Florida. We especially love Central Florida against the spread. In a new feature that debuts Thursday, I will be taking a $100 to the sportsbook every week of College Football, and placing it on one game. It might be the moneyline, or ATS, or possibly the over/under. Wherever I put our hard-earned cash, you'll know about it, and we'll keep a running total throughout the college football season.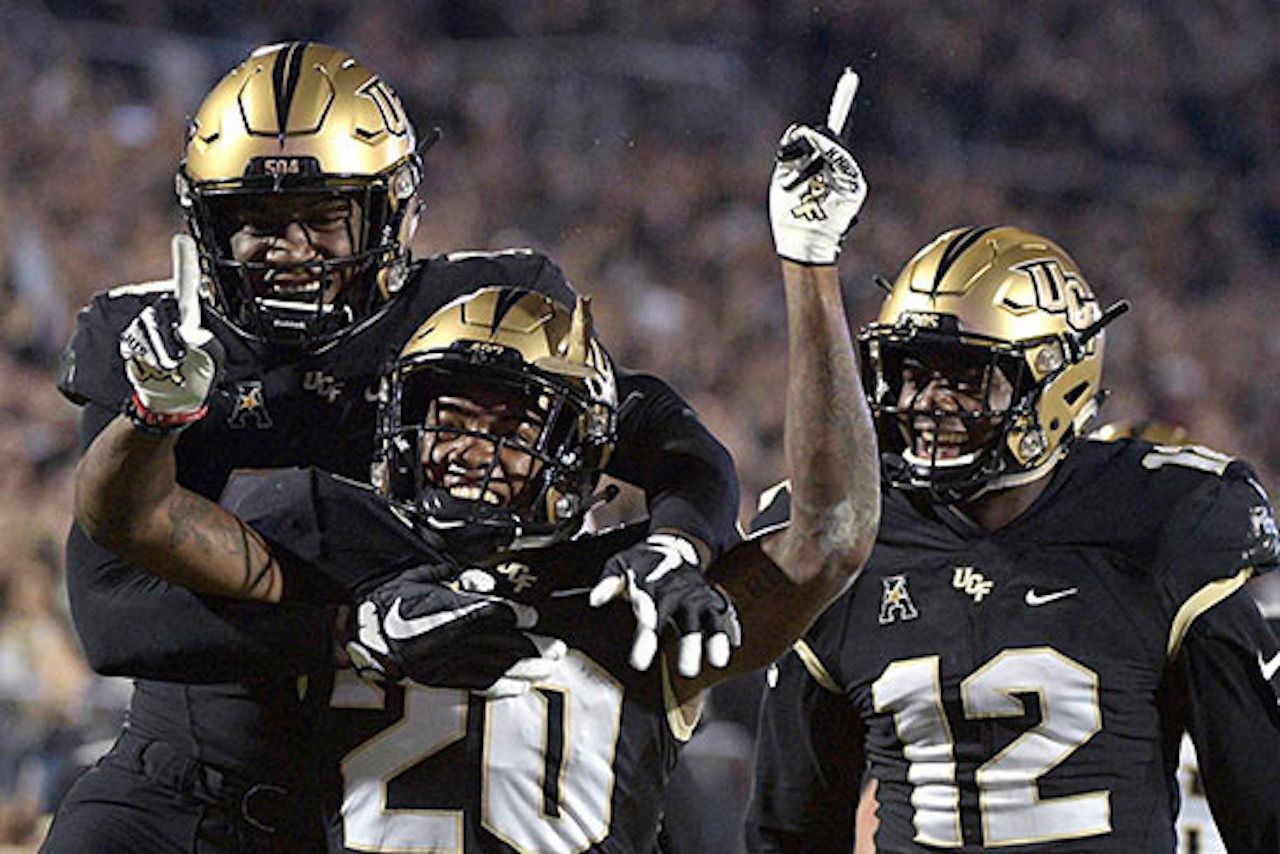 This week I go back to one of our most solid performers. The Knights are 19-7-1 ATS stretching back to 2017. UCF is 26-1 straight up, their only loss to LSU in the Fiesta Bowl. They are favored by 10 points this week against Florida Atlantic.
One Bet, $100

This Week's Pick                     Last Week's Result         Season's Result

Central Florida -10                   Won Cincinnati -2           1-0, Up $90
In the team's opener, the Knights were favored over Florida A&M by 44 points, and easily covered, 62-0.
The team has not gotten the respect it deserves. In 2017 they were the only undefeated team and could get no higher than No. 6. Last year the Knights finished undefeated in the regular season and could get no higher than seventh.
Still No Respect
This season UCF was ranked No. 17 in the AP Top 25 preseason poll. After clobbering Florida A&M, the Knights were rewarded by dropping to No. 18 in this week's poll.
Florida Atlantic coach Lane Kiffin has watched the UCF program grow into one of the best in the country.
"I think it's a program everyone aspires to be," Kiffin said. "For us, it's like we're playing another SEC or Big Ten team two weeks in a row. They have players like those guys. "They've won as many games as anybody the last couple years in the country."
Last year, Kiffin's team played the Knights close for a half, but then got outscored 35-19 in the second half.
"They get on top of you really fast, you're hanging with them through the second quarter then all of a sudden you look up you're down two or three scores," Kiffin said.
Why UCF Will Win
The Knights hung a nifty 62 points on a team that is similar to this week's opponent, Florida Atlantic. The Owls finished last year 5-7 overall. Gone from that team is All-American running back Devin Singletary, and last week the team gained just 22 yards on the ground.
Even though it was against Ohio State, the team should struggle again rushing the football. It is also noteworthy that the Owls could face some fatigue after playing OSU last week, while UCF had a lot of second-string players in the game in the third quarter.
Florida Atlantic is 1-4 ATS in its last five games, and 0-5 in their last games in September.
UCF has Notre Dame transfer Brandon Wimbush had a great debut for the Knights in the game against Florida A&M. He threw for 12-of-23 passes for 168 yards and two touchdowns.
Covering 10 points should not be a problem, and I expect to see another dominating performance from UCF.