The New Orleans Saints seek to lock up home field advantage in the playoffs and a win against the Carolina Panthers in this NFC South divisional battle is their main goal.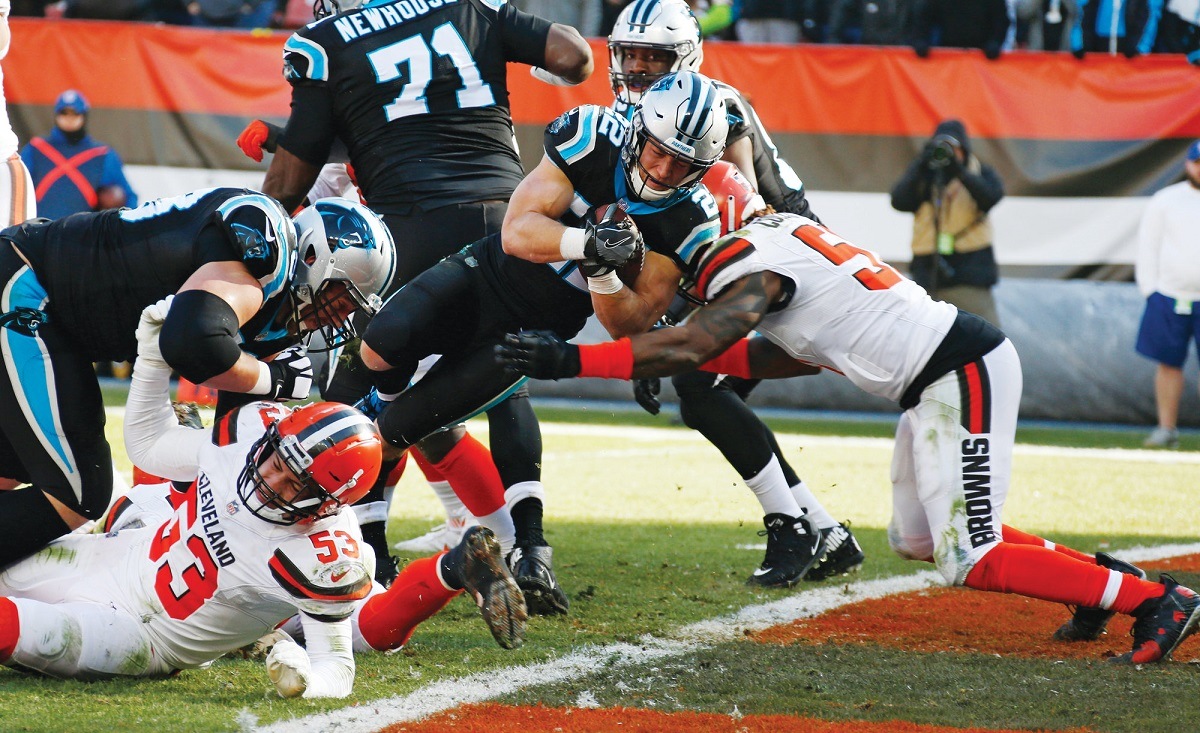 The Saints are tied with the LA Rams for the best record in the NFC at 12-2. They defeated the Rams in New Orleans during Week 9, which gives them an edge with a tiebreaker. According to bookmakers in Las Vegas, the Saints are the 2-1 odds favorite to win the Super Bowl.
Meanwhile, the Carolina Panthers are bogged down in a five-game losing streak. Despite the Panthers having a losing record, they still have a shot at the second Wild Card spot and trail the Minnesota Vikings by a half game. Billionaire hedge fund owner David Tepper bought the team in the offseason and hinted that "Riverboat" Ron Rivera will be fired if the Panthers fail to make the postseason.
New Orleans Saints (11-2) at Carolina Panthers (6-7)
Kickoff: 5:15pm PT
Location: Bank of America Stadium, Charlotte, NC
Point Spread: NO -7
Over/Under: 52
Due to an unusual quirk in the scheduling, the Panthers and Saints play twice during the final three weeks of the season.
Breezy Brees
Drew Brees is 39-years old but doesn't look like on the field. During Brees' MVP-like season, he set a couple of records along the way. He joined the exclusive 500 TD Club and he passed Peyton Manning to become the NFL's all-time passing leader.
Brees is completing 75.7 percent of his passes with 31 touchdowns and only four interceptions. He's been in a tiny slump with an interception in each of his last three games and he's only thrown two total touchdowns in his last two games. This is on the heels of an unstoppable stretch when Brees threw 15 touchdowns in four games with four TD strikes in three of those games.
Swiss Army Hill
Taysom Hill is a man of many talents and the human version of a Swiss army knife. The former QB from BYU is a former track star and gifted athlete who has played a variety of positions for the Saints. As a backup to Drew Brees, Hill doesn't get any playing time under center, but he's done whatever the coaching staff has asked him to do. He even returns kicks, and he's done everything except actually punt and kick.
Then again, if pressed into action, if there's anyone who could potentially pull off kicking on a whim, it would be Hill.
"(Hill) can do everything," said Drew Brees. "Extremely valuable. He's a gamer. He'll makes the sacrifices and do whatever it takes to win."
The third-string QB blocked a punt during a crucial moment in a divisional game against the Tampa Bay Bucs. Down 14-3 in the third quarter, the Saints desperately needed a break and Hill sparked a huge comeback with a punt that felt like it came out of nowhere.
The NFL named Hill the Special Teams Player of the Week for his game-changing blocked punt.
We all know @Saints QB @T_Hill4 can do it all…

Today he's blocking punts. Seriously. 🙌👏

📺: FOX #GoSaints pic.twitter.com/irZfDeCrWg

— NFL (@NFL) December 9, 2018
CMAC Attack
Second-year running back Christian McCaffrey is having a standout season for the Panthers. He's become a valuable weapon as a traditional running back as well as an effective weapon in the passing attack.
McCaffrey leads the Panthers in rushing yards (926) and receiving yards (701). He has 13 total touchdowns. McCaffrey is only 74 yards shy of the 1,000-yard barrier with three games to go.
In addition, McCaffrey also has his eyes set on breaking former RB DeAngelo Williams' single-season record of 1,636 yards from scrimmage. McCaffrey should set that franchise record early in the Saints game.
With the addition of McCaffrey, Cam Newton eased off the solo running game. Newton only has four rushing touchdowns this season and 473 total rushing yards. This is a good thing in the long run for Newton because after eight seasons in Carolina, he's not getting any younger.
Norv Slowdown
The Panthers began the season 6-2 mostly due to Norv Turner's revamped offense. During a seven-game stretch, Cam Newton and the offense averaged 29.1 points per game.
Then the well ran dry in Carolina. The Panthers scored only 18.8 points during their five-game skid. Four out of five losses were considered close games with the Panther losing by a single score or less.
Cam Newton shoulders some of the blame. The 2010 Heisman trophy winner is mired in a mini-slump with 8 interceptions during the five-game losing streak. He threw 4 picks against Tampa Bay two weeks ago. Last week in a 26-20 loss to the Browns, Newton threw one pick and did not throw any touchdowns for the first time since the opening week.
Home Dog (or Cat) Alert
The Saints are a touchdown favorite on the road, which makes the Panthers a +7 home dog. The number is a little high considering the Panthers are 5-1 in Charlotte this season.
This season, the Panthers have a home/away split where you could back them at home (5-1), but fade on the road (1-6).
For some unknown reason, Newton protects the ball better in Charlotte. Newton threw 14 interceptions this season, but only three happened at home.