It is said golfers don't conquer the Open Championship at Carnoustie Golf Links, they survive it. The layout nicknamed "Car-nasty" is a links-style golf course that will test a player's game, nerves and mental state. The gorse is high, water hazards seem to be everywhere, and the bunkers are extremely penal.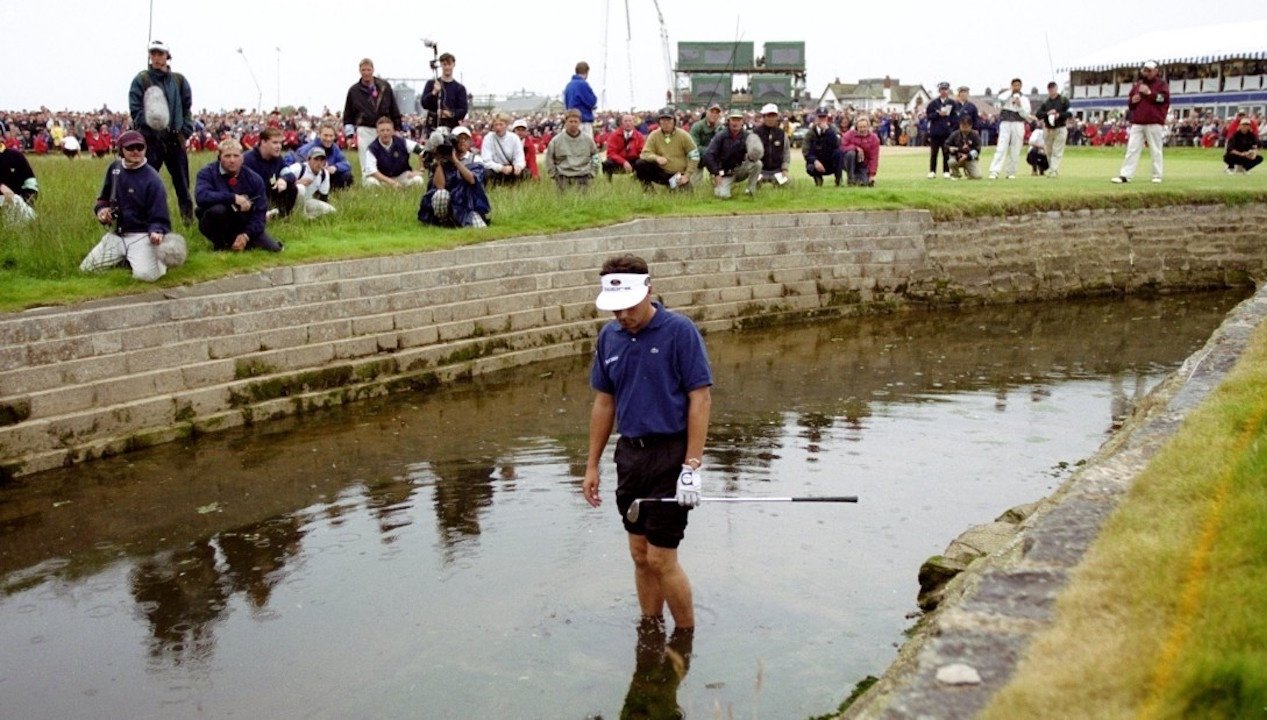 The last time the Open was at the Scottish course was 2007, and Padraig Harrington and Sergio Garcia finished with a score of 7-under. Harrington prevailed in a playoff in conditions that were tepid for the notoriously difficult layout.
The previous time the Open was held there was 1999, and the scores were more indicative of the course's reputation. The winning score was 6-over par.
That was also the year of the biggest collapse in golf history. Jean Van de Velde had a three-shot lead going into the final hole and melted down, producing seven cringe-worthy shots. He ended with a triple bogey, and lost to Paul Lawrie in a playoff.
No Stranger to Major Meltdowns
This year's favorite, Dustin Johnson at 12/1, was 14-years-old when the Frenchman had his infamous collapse.
"I vaguely remember watching," Johnson said. "not the details. I don't remember how I reacted to it."
Johnson is quite familiar with losing a lead in a major championship, but one could argue that he has put himself in position to win many times. He shot a final-round 83 to lose the 2010 US Open, and had a strange penalty at the PGA Championship later that year that cost him a chance at a playoff.
Most recently Johnson was the second-round leader after last month's US Open, but shot a 77 on Saturday and couldn't recover in the final round, finishing second by two shots.
"I've had my own situations I've gone through (in majors)," Johnson said prior to this year's U.S. Open. "But the last one I had a chance to win (in 2016), I won. So I've got good vibes going forward."
Spieth Hopes Break Beneficial
Another golfer who feels good coming into this week, despite a disappointing year so far, is Jordan Spieth. The defending champion has not had the results he experienced in 2017, where he won twice, and finished second in three other events.
This year Spieth's best finish so far is third, and he has uncharacteristically missed five cuts. Stuck in a rut, Spieth decided to get away from the sport for a while. His last event was a tie for 42nd at the Travelers Championship on June 24.
"I needed a break," Spieth told reporters on Tuesday. "I was kind of dragging along, cut-line golf for a while, and playing a pretty heavy schedule, and I needed to kind of get away from the game, which I did. I feel good about the way I did it and then coming back to it."
Spieth is at 20/1 to win this week, behind Justin Rose (14/1), and Rory McIlroy and Rickie Fowler, both at 16/1. Spieth likes his chances to defend his title.
"I feel like I'm in a position now with every part of my game, I kind of attacked the places that really needed some strong work," Spieth said. "That combination with an Open Championship, the way it needs to be played, I think, is a really good spot for me to kickback into shape."