The Oklahoma City Thunder are sending Carmelo Anthony to the Atlanta Hawks as part of a three-team trade, a deal which will ultimately allow Anthony to pursue free agency.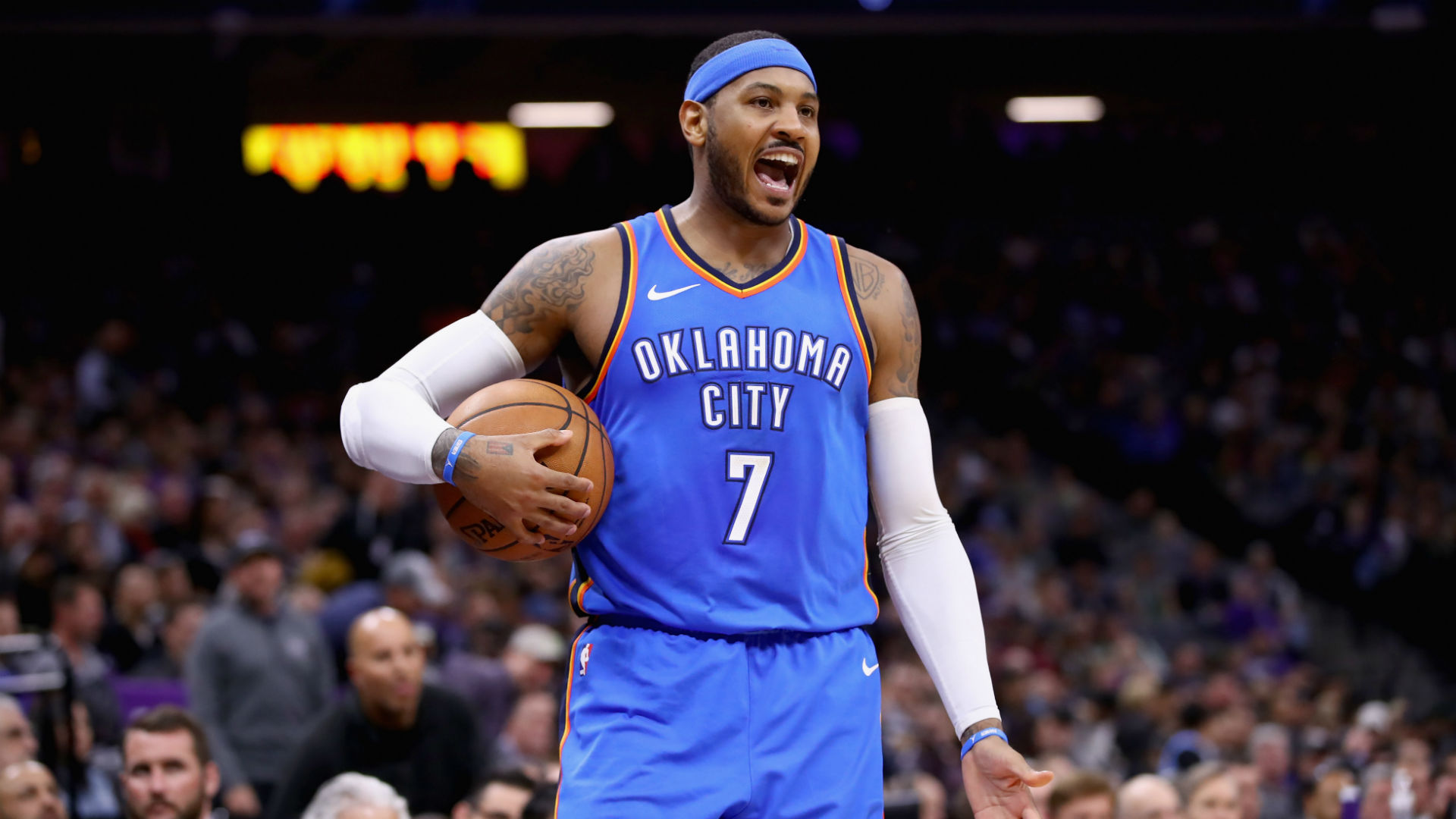 The plan is for the Hawks to buyout the remainder of Anthony's contract, after which he will be become an unrestricted free agent provided he clears waivers.
OKC Save Big on Luxury Tax
According to a report by ESPN.com's Adrian Wojnarowski, the trade will see Anthony, Justin Anderson, and Oklahoma City's protected 2022 first-round draft pick go to the Hawks. The Thunder will pick up Dennis Schroder and Timothe Luwawu-Cabarrot, while the Philadelphia 76ers receive Mike Muscala.
It seemed all but inevitable that OKC would make a move to get Anthony off their roster. The team has a ballooning payroll, and Anthony was slated to make $27.9 million this coming season. By completely removing that contract, the team had the potential to save much more, as it would also significantly reduce their luxury tax burden.
By choosing to take back Schroder, however, the Thunder made this more of a straight trade than a salary dump. Schroder will make $15.5 million this coming year himself, and has two more years on his contract. That said, removing Anthony's contract will still help Oklahoma City cut their luxury tax bill by more than $60 million in the coming season.
It's unclear how big of a role Schroder will play in OKC. The 24-year-old point guard will undoubtedly find a spot in the Thunder rotation, but he may not fit into the starting lineup when Russell Westbrook is on the floor.
The impact on the other two teams involved in the trade is much clearer. Atlanta reduced their own salary burdens in future years, potentially helping them make more of a free agent splash if they would like to push to become a contender down the line. In Muscala, the 76ers picked up a big man who can shoot from three-point range, which should provide some more flexibility in the kinds of lineups Philadelphia can run out throughout the season.
Anthony Expects to Land with Rockets
There's one major unanswered question about this swap: where will Anthony end up playing next season?
It's no secret that Anthony has wanted to leave OKC. In his one season with the Thunder, Melo proved to be an awkward fit. He scored a career-low 16.2 points per game, and wasn't suited for the catch-and-shoot role that the team tried to put him in. Those issues were especially evident in the playoffs, when Anthony saw reduced playing time in the Thunder's 4-2 series loss to the Utah Jazz.
But while Anthony may not be the player he was a few years ago, there will still be suitors. The Houston Rockets appear to be the most likely destination for the former Syracuse standout, with David Aldridge of NBA.com citing a league source as saying that Anthony "has been telling people for more than a week that he'll ultimately wind up with the Rockets."
As of yet, however, there has been no official word that Anthony will be heading to Houston, and the 10-time All-Star is said to also be considering the Miami Heat as a possibility.