Magnus Carlsen took advantage of a tactical error in the third game of his match against Hikaru Nakamura on Monday, allowing him to win the set 2.5-1.5 and to even up the series at two sets apiece.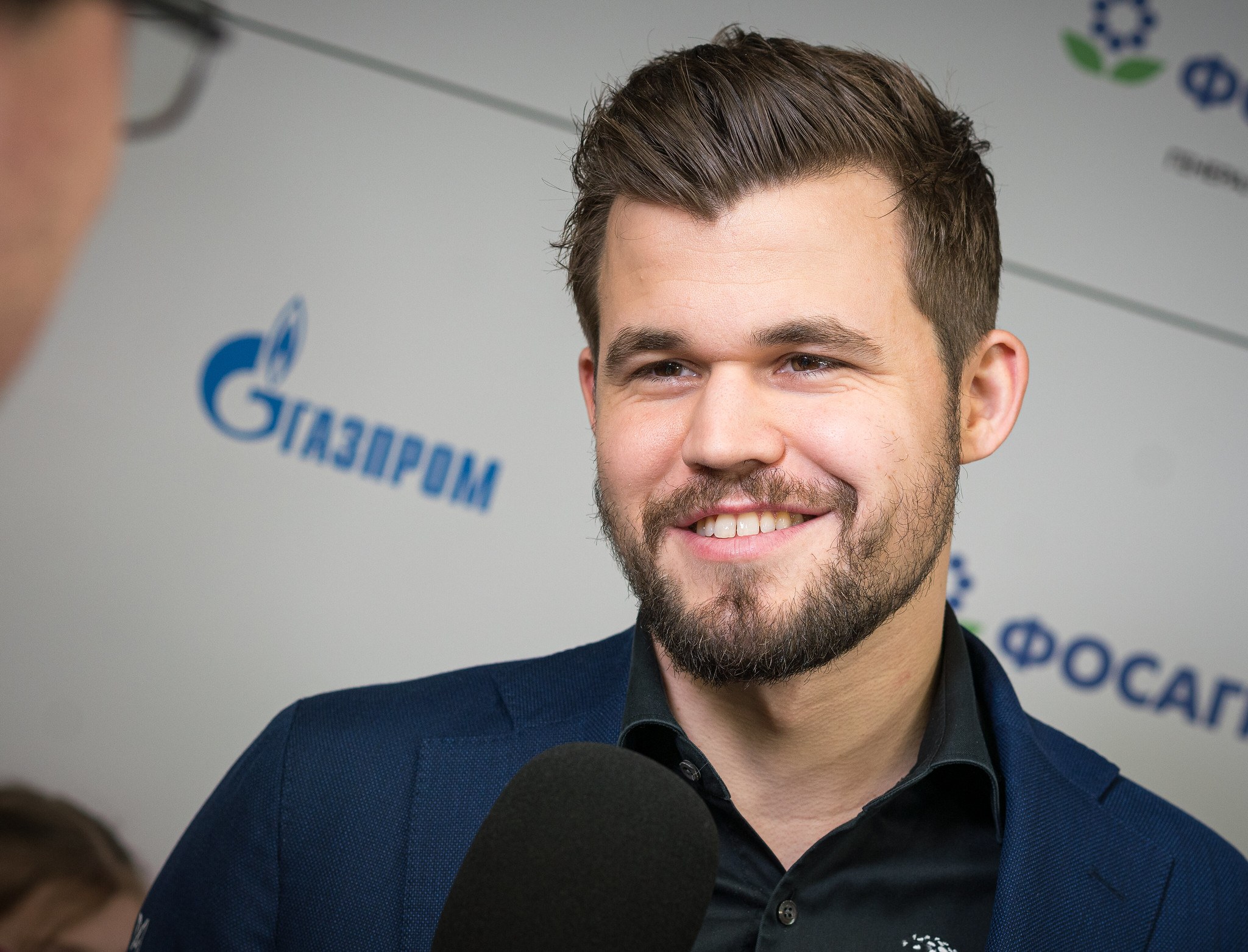 The World Champion nearly broke through in the first game of the match, the fourth in the championship round of the Magnus Carlsen Chess Tour Final.
Carlsen Switches Openings to Break Through
Carlsen built a large advantage with White in Game 1 on Monday, switching to the English Opening after both players struggled to score against the Berlin Defense with 1. e4. But the Norwegian grandmaster slowly loosened his grip on the position, and Nakamura escaped with a draw.
Nakamura then settled for a quick draw in yet another Ruy Lopez. But Carlsen had no such plans for Game 3. Switching to the Italian, Carlsen managed to maintain a slight edge through much of the middlegame until Nakamura erred with 26 … Qxf2+. That handed White a winning advantage, which Carlsen easily converted.
"Qxf2+ was just a shock!" Carlsen wondered if he'd missed some mate, since he felt the move was just impossible for Hikaru (it turns out Magnus was right) https://t.co/bzg7rD7GF9 #c24live #ImpactChess pic.twitter.com/FYpPBL87yj

— chess24.com (@chess24com) August 17, 2020
While Nakamura still had an opportunity to send the match to tiebreakers by winning Game 4, he once again failed to achieve anything against the Berlin Defense, and Carlsen locked in a draw from an advantageous position to close out the set.
With the win, Carlsen prevented Nakamura from moving to the brink of victory in the best-of-seven series. However, the World Champion still wasn't happy with his play overall.
"First of all, I haven't found any semblance of rhythm whatsoever so, in general, I am very unhappy with the way I have played," Carlsen said after the match. "Today was a lot better in the sense that he didn't get any counter-chances, so today was an improvement. But there is still a lot to work on."
Nakamura opened the final with a 2.5-1.5 win in the first set. He also took an early lead in the second, winning with Black in the first game before Carlsen won in Game 3, and eventually took the match 3.5-2.5 after blitz tiebreakers.
Nakamura Gaining Confidence Against World Champion
The players reversed roles in the third set, with Carlsen opening the match with a Black win before Nakamura tied things up and won in the blitz tiebreakers. After that match, the American reflected on his 2-1 lead in the overall series.
Nakamura on competing with Carlsen: "If I'm being honest I think I've already exceeded my expectations!" https://t.co/OCOupe51tB #c24live #ImpactChess pic.twitter.com/kWTC67YtBr

— chess24.com (@chess24com) August 16, 2020
"I've played Magnus so many times over the years and the main thing is, I've never really felt like I'm getting good position or I'm in the game," Nakamura said after the third set. "I've shown, at least on the first three days, that I can play on the same level as Magnus, and we'll see what happens going forward. But I guess what I would say, last but not least, is that in some ways I think winning in Lindores kind of broke that streak in a way, because I started to realize that I can play against Magnus and play on the same level. We'll see what happens but, if I'm being honest, I think I've already exceeded my expectations."
The final has effectively been reduced to a best-of-three, and while Carlsen remains favored, Nakamura's chances have improved since the series began. Unibet now lists Carlsen as a -286 pick to win the series, while Nakamura stands as a +200 underdog. The online oddsmaker has also posted Carlsen as a -220 favorite to win Tuesday's fifth set.