Magnus Carlsen stumbled along the way, but was able to pull out a victory in blitz tiebreakers on Wednesday to eliminate Ding Liren and advance in the Magnus Carlsen Chess Tour Final.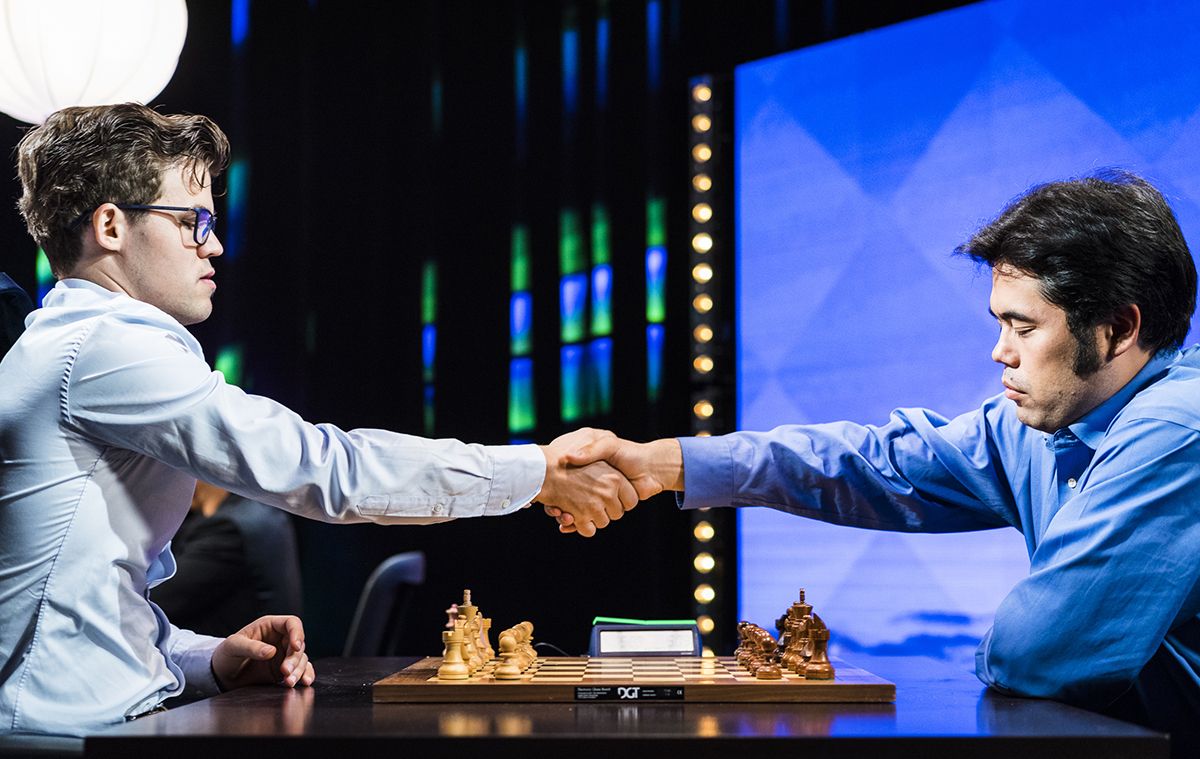 Carlsen won Wednesday's match by a 3.5-2.5 score, winning the overall semifinal with Ding three sets to one.
Ding Pushes Carlsen in Fourth Set
The result earns Carlsen a berth in the finals where he'll take on Hikaru Nakamura in a best-of-seven set marathon. Nakamura advanced in straight sets over Daniil Dubov.
After dropping the first set to Ding, Carlsen roared back to win the second and third by identical 2.5-0.5 margins. The World Champion looked to be on course for yet another overwhelming win on Wednesday after winning Game 1 with the white pieces.
But Ding showed his quality in Game 2, unleashing a blistering attack on Carlsen's kingside that resulted in a checkmate on the board after just 31 moves. The next two rapid games both ended in draws, though Carlsen found himself in trouble both times, particularly in Game 4.
"I was very shaky, and in this game, I considered my position to be pretty much lost after the opening," Carlsen said after the match. "I really didn't play well at all and he was just crushing me, but somehow I was fighting back and I managed to hold. I don't really know how!"
That sent the match into blitz tiebreakers. In the first, Carlsen sacrificed an exchange to put together a dominating position. But the World Champion ran low on time and settled for a draw by repetition.
Incredible drama as Magnus Carlsen wins a game he was losing to defeat Ding Liren and set up a Magnus Carlsen Chess Tour final against Hikaru Nakamura! https://t.co/lXTSX5Kxh6 #c24live #ImpactChess pic.twitter.com/cO7ZWoPR3n

— chess24.com (@chess24com) August 12, 2020
Carlsen then blundered in the second blitz game, giving Ding two minor pieces for a rook. But the position remained complicated, and it was Ding who made the final error, allowing Carlsen to come back and grab a win to finish off the set and the overall match.
"He put up an unbelievable fight today," Carlsen said of Ding. "I just needed every inch to win this particular match and the main takeaway is I've just got to be better in the final."
Nakamura Awaits

The final round begins on Friday, with Carlsen and Nakamura playing a set of games each day. Like a championship series in the NBA or MLB, the first to win four sets will earn the title and the $140,000 top prize.
Nakamura has become Carlsen's toughest rival when it comes to speed chess, particularly online. While Carlsen has gotten the best of these encounters more often than not in recent years, their battles are always tight. Carlsen beat Nakamura in the final of the Magnus Carlsen Invitational; Nakamura returned the favor by winning the best-of-three sets semifinal in the Lindores Abbey Rapid Challenge.
"Certainly he's been very, very strong in the entire tour, so it's no coincidence that he's in the final and I absolutely agree that he deserves it based on the way that he's played," Carlsen said of Nakamura.
Given the format, the stronger player holds a big advantage, though the two finalists are close enough in strength to keep things competitive. Carlsen opened as a -670 favorite over Nakamura (+400) at online bookmaker Unibet, with the total number of matches set at over/under 5.5.