Magnus Carlsen won twice on Wednesday to take the sixth set from Hikaru Nakamura in the Magnus Carlsen Chess Tour Final, forcing a seventh and final set on Thursday.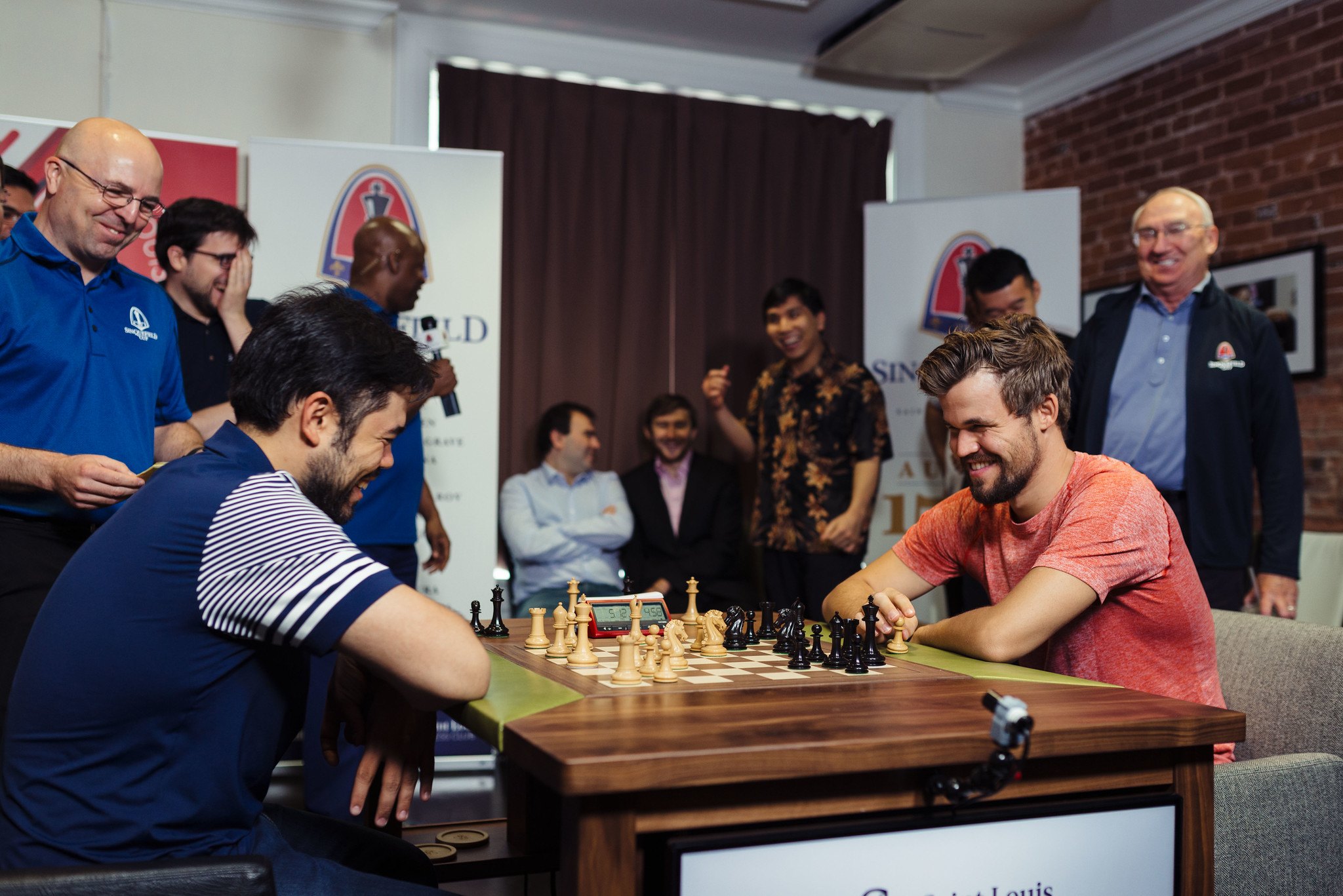 The epic match between the two elite grandmasters is knotted up at three sets each, with Nakamura taking the lead on three occasions only to see Carlsen strike back on the next day.
Carlsen Wins First Game, Sets Tone in Sixth Match
Nakamura had the opportunity to close out the Tour Final on Wednesday, entering the day with a 3-2 lead in the best-of-seven series. But Carlsen struck first, winning Game 1 with White to take control of the mini-match.
Brilliancies, blunders, nerves and pain all round, but Magnus Carlsen crashes through in the end to win Game 1 of what for him is a must-win set! https://t.co/jhLDTbSeE6 #c24live #ImpactChess pic.twitter.com/v0rkcGEe2t

— chess24.com (@chess24com) August 19, 2020
Carlsen looked to have easily equalized with Black in Game 2. But around the 40th move, Nakamura took advantage of an error from the World Champion to head into the endgame up a pawn. Nakamura held the edge in the rook-and-pawn endgame, but a single slip turned the game into a draw, allowing Carlsen to preserve a 1.5-0.5 lead.
Game 3 ended in just 17 moves, as both sides seemed content to play a short draw in yet another Berlin Defense. That left Nakamura with just one chance to get a win and send the match to blitz tiebreakers.
Both players had tried a similar strategy in earlier sets, opting for a quick draw with the lead in order to shorten the match, only to see the tactic backfire. But Carlsen held firm with Black on Wednesday, equalizing after fewer than 20 moves. Nakamura then pressed for a win, but Carlsen responded accurately, ultimately winning the game with Black to take the match 3-1, the largest margin of victory in the series so far.
Back Injury Can't Slow World Champion
Carlsen won despite suffering from a back injury he sustained just before Game 1 began. Viewers could see – or, sometimes, not see – Carlsen move around looking for a comfortable position throughout the match.
"I was generally feeling great today and then, half an hour before the game, I was going for a quick swim in the ocean and I start running and something just happened," Carlsen said afterward. "But there's a little less pain now than there was before."
The result sends the series to a decisive seventh set with everything to play for. The winner will take home $140,000 while the runner-up earns $80,000. Unibet lists Carlsen as a -278 favorite to win the match, with Nakamura fetching +200 odds to take the title.
Magnus has done it – winning on demand to take the Magnus Carlsen Chess Tour final to a decider tomorrow! https://t.co/T5a4GbmhUW #c24live #ImpactChess pic.twitter.com/sprGoufB7u

— chess24.com (@chess24com) August 19, 2020
While those odds suggest Carlsen should walk away with a hard-earned victory, the Norwegian grandmaster expects a tough fight from his American counterpart.
"It's obviously going to be tough," Carlsen said. "I feel like every day has been so far and I don't expect anything to be different."