Canelo Alvarez has filed a lawsuit in federal court in Los Angeles alleging that DAZN, Golden Boy Promotions, and Golden Boy CEO Oscar De La Hoya have failed to live up to their end of the massive 11-fight contract he signed in 2018.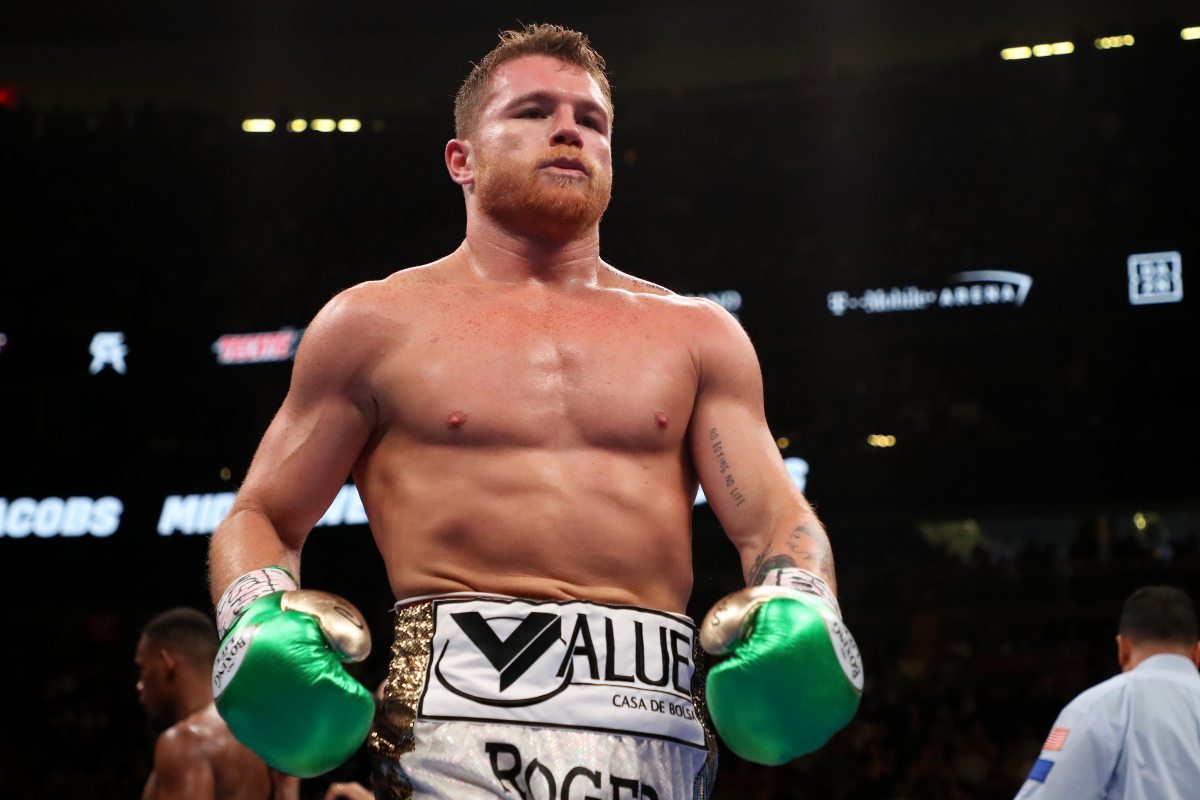 That deal saw Alvarez agree to fight 11 times on DAZN for $365 million, the largest contract in boxing history.
Golden Boy, DAZN Disagree Over 'Premier Opponents'
Alvarez is seeking $280 million or more in damages. That amount covers the $35 million per fight he would make on the eight remaining fights in the contract, plus lost revenue from sponsorship, ticket sales, and other revenue. He also seeks the right to exit the partnership with Golden Boy and DAZN.
The lawsuit follows contentious talks between Alvarez, DAZN, and Golden Boy over that $35 million guarantee. DAZN sought to cut that amount in half for Alvarez's next fight. According to a report by The Athletic, DAZN has expressed disappointment in the lack of "premier opponents" that Golden Boy has found for Alvarez. Golden Boy proposed a fight against Calum Smith this fall, leading DAZN to offer up just $17.5 million for that bout.
"I'm the pound-for-pound number one in the world," Alvarez said in a statement. "I'm not scared of any opponent in the ring, and I'm not going to let failures of my broadcaster or promoters keep me out of the ring. I filed the lawsuit so I can get back to boxing and give my fans the show they deserve."
DAZN signed Alvarez with the idea of putting on pay-per-view quality cards on a subscription streaming service. Executives envisioned a third fight between Alvarez and Gennadiy "GGG" Golovkin as the centerpiece of that effort. Golden Boy hasn't been able to deliver that trilogy bout.
Alvarez Says Golden Boy Owes $35M Guarantee
The web of relationships between Alvarez, Golden Boy, and DAZN complicates the dispute. Alvarez's personal services contract is with Golden Boy; he agreed with the promotional firm that his next 11 fights would be on DAZN. Meanwhile, Golden Boy has a deal with DAZN to provide two Alvarez events each year, at least one of which would feature a premier opponent. DAZN has the sole discretion to determine who qualifies for the "premier" distinction.
As such, Alvarez claims it's on Golden Boy to ensure he gets his guaranteed $35 million. But DAZN has refused to pay $40 million to Golden Boy (including $5 million for Alvarez's opponent).
"Given that DAZN had made it clear that it would not honor its contract throughout the spring and summer of 2020, Alvarez repeatedly asked Golden Boy Promotions to explore alternative broadcast options for a fall 2020 bout," the lawsuit reads. "Although Golden Boy Promotions reported that it was talking to various broadcasters, it failed to put forth a single alternative plan by which it would pay Alvarez the $35 million it had promised him for each of his fights."
Golden Boy says that Alvarez should be angry with DAZN, not the promoter.
"They're the ones refusing to honor the contract by not approving the outstanding opponents we have presented to them, and by refusing to pay the contractually required amount," Golden Boy spokesperson Stefan Friedman said in a statement.
Alvarez (53-1-2) currently holds titles at middleweight and super middleweight. FanDuel Sportsbook lists Alvarez as a -350 favorite over Golovkin (+250) in a hypothetical third bout.