Kevin Harvick and Denny Hamlin have firmly established themselves as the favorites to win the NASCAR Cup Series Championship, but who are the long shots with a chance to upset them? There are several, if you ask the drivers. Even though Harvick is at 2/1 odds and Hamlin is at 3/1 to win, there are other drivers who could easily get hot during the 10-race playoffs.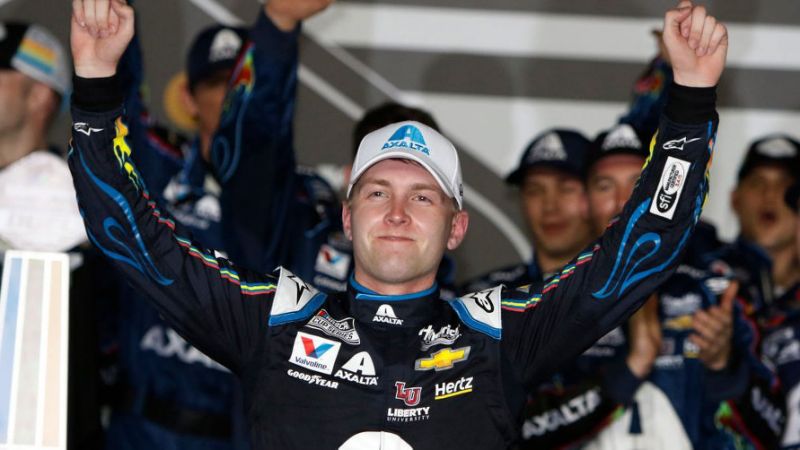 The quest for the cup begins Sunday at the Cook Out Southern 500 at Darlington Raceway in Darlington, South Carolina. Not surprisingly Harvick and Hamlin are the favorites to win there.
---
Odds to Win NASCAR Cup Championship
| | |
| --- | --- |
| Kevin Harvick | 2/1 |
| Denny Hamlin | 3/1 |
| Martin Truex Jr. | 7/1 |
| Chase Elliott | 8/1 |
| Brad Keselowski | 10/1 |
| Kyle Busch | 11/1 |
| Joey Logano | 12/1 |
| Ryan Blaney | 16/1 |
| Aric Almirola | 30/1 |
| William Byron | 30/1 |
| Kurt Busch | 35/1 |
| Matt DiBenedetto | 40/1 |
| Clint Bowyer | 50/1 |
| Cole Custer | 65/1 |
| Austin Dillon | 65/1 |
Source: BetMGM
---
Harvick won seven races during the regular season, while Hamlin has won six. Ryan Blaney told reporters this week that the two have been consistent all year.
"I'm not gonna sit here and say, 'No, we don't have the speed.' You'd like to think so," Blaney said. "There are some races I feel like we've been better than those guys and brought it to them, and other races they've had really good cars and they've obviously shown up like they have all year. They've done a great job."
Byron, Elliott NASCAR Cup Championship Long Shots
One driver whose name has come up frequently as a longshot to win the NASCAR Cup Championship is William Byron. The 22-year-old made the playoffs for the first time in his career.
Clint Bowyer told reporters that he believes Bryon, who won the final regular-season race at Daytona, would pull off an upset.
"If you look at him, momentum is something, confidence is something, winning your first race is worth something," Bowyer said. "Having a crew chief like Chad Knaus is worth something, trust me. That all is building at the right time."
Matt DiBenedetto thinks Chase Elliott might be a good choice to win.
"I think there are a lot of tough contenders, but if I was picking somebody — we were talking last night and I was watching some of the picks that NBC and FOX and everyone was making for the Championship 4 — and I thought that my pick might be Chase Elliott," DiBenedetto said. "I think he could be a good contender that might make his way into that final four and have a shot to win a championship."
What About Kyle Busch?
Kyle Busch, winner of the 2019 NASCAR Cup Championship, didn't expect to be considered a long shot going into the playoffs, but at 11/1, he is definitely behind the frontrunners. Busch hasn't won a race this season, jeopardizing his 16-year consecutive victory streak.
He told reporters he still believes he has a chance to win not only a race, but the championship.
"This year has just not lent itself to our favor so far," Busch said, "but the playoffs start now, and we're still in this thing."