Cynthia Calvillo instantly moved into contention for the women's flyweight title after a thorough victory over Jessica Eye in the main event of UFC Fight Night on Saturday in Las Vegas.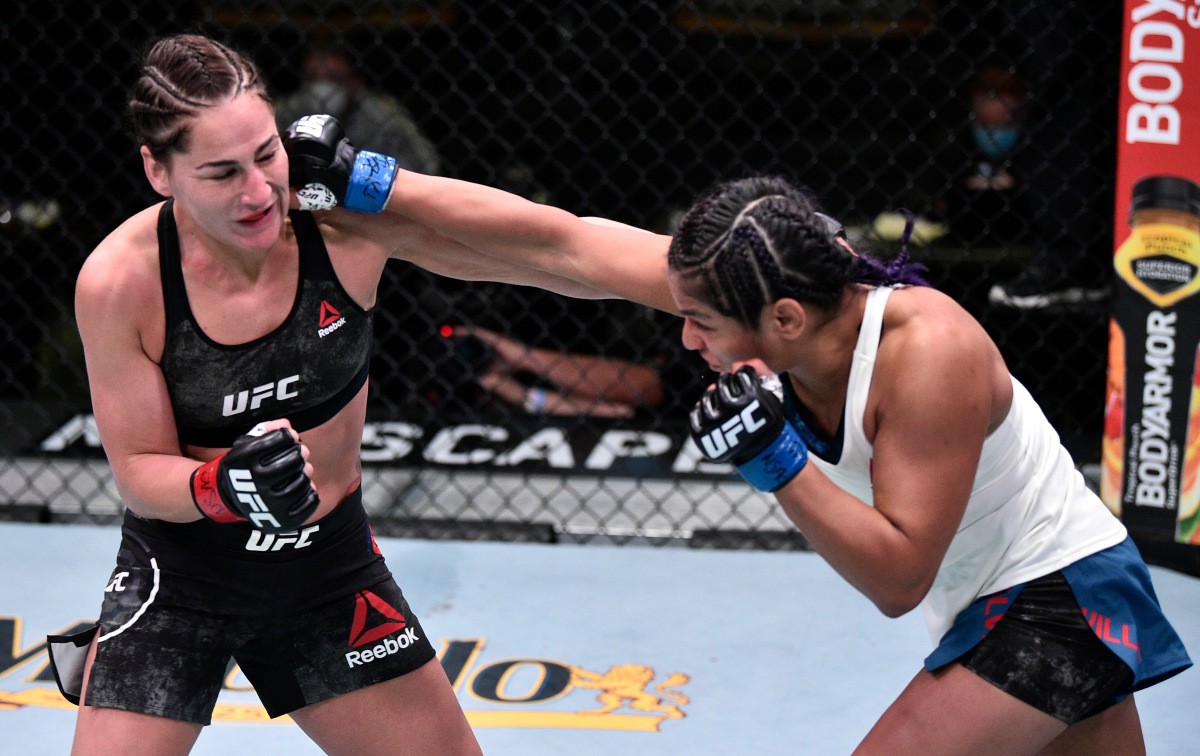 Calvillo won a unanimous decision (49-46, 49-46, 48-47) over Eye, who came into the bout as the No. 1 flyweight contender.
Calvillo Dominates After Eye Misses Weight
Calvillo debuted as a flyweight on Saturday, having previously fought down a division at strawweight. But difficulties with making weight compelled Calvillo to move up to the 125-pound class.
It was Eye (15-8), however, who had trouble making weight on Saturday. She came in at 126.25 pounds, a quarter-pound over the limit, including the one-pound allowance for a non-title fight. That meant that Eye forfeited 25 percent of her purse to Calvillo. Eye has now missed weight in two consecutive fights.
Calvillo was dominant on the ground, scoring takedowns in four rounds and controlling the action on the mat. She also outfought Eye in the striking game, a combination that made her a clear winner on the judges' scorecards.
Despite the complete performance, Calvillo still found one reason to be disappointed.
"I'm always a little hard on myself, because I want to get the finish," Calvillo said afterward. "I've got to remind myself I just took out the No. 1 contender in the flyweight division. I guess I should feel great. But I really want that finish."
Calvillo (9-1-1) has scored two knockouts and three submissions in her MMA career.
Heavyweight Trilogy to Conclude This Summer
UFC president Dana White announced last week that Stipe Miocic and Daniel Cormier will meet in the Octagon for a third time on Aug. 15.
Cormier (22-2) beat Miocic (19-3) by knockout in July 2018. Miocic won their rematch via fourth-round TKO last August. The 41-year-old Cormier says he wants one more fight with Miocic before retiring from the sport.
This one is for all the marbles. 1-1, both knockouts but great fights, I can't wait to fight this dude again!! Now it's time to work as hard as I ever trained. #weareaka #zinkinsportsmanagement #2xheavyweightchamp 2xlightheavyweightchamp pic.twitter.com/BvyhectS4X

— Daniel Cormier (@dc_mma) June 9, 2020
"This one is for all the marbles," Cormier wrote on Twitter after the announcement. "1-1, both knockouts but great fights, I can't wait to fight this dude again!!"
Miocic suffered a torn retina during the second Cormier fight and has been recovering from that injury. In addition, he's been working as a firefighter in Ohio during the COVID-19 pandemic, further delaying his preparation for the third bout with Cormier.
White Reveals Next Two Cards
White also announced the next two UFC cards on Friday, both of which will take place at the UFC Apex facility in Las Vegas.
The June 20 card will feature a heavyweight clash between Curtis Blaydes and Alexander Volkov, while the following week will see Dustin Poirier take on Dan Hooker in the main event.
Blaydes (13-2) and Volkov (31-7) expected to fight on June 20, though they planned to meet in Saskatoon, Saskatchewan. Meanwhile, Poirier (25-6) and Hooker (20-8) have talked about a fight for months, though the coronavirus temporarily delayed a meeting.
"This is an important fight for both guys," White told ESPN of the Poirier vs. Hooker matchup. "Obviously, Poirier wants to get a shot at that title, and Hooker, if he comes in and beats Poirier, he's finally arrived."