Santa Anita Park, the iconic Southern California racetrack plagued by a horrifying series of equine fatalities, is setting March 29 as its "re-opening" day. A dispute over new medication rules between horse owners and track management had been threatening the future of the track, near Los Angeles.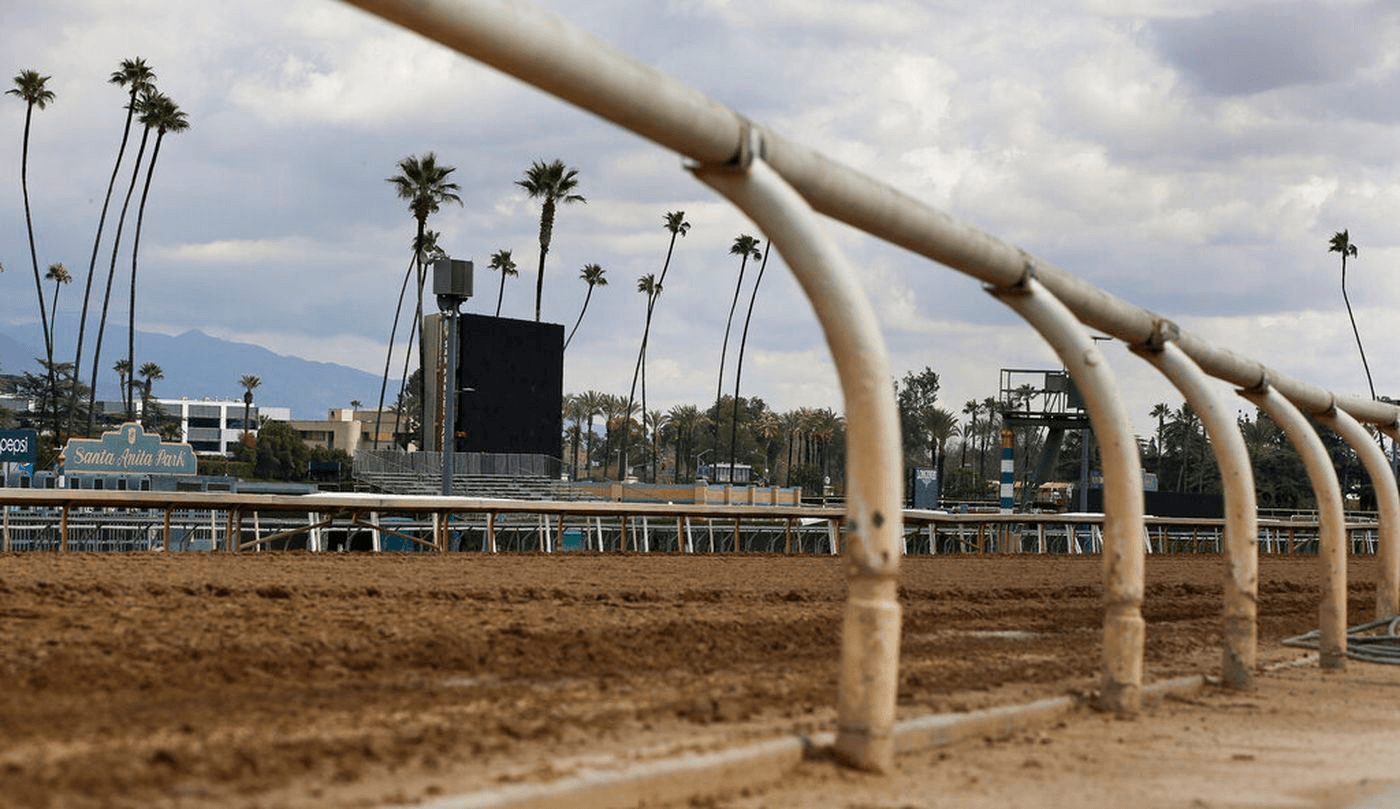 There's been no Thoroughbred action and the pari-mutuel wagering that accompanies it since racing was suspended on March 5 because of horse safety issues. Many are attributing the injuries and subsequent euthanizing to unsafe main and training track surfaces. The break in racing is allowing The Stronach Group (TSG), the track owner, to completely recondition and renovate both the main and training tracks.
However, when a 22nd horse had to be destroyed Thursday after breaking down following a training session, TSG quickly announced a sweeping series of equine medication reforms. Track management believes the move is adding an additional safety layer for the equine athletes.
California Compromise to Phase Out Lasix
A part of the new medication rules would have banned the race-day use of furosemide at both TSG's west coast tracks. They are Santa Anita and Golden Gate Fields, near San Francisco. Furosemide a powerful diuretic generally known by the trade name Lasix. Trainers use Lasix to help reduce bleeding in lungs and air passages of Thoroughbreds. Such bleeding is a widespread problem for horses during and after concentrated physical exertion.
Critics of the drug say its use can reduce horse bone density making the animal more susceptible to breaking down. Some experts also say Lasix can hide other illegal drugs that mask injuries and soreness.
The Thoroughbred Owners of California (TOC) quickly registered its opposition to the TSG Lasix edict, fearing such an immediate prohibition would render a significant portion of the Southern California horse population unable to compete locally, thus decimating the sport in the region.
Now, both sides are agreeing to an ongoing phase-out of race-day Lasix. The compromise calls for an immediate 50 percent reduction in the permissible race-day dosage. Starting next year, two-year-old competitors will be unable to use the drug in any amount. This replaces the original TSG plan implementing an immediate and complete Lasix ban.
The agreement between TSG and the TOC about reforms over multiple medications also curtails the use of the whip during races. Observers believe the state's governing body for racing, the California Horse Racing Board (CHRB) as mandated by law, will sign off on the compromise at its March 28 meeting.
Fatal Injury Puzzle Still Unsolved
No specific cause or common denominator is yet to be determined as to why 22 horses suffered catastrophic injuries since the track began its lengthy winter/spring meet on Dec. 26. Although extremely wet weather conditions that effectively ended a seven-year drought in the state and historically cool weather may have undermined the racing surface, an ongoing investigation into the horse deaths continues.
Many trainers, believing the track surface is now as safe as possible are resuming timed workouts. Among those are Marley's Freedom (six furlongs, 1:12.80) for Bob Baffert and Selcourt (five furlongs, 1:00.20) for John Sadler. Both are top-class horses and nominees to the delayed Beholder Mile. That's a one-mile race for fillies and mares now to be contested March 30.
The resumption of racing on March 29 incorporates medication reforms and also limits the use of the whip by riders. Whip use in actual races starting March 29 at at both Santa Anita and Golden Gate is now allowed for "corrective safety measures" only.  Curtailed whip use in training is effective immediately.