Byron Buxton missed 39 games for the Minnesota Twins earlier this season with a hip strain before returning to the lineup this weekend. Now, the superstar outfielder could miss just as much time after his latest unfortunate injury.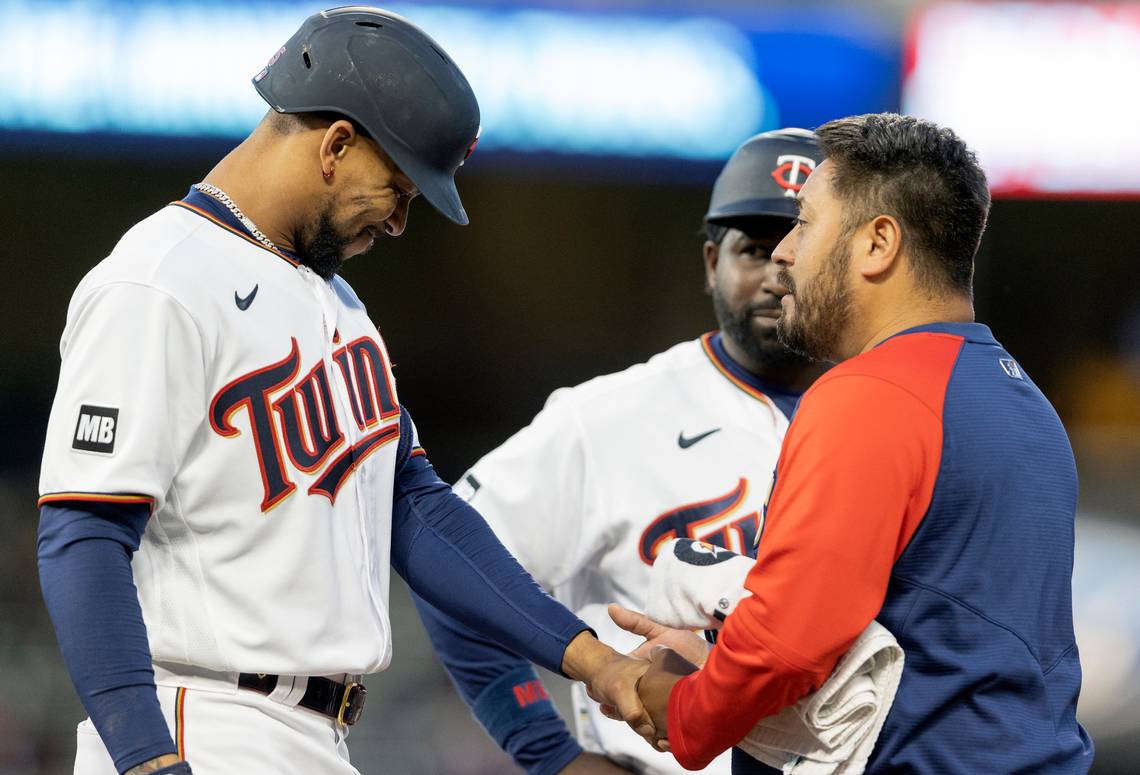 Cincinnati Reds pitcher Tyler Mahle hit Buxton in the left hand with a pitch during the fourth inning of Monday's game.
Buxton suffers 'boxer's fracture'
Buxton stayed in the game and even patrolled center field in the fifth inning, but Nick Gordon came in to replace him to start the sixth.
"You would have to literally remove him from the field to get him off the field. That's just who he is as a guy and as a competitor," Twins manager Rocco Baldelli told reporters after the game. "He doesn't react to pain. He just goes out there and keeps playing."
The Twins' medical staff initially diagnosed Buxton with a left-hand contusion. However, X-rays revealed a fracture of the fifth metacarpal, commonly known as a "boxer's fracture." Minnesota says it doesn't currently have a timeline for Buxton to return, though it will likely be weeks or months from now. In the meantime, the Twins have placed Buxton on the 10-day injured list.
Byron Buxton has a boxer's fracture and will miss time.

Rocco Baldelli: "No one should have to deal with what Buck is going through right now…He's the most upstanding, hard working, wonderful teammate and baseball player that you could find." pic.twitter.com/mEvhfwDdHe

— Bally Sports North (@BallySportsNOR) June 22, 2021
Buxton has been one of the best players in the American League this year when he's been healthy. In his 27 games, he's hit .369 with 10 home runs and a 1.176 OPS. Since returning from his previous IL stint, Buxton had gone 4-for-11 with a homer.
Injuries ruin All-Star season
Fans noticed that performance. Buxton ranks third in All-Star Game voting for AL outfielders behind only Mike Trout and Aaron Judge. He's also remained a dark horse in the AL MVP race. While FanDuel Sportsbook ranks Vladimir Guerrero Jr. (+110) and Shohei Ohtani (+150) as the only likely winners of the award, Buxton stands at +3000 odds – the same as Mike Trout, with only Xander Bogaerts (+2500) ahead of him.
While Buxton has been great in an individual capacity this season, the Twins have struggled mightily. Minnesota started the year with a 31-42 record and now sits 12.5 games behind the White Sox. While Buxton's absence has hurt the team – the Twins went 17-22 without him – Minnesota has disappointed from Opening Day after expecting to compete with Chicago for the AL Central title. The Twins are now a +5500 pick to win the division.
It's unlikely that Minnesota will turn things around now that Buxton faces a long absence. But Baldelli said he was more struck by the unfortunate timing for his star centerfielder.
"This isn't fair," Baldelli said. "That's how I feel about the whole thing, and I'll be thinking about him often in the near future because this is going to be tough to bear."