You can get a sense of how Las Vegas feels about the city's newest hometown heroes, the Golden Knights, outside the New York New York hotel on the Strip — where Lady Liberty proudly dons her giant Golden Knights jersey.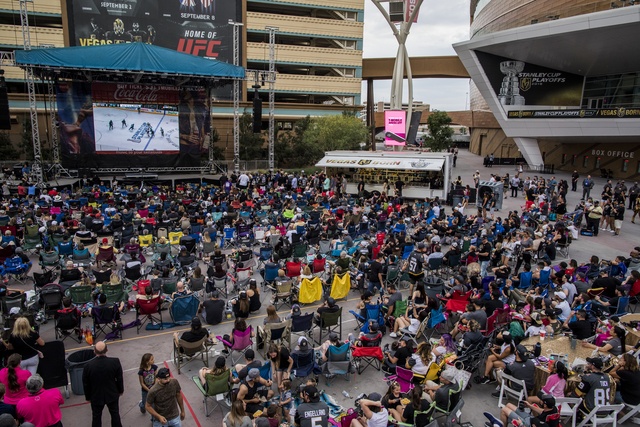 Her supersize display of civic pride measures 60 feet tall, 80 feet around, and weighs 700 lbs. But a more fitting symbol might've been a jersey wrapped around a cash register, as local businesses and season ticket holders are finding the team's improbable run to the Stanley Cup not only thrilling but also profitable.
With the Stanley Cup Finals starting Monday, the fever has increased even more.
According to NHL officials, the Golden Knights in their inaugural season have sold the fourth most jerseys of any team in a year. Goalie Marc-Andre Fleury's No. 29 is the fourth most popular of all players in the league.
Ticket sales at T-Mobile Arena have been similarly stunning — accounting for more than $65 million in sales. And when it comes to attendance, Golden Knights home crowds are filling the stadium, on average, at 103.7 percent capacity.
Banking on Golden Knights Hysteria
When the Golden Knights won the Western Conference Finals last week, a local Dick's sporting goods store extended their hours to sell team merchandise. With lines out the door, managers reported record sales.
The team's official merch outlet at their practice facility sold 1,000 Western Conference Champions shirts and about 1,000 Western Conference Champion hats by noon the day after the Golden Knights won their fourth game against Winnipeg.
Other businesses reported similar experiences of being unable to keep fan gear on their shelves.
Bob Durda, vice president of buying and merchandising for sports apparel retailer Lids, which has 21 locations in the area, told the Las Vegas Review-Journal that postseason sales volume was "by far the best ever."
"It's crazy the amount of headwear we're going through right now," Durda said. "I don't think anybody could have expected it to be this good."
Fans who were loyal enough to buy season tickets have been rewarded as well. Despite a plan to limit scalping of playoff tickets, digital aftermarket sales apps have allowed season ticket holders to sell seats for big money.
Upper deck playoff tickets that cost $185 at face value were showing up on Stubhub and Gametime in the $400-$500 range. Now that the Stanley Cup finals are here, those same upper deck seats with a printed price of $285 are already fetching nearly $1,000 on resale sites.
Sportsbooks Feel Pain But Like It
Perhaps ironically, the only losers around town could be casino sportsbooks. Before the season they were placing odds on the Golden Knights to win the Stanley Cup at anywhere from 200/1 to 500/1. Now a handful of tickets — bought mostly for sentimental value — could come in with windfall profits at the casinos' expense.
Estimates show Nevada sportsbooks could lose more than $5 million if Fleury and his teammates are the ones who hoist Lord Stanley's silver. But despite the possible beating, local Vegas oddsmakers still seem to be rooting for the team.
South Point sports book director Chris Andrews told the Review-Journal that owner Michael Gaughan has accepted the possible loss in favor of the feel-good sports story of the decade.
According to Andrews, "Mr. Gaughan said that's OK. He thinks it's good for the town and good for the South Point. He's not that concerned."