Martinsville ignited a couple of incidents last Sunday, with Kyle Busch and Aric Almirola tussling on the track while Joey Logano and Denny Hamlin got feisty on pit row.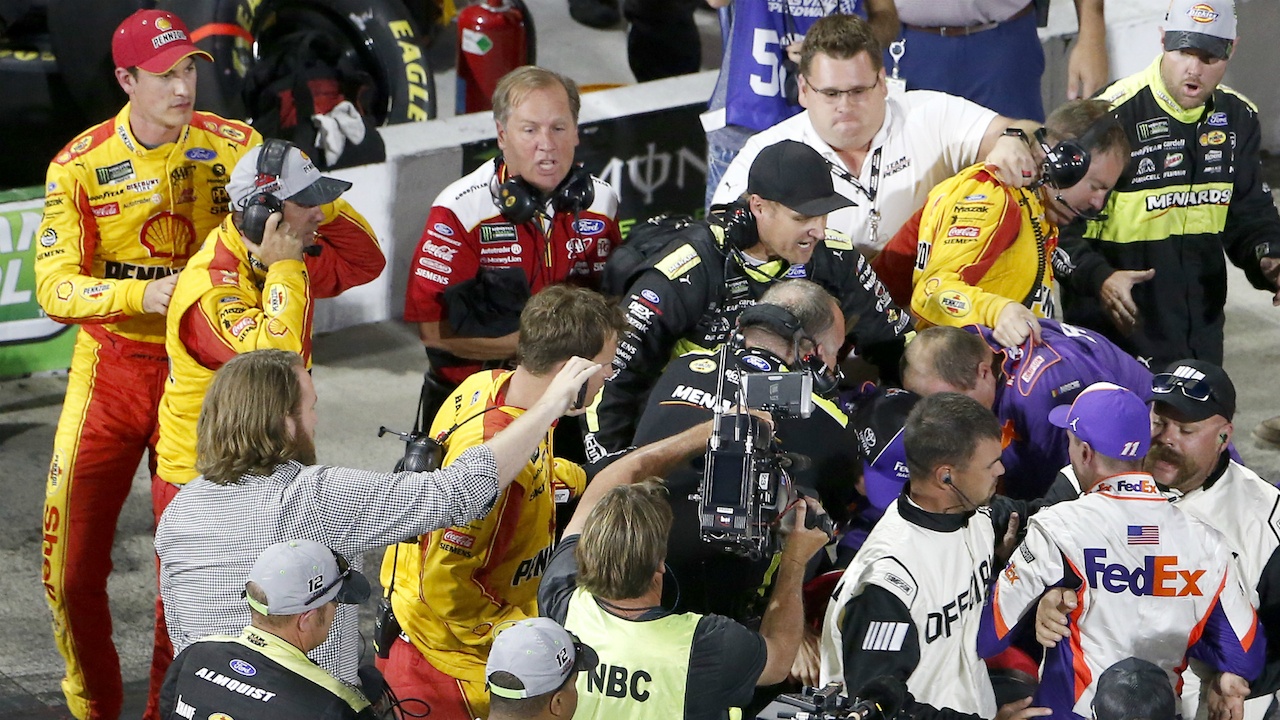 The Busch-Almirola feud began on Lap 361 when the two made contact in Turn 3. Almirola then bumped Busch in the next turn. Busch then spun Almirola around, and was hit by Jimmie Johnson.
Almirola was knocked out of the race, and was clearly frustrated with Busch's antics.
"We just got together," Almirola said. "I got inside of him (Kyle Busch) getting down in Turn 3, and he chopped me, and I got in his left-rear and moved him up a little bit and got inside of him, and then we hooked and got tangled up off of turn four."
Busch-Almirola Feud Not Done
Almirola isn't in the Monster Energy Cup Playoff anymore, and it sounds like his goal is to knock Kyle Busch out of the race as well. Busch is presently at third, with the four top drivers qualifying for the championship at Miami-Homestead on Nov. 17.
Even though Almirola isn't part of the playoff, he was disappointed he couldn't finish higher, and blamed Busch.
"It's disappointing. I had a really good Smithfield Ford Mustang and felt like we were maybe one adjustment away from being maybe a second or third-place car, so I'm proud of my guys, proud of the effort. We've got three more weeks, and I'm going to make it hell for him."
Busch was contrite after the race, telling reporters a different version of what happened.
"He ran over me, so I chopped him, and we got hooked together," Busch said.
When he was told that Almirola was gunning for him, Busch replied, "Sounds good."
Logano-Hamlin Mix it Up
The heated words between Joey Logano and Denny Hamlin quickly turned physical after Martinsville. Logano was upset that Hamlin had bumped him during the race, and sought out Hamlin to talk about the contact.
The two were discussing the incident, when Logano hit Hamlin in the shoulder and walked away. Hamlin followed, and members of Logano's crew intervened. One unidentified crew member knocked Hamlin to the ground.
"We were having a discussion, everything was civil, and then like Joey does, he does a little push and then runs away," Hamlin said. "So that's Joey. Scared ‑‑ he said, 'Do you want to go?" 'I said, 'Yes, I'm here.' But then he runs away."
Hamlin was ready and actually threw a punch that didn't connect. Logano said he probably shouldn't have shoved Hamlin.
"Yeah, I just wanted to talk to him about it and was pretty frustrated," Logano said. "He just kind of came off the corner like there wasn't another car on the outside of him and ruined our day. A shot at the win for sure. We probably weren't going to beat the 19, but we had a top 5 for sure coming our way."
This Week's Odds, Pick
The drivers are in Texas this Sunday, and Kyle Busch and Martin Truex Jr. are the favorites at 5/1. We're picking a long shot, though, and say Kevin Harvick, who is at 7/1, will win. Harvick has won the last two playoff races there.