One of the oldest clubs in English soccer will no longer be welcome in the nation's Football League, as Bury is being expelled by the EFL due to financial problems.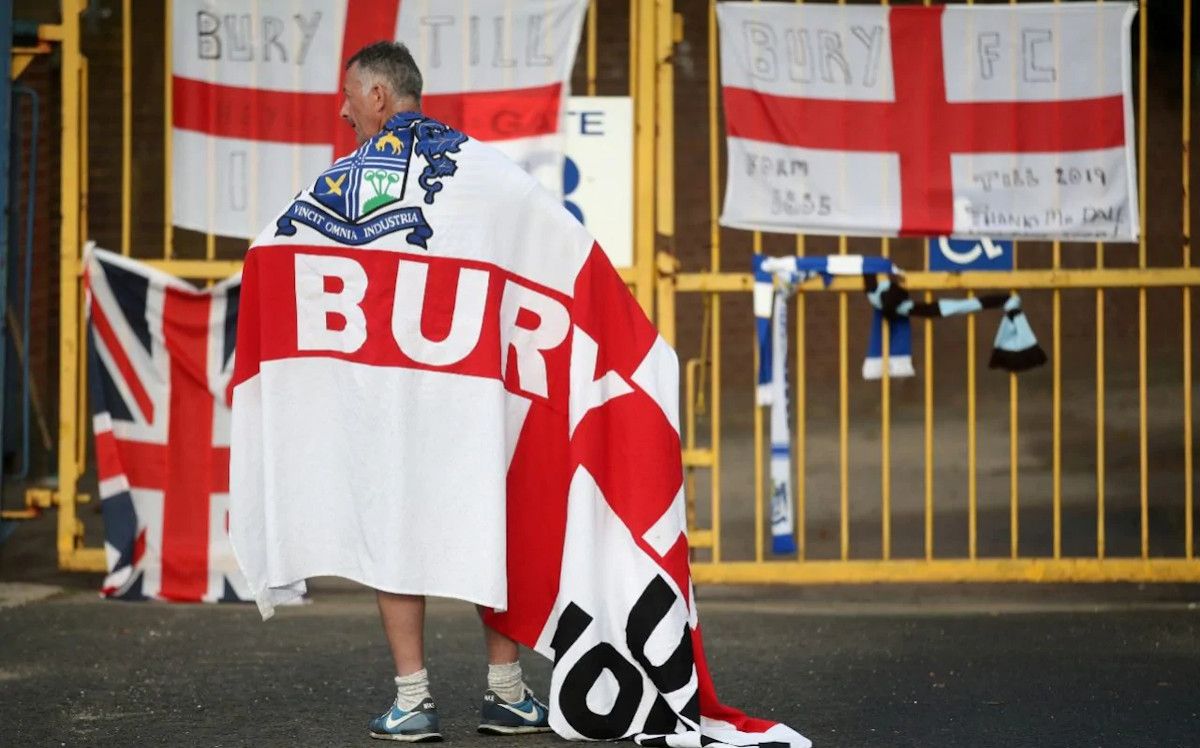 Bury, which currently sits in League One – the third tier of English soccer – is the first team to face expulsion from the EFL since Maidstone was removed in 1992.
Bury Removed From League One Schedule
Bury, which has been a part of the Football League since 1894, was known to be on the verge of financial collapse. Unable to deal with those concerns, Bury's ownership looked for a buyer, with analytics company C&N Sporting Risk seemingly coming to the rescue to take over the club.
But the firm pulled out of the deal just hours before the EFL's deadline for Bury to resolve its financial problems. And while multiple media outlets have reported that there were other late offers to purchase the club, nothing came to fruition in time to satisfy EFL officials.
"Having fully considered all available options, including a number of late expressions of interest provided to the EFL, the EFL Board has unanimously determined with enormous regret that Bury's membership be withdrawn," a statement from the EFL read.
Bury had been sitting out the early portion of the League One season, having seen its first five matches suspended. The EFL says that the remainder of the league season will simply be played with 23 teams rather than 24.
Dale Receiving Brunt of Blame
Bury owner Steve Dale implored the EFL to reconsider, saying that nobody would gain from having Bury out of the league system.
"If the many requests to rescind remain unanswered we believe an independent adjudicator should be brought in," Dale told Sky Sports. "We also want a secret ballot of all EFL clubs to ask the question if they want fellow clubs Bolton and Bury FC to be taken out of the league. I don't think they would want that."
Dale has been blamed for allowing Bury's problems to fester after he purchased the club for just £1 from former owner Stuart Day in December. Dale certainly didn't win over any fans with comments he made to BBC Radio 5 Live on Friday.
Steve Dale is a disgrace. Should have his collar felt for destroying Bury FC.pic.twitter.com/xZTcSEHzdP

— Gary Taphouse (@garytaphouse) August 27, 2019
"I never went to Bury. It's not a place I frequented," Dale said, while talking about efforts to sell the club. "So for me to walk away from Bury and never go back is a very easy thing to do. I don't do anything up there. I didn't even know there was a football team called Bury to be honest with you. I'm not a football fan."
Bolton Has Two Weeks to Find Buyer
The EFL has also put fellow League One club Bolton on notice. The Wanderers have been given an additional 14 days to find a buyer after a deal to sell the club to Football Ventures fell apart over the weekend. Club administrator Paul Appleton placed the blame on owner Ken Anderson, saying he was the only party that hadn't agreed to the sale.
Bolton now has until Sept. 12 to either find a buyer or prove it can fund itself through a full season under administration. The latter plan seems unlikely, as administrators have warned that the club is on the brink of being liquidated.
While Bolton is still a part of League One for now, the club's financial difficulties have forced it to use a team made up primarily of youth players in all matches to save money. That has left the Wanderers in last place in the league, with just one draw from four matches in which they've conceded 12 goals without scoring. Bookmaker BetStars is offering 1000/1 odds on Bolton winning the league.
The Bolton Wanderers were a founding member of the Football League in 1888. The club has won the FA Cup four times, most recently in 1958. Bolton holds the distinction of spending more seasons at the top flight of English soccer without winning the title than any other club. The club's most recent run at the top level saw it stay in the Premier League from 2001 through 2012.