Bryce Harper may be one of the best young players in baseball, but that doesn't mean the Washington Nationals wouldn't be willing to trade him – assuming the price was right.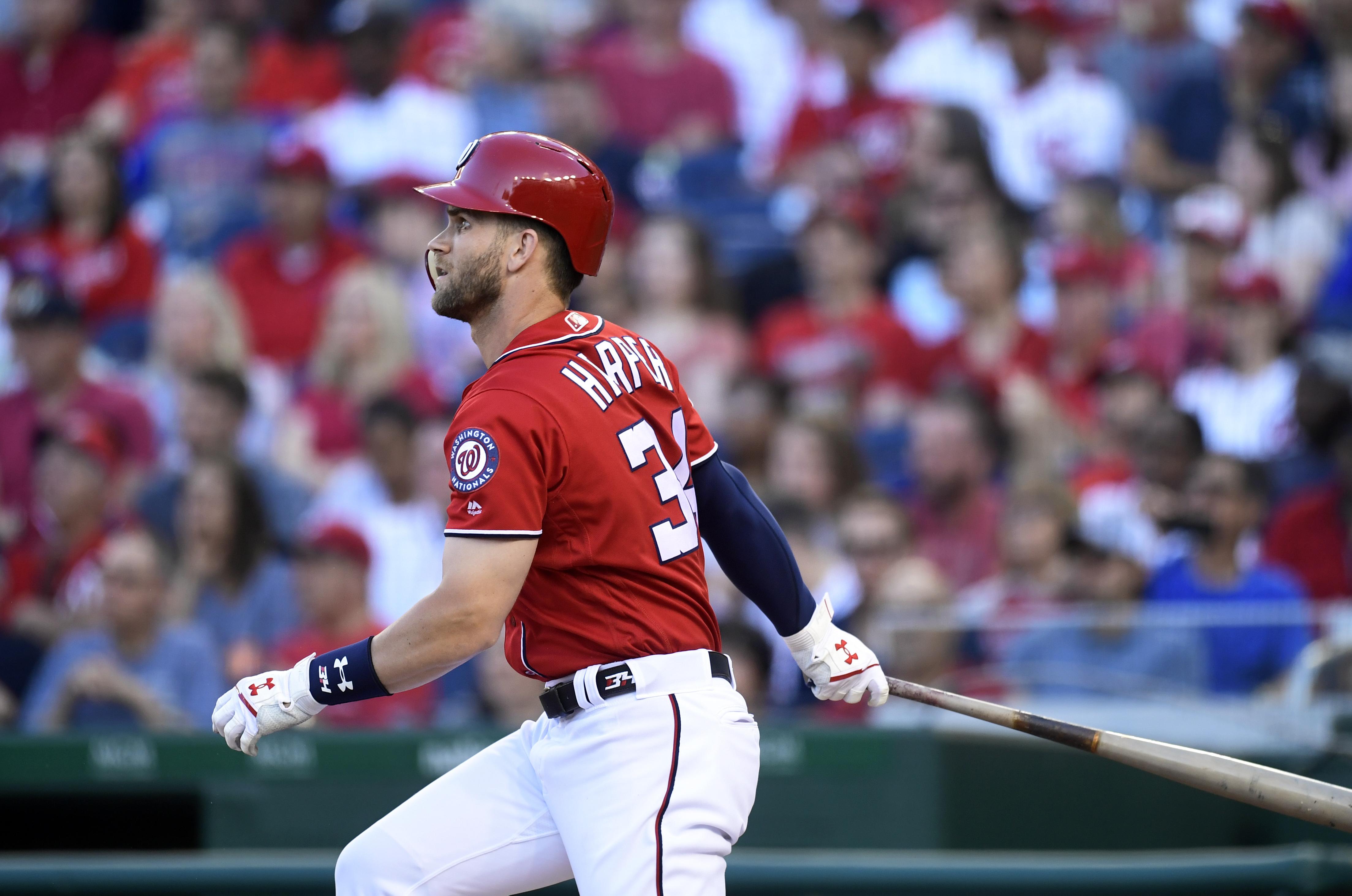 MLB.com reported Monday that the Nationals were considering trading their All-Star outfielder, though the odds of a deal being made seemed to be shrinking as the trade deadline approached on Tuesday.
Harper, Nationals Struggling to Stay in Contention
On Monday, MLB.com's Mark Feinsand cited a source that said the Nationals were letting other teams know that Harper was available, though that didn't necessarily mean that the team was committed to trading their superstar.
Harper is in the final year of his contract, and is still owed about $7 million this season, which would limit the number of teams who might be willing to add him as a stretch run rental. Whether he is traded or not, the outfielder is likely to test the free agency market in the offseason, where he's hoping to land a deal worth $300 million or more.
Harper, 25, is in the midst of one of perhaps the most unusual season of his career. The six-time All-Star is hitting just .220, but it's hard to say he's had a bad offensive season: he has hit 25 home runs and leads the NL in walks, allowing him to put up a .842 OPS so far this year, far above the league average. However, those numbers are still far below what he's accomplished in his best seasons.
Perhaps that's been enough for Washington to be willing to trade Harper while they can still get something for him. There's also the fact that the Nationals are just 52-53, 5.5 games behind the Philadelphia Phillies for the division lead. That's surprising for a team that entered the year as one of the favorites to reach the World Series, and has put Washington in a position where they could potentially choose to be a buyer or a seller at the trade deadline.
Rizzo Shuts Down Speculation
By Tuesday morning, some observers were convinced that a deal was going to happen.
"I think there is an excellent chance that he is going to move today, because of the direction of the Nationals lately, because of how Bryce has played this year, and because of the return they can get for him," ESPN's Buster Olney said on the Golic & Wingo radio show.
Other media confirmed that there was something to the Harper trade talk, though that it might not be realistic to expect a deal to happen in the hours before the deadline. ESPN's Tim Kurkjian suggested that Washington was looking for a top of the rotation starting pitcher and more in exchange for Harper, a price few (if any) teams were likely to pay.
"I'd be shocked if they do it," Fox's Ken Rosenthal quoted a rival executive as saying. "They're seeing if someone wants to go crazy."
Later on Tuesday morning, Nationals general manager Mike Rizzo sent a message to the Washington Post that appeared to put an end to the possibility that Harper would be traded.
"Bryce is not going anywhere," Rizzo said. "I believe in this team."
The MLB trade deadline is 4 pm Eastern on July 31. Players can also be traded throughout August, but only if they first clear waivers.