LeBron James may be the king, but Bryce Harper has surpassed him when it comes to pure popularity, at least for one day.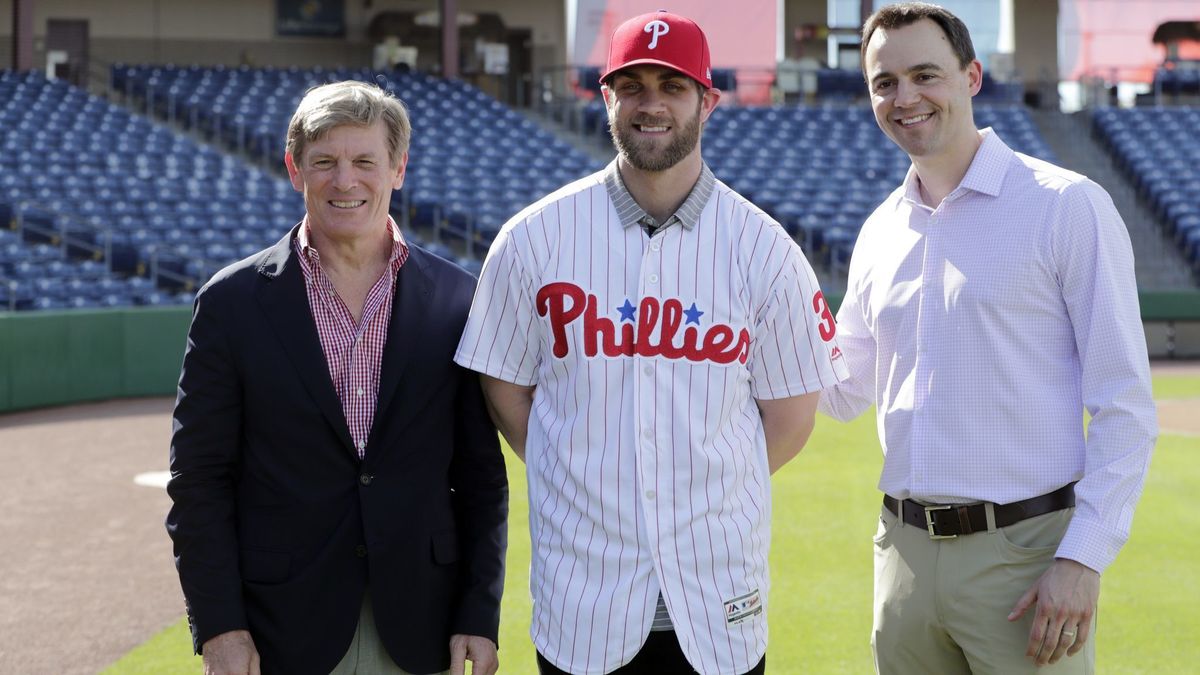 According to retailer Fanatics, Harper broke James' record for the best-selling jersey in any sport in the first 48 hours after its launch, with Philadelphia Phillies fans apparently gobbling up Harper jerseys as fast as they could after the signing was announced.
Harper Wearing No. 3 for Philadelphia
On Saturday, the Phillies officially introduced Harper as the latest member of their team in a press conference after the 26-year-old outfielder signed a 13-year, $330 million contract. That deal stands as the largest signing in the history of North American sports, even though Harper is not among the highest-paid players in Major League Baseball on an annual basis.
Harper's Phillies jersey will also be a unique addition for fans who love the young superstar. While he wore the number 34 with the Washington Nationals, Harper will be switching to No. 3 on the Phillies. That's due to the fact that Roy Halladay, the Hall of Fame pitcher who died in a plane crash in 2017, wore No. 34 while playing in Philadelphia for four years.
The jersey was first offered to fans about 10 minutes after the press conference to announce Harper's signing had started. The public reacted swiftly, buying up the uniform like there was no tomorrow. In breaking James' record, Harper's jersey also surpassed the debuts of Giancarlo Stanton's Yankees jersey, as well as Khalil Mack's uniform with the Chicago Bears and Jimmy Garoppolo's after signing with the San Francisco 49ers.
Harper is widely considered one of the best players in baseball. In his first seven seasons, he has made six All-Star teams and won an MVP award. He has batted .279 for his career with 184 home runs and 521 RBIs.
According to CBS Sports, Fanatics said that overall, Phillies merchandise sales rose by 5,000 percent year-over-year in the day after the Harper signing.
Harper Says He'll Recruit Trout to Phillies
As impressive as those numbers may be, however, it's possible that Phillies fans could go even wilder two years from now. Mike Trout will be a free agent following the 2020 season, which could create a free agency bidding war unlike anything ever seen before considering the fact that Trout is already approaching the status of an all-time baseball great.
There have been reports that the Los Angeles Angels might try to keep Trout on their team with a massive 10-year, $350 million extension. But at the same time, Harper has promised to do what he can to recruit Trout to the city of brotherly love.
"If you don't think I'm not gonna call Mike Trout in 2020 to have him come to Philly, you're crazy," Harper told 94WIP Sports Radio in Florida.
A Phillies team with Trout and Harper would be considered a contender almost no matter who else was on the roster, but Philadelphia is already formidable even with only one of the two stars on their squad. According to William Hill, the Phillies are a 10/1 pick to win the 2019 World Series, behind only the Red Sox (6/1), Astros (6/1), Yankees (6/1), and Dodgers (7/1).