The shadow of Tigermania is providing shade, as well as throwing it, at Brooks Koepka. The winner of three of golf's past eight major championships can't seem to get the recognition he should because of Tiger Woods' remarkable comeback.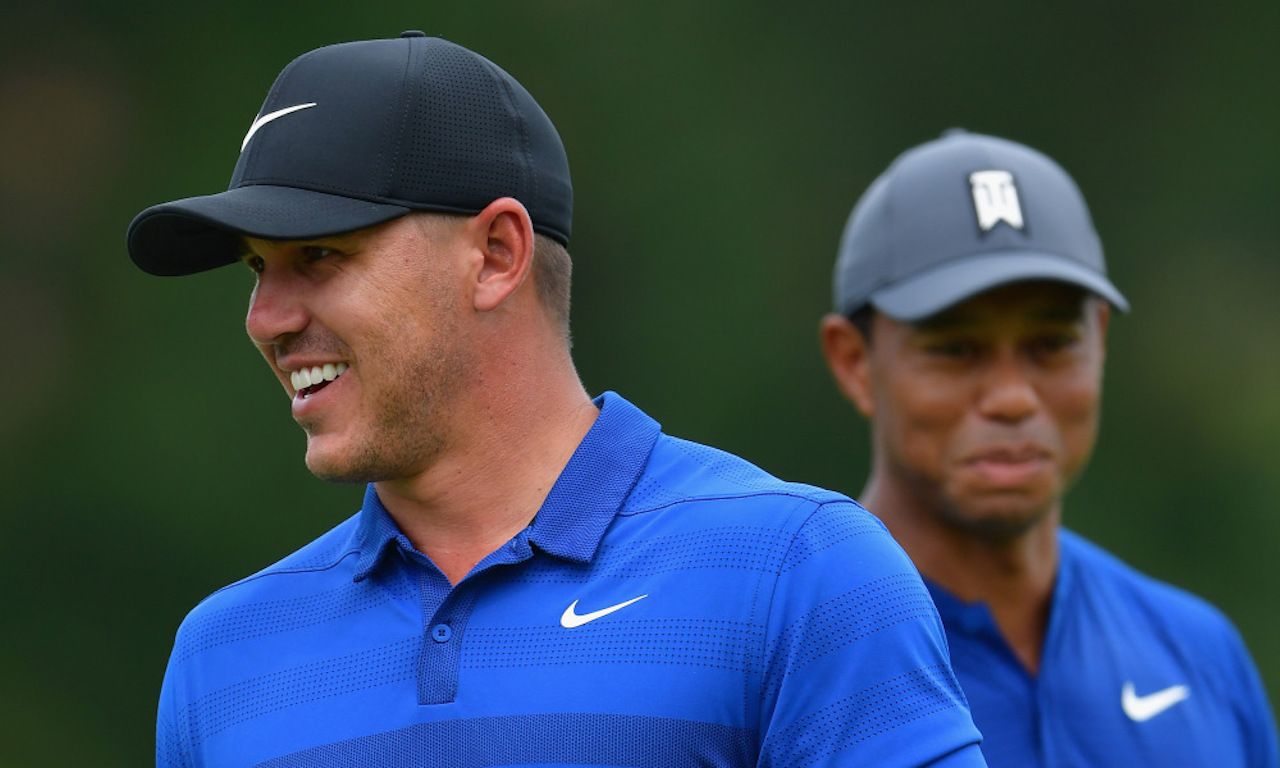 Woods won the Masters and the reemergence of the hysteria surrounding Woods was complete. The golfing public was clamoring for Woods to return to greatness, and he delivered. His fans wanted, the PGA Tour wanted it, and the television networks wanted it. Even Koepka thought if it wasn't him wearing a Green Jacket, he was glad for Woods.
"It's just good to have Tiger back winning majors," Koepka said. "But to be there on 18 and congratulate him when he was done, it was fun to be a part of because that atmosphere, when he was done, was pretty special."
With the PGA Championship beginning Thursday, and Koepka the defending champion, the 29-year-old has an opportunity to add to his major championship resume, but if Woods is in the hunt, expect the attention to be away from the No. 3 ranked golfer, and firmly shining on Woods.
Koepka Succeeding in Anonymity
When Woods was on a similar major championship run as Koepka, albeit more voluminous, the media couldn't get enough of Woods. Even now, Woods' every move is being reported on ad nauseam. We know that Woods' yacht "Privacy" is docked in Oyster Bay in Long Island. Video of him playing a practice round at Bethpage Black surfaced last week. A reporter even asked him what he thought of John Daly getting a golf cart.
"Poor Brooks Koepka," CBS broadcaster Jim Nantz said last week during a conference call. "If I don't bring up his name right now, you guys are never going to bring him up. It's borderline tragic in terms of how you cover a player or a subject. He's having the best run of golf since Tiger in 2000 and 2001. It's just not interesting enough for us to give the guy the time. We can't give the guy a sniff."
A player with a bigger ego would be miffed, and last year it did rankle Koepka that he wasn't getting any recognition for his accomplishments. On Tuesday, though, he said he has moved on from the frustration.
"No, not as much, no," Koepka said about the perceived slight. "No. I think at the U.S. Open, yeah, I was more of that, and now so, not really. I'm just trying to go out and go play golf. Everything seems to kind of take on a story of its own. That's kind of helped out a little bit, I think, sometimes."
Motivation Should Help
One person, though, that has gotten under Koepka's skin is golf analyst Brandel Chamblee. The Golf Channel employee criticized Koepka's weight loss and his toughness. Then he added that Koepka wasn't among golf's elite players. That prompted Koepka to post a picture of Chamblee on social media with a clown nose.
Chamblee was at it again on Tuesday. He questioned whether Koepka was a great player, or just on a hot streak. Koepka is ignoring Chamblee for the most part, but did say he has room for improvement.
"I think I'm doing a better job of that, letting you guys kind of into my life or not viewing you guys as the enemy, which I kind of did maybe earlier on in my career," Koepka said "Where now it's, 'Listen, this is who I am, and I'm not going to change for anybody, I'm just going to show you guys who I really am.'"
He can quiet a lot of critics with a win on Sunday. Silencing Tigermania on the other hand may be a task even Koepka can't conquer.