The New York Yankees (49-28) hit a home run in 26-straight games to set a new franchise record by eclipsing a record set by the infamous 1941 Yankees squad.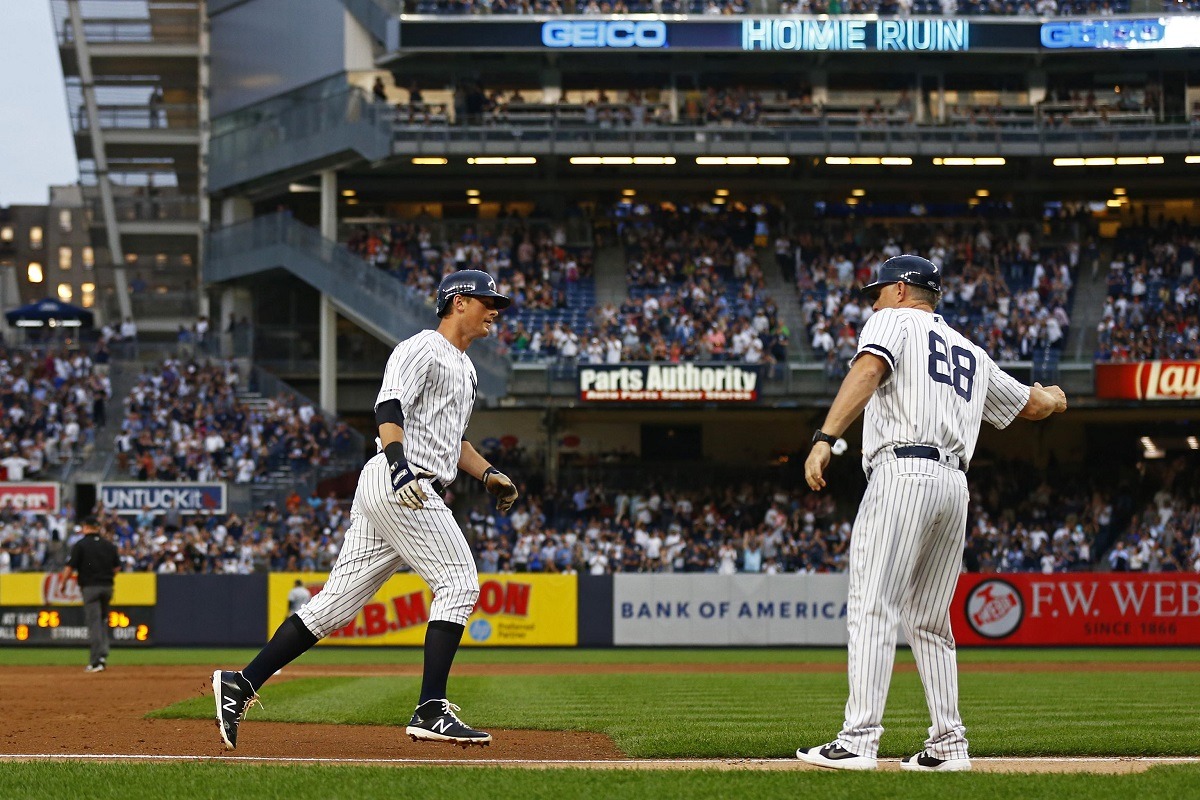 The Yankees are one more game away from tying the all-time MLB record, held by the Texas Rangers.
The Yankees celebrated Old Timers' Day at Yankees Stadium several hours before an afternoon game against the visiting Houston Astros. On a day that saw Yanks' Hall of Fame closer Mariano Rivera hit an inside the park home run, the current Yankees set a new record.
In the fourth inning against the Houston Astros, second baseman DJ LeMahieu smacked a three-run blast to extend the streak to 26 games.
The Yankees, first place in the AL East, have now hit 113 home runs through 77 games. Last season, the Yanks hit a record-setting 267 home runs.
Despite the streak, the Yanks experienced rough waters with a mini-slump. They were 3-9 during one stretch before snapping out of their funk to win 8-games in a row.
"Guys are putting together good at-bats," said first baseman Luke Voit. "That's what is great about this team. We can hit a home run at any point."
The Astros recently thwarted their own miserable seven-game losing streak. They also stopped the Yanks' winning streak dead cold. However, despite Justin Verlander on the mound, the Yankees connected on a home run to keep the streak alive.
26 and Counting
The Yankees pulled off this historic feat without the big bats of Aaron Judge and Giancarlo Stanton. They were on the IL for the majority of the streak. When they returned from the IL this past weekend, neither hit a home run.
Edwin Encarnacion hit two dingers since the slugger joined the Yankees in a trade from the Seattle Mariners.
Without Stanton and Judge in the lineup, Torres and Sanchez handled the bulk of the heavy lifting. The two have quickly become the Bronx's version of the Bash Brothers.
Gary 'Kraken' Sanchez leads the Yankees with 23 home runs. He hit eight during the streak.
Gleyber Torres smashed 18 home runs in his sophomore season with the bulk of his homers against the lowly Baltimore Orioles.
"We have a great line up and every guy can hurt you," said manager Aaron Boone.
Chasing Ghosts of Joe D
The previous franchise record of 25 games with a home run occurred in 1941 during Joe DiMaggio's record-setting 56-game consecutive hit streak. Joe D and the Yanks kicked off June by hitting homers in the first 25 games of the month.
The 1941 Yankees (101-53) featured six Hall of Fame players including DiMaggio, Bill Dickey, Phil Rizzuto, Lefty Gomez, Joe Gordon, and Red Ruffing. DiMaggio earned $37,500 as the highest-paid Yankee that season.