MMA and pro wrestling superstar Brock Lesnar has finished his existing contract with WWE, meaning the 43-year-old could potentially land just about anywhere in the combat sports industry in the weeks or months to come.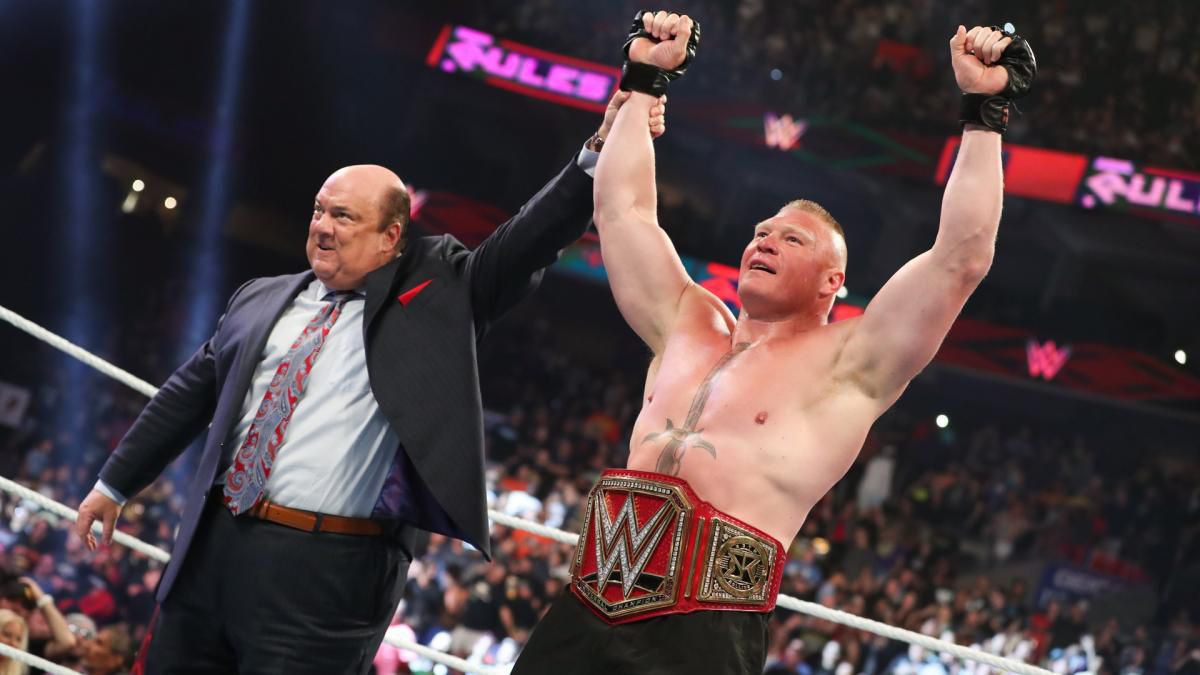 Lesnar spent the last eight years wrestling in WWE, usually as a part-time special attraction who competed in relatively few matches each year.
Lesnar Could Pursue Fights vs. Jones, Fedor
He held the WWE Championship until April when he dropped the belt to Drew McIntyre at WrestleMania 36. That was the last time Lesnar appeared in the ring.
Lesnar has become a massive star in professional wrestling. Hee also maintains significant clout in MMA circles. That's despite the fact that he holds just a 5-3 professional record. His only bout since 2011 came against Mark Hunt at UFC 200 in 2016, when Lesnar initially won a unanimous decision, but saw the result change to a no contest after he tested positive for clomiphene.
But Lesnar did win the UFC heavyweight championship in 2008 when he stopped Randy Couture in the third round. He defended that title twice before Cain Velasquez defeated him at UFC 121 in 2010.
Lesnar would likely struggle to compete for a championship at age 43, but his name alone could open up the potential for some big fights. One possibility: a clash with Jon Jones (26-1), who recently moved up to heavyweight after vacating his light heavyweight title.
Dana White told TMZ Sports that he will book a Lesnar vs. Jones fight if Lesnar is "seriously interested" in the contest. Online sportsbook BetOnline.ag has made Jones a -250 favorite over Lesnar (+210) in such a hypothetical battle.
Bellator Could Enter Bidding War
Other MMA opportunities could also entice Lesnar. If he joins Bellator, he could potentially fight Fedor Emelianenko, a fight the UFC tried to book but could never quite make happen.
Asked Bellator President Scott Coker if he has interest in Brock Lesnar, and he replied:

"Yes, if he's truly available. Fedor vs. Brock is interesting. It's the fight that never happened!"

— Ariel Helwani (@arielhelwani) August 31, 2020
"Yes, if he's truly available," Bellator President Scott Coker told ESPN's Ariel Helwani when asked if he'd be interested in signing Lesnar. "Fedor vs. Brock is interesting. It's the fight that never happened!"
Fans could find a Lesnar vs. Emelianenko fight more compelling – and competitive – as well, as both men are now 43 years old. BetOnline pegs the potential fight as a straight toss-up, with both men listed at -110 to win.
Lesnar has used a potential MMA return as a negotiating tool before, and that could be the case again. But even if that's true, Lesnar can now consider a number of options inside the squared circle as well.
WWE remains the most likely company to resign Lesnar, given their existing relationship. But All Elite Wrestling (AEW) has plenty of money and could also bid for his services, especially if it wants to bring in a big-name star who could increase ratings and pay-per-view buys overnight.