Brad Keselowski won his second race in just over a week on Sunday, racing by Chase Elliott and Joey Logano after a late crash to win the Supermarket Heroes 500 at Bristol Motor Speedway.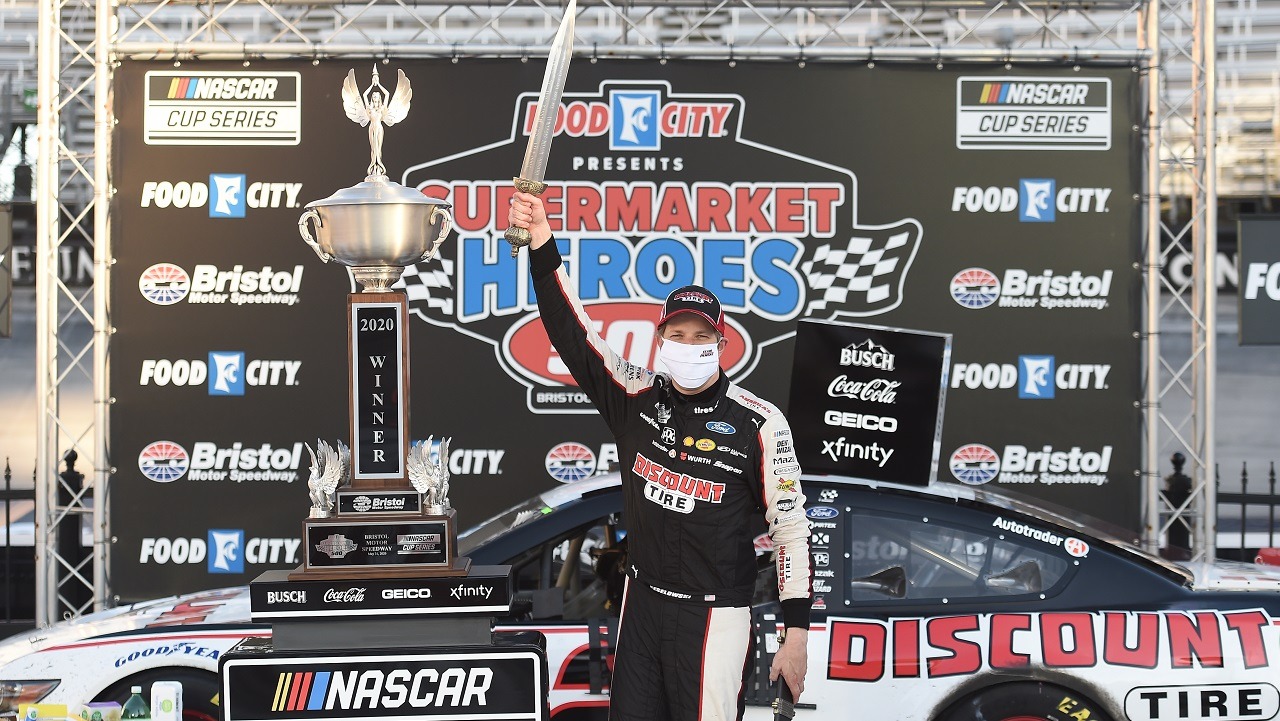 Keselowski became the first driver to win a second race since NASCAR resumed its season, having won the Coca-Cola 600 the previous weekend at Charlotte Motor Speedway.
Opportunistic Keselowski Strikes Again
Both wins came in part due to good fortune on the final laps. Keselowski won last week thanks to a late caution that sent the race into overtime. He stayed on old tires to take the lead position, then held off challengers during the extra laps.
On Sunday, Keselowski again found himself near the lead but running out of time. He sat in third place when Elliott and Logano collided on the final turn of the penultimate lap. The two cars slid into the wall, leaving Keselowski clear to take the lead for the final lap. He then held off Clint Bowyer by 0.471 seconds to grab the win.
"We were in position and able to strike when it counted," Keselowski told reporters after the race. "Joey and Chase got together there. I don't know what all caused it, but we were just in position to strike and here we are in victory lane."
Elliott took responsibility for the crash afterward.
"As soon as I turned off the wall I had zero chance of making it," Elliott said after the race. "I'll certainly take the blame. I just got loose and got into him."
The wreck knocked Logano down to 21st place, while Elliott finished 22nd.
Elliott, Logano Remain Among Championship Favorites
Jimmie Johnson finished in third place, with Kyle Busch and Erik Jones rounding out the top five.
"Wild and crazy for sure," Johnson said of the finish, via NASCAR.com. "I wish there were more long runs but still salvaged a great day out of it."
The race proved to be one of the messiest in years at Bristol. There were 17 caution periods totaling 102 laps, the most at the track since 2006.
Kevin Harvick held on to the NASCAR Cup Series lead after an 11th-place finish, the first time this season he has landed outside the top 10. Logano, Elliott, and Keselowski follow him in the drivers' standings, with Alex Bowman rounding out the top five. All five have won at least one race this season, which in all likelihood, clinches a position in the postseason.
Those same drivers are, by-and-large, the favorites to capture the 2020 NASCAR Cup Series Championship. William Hill lists Elliott as the +500 favorite, but he's only marginally ahead of Harvick (+550), Keselowski (+600), Logano (+650) and Kyle Busch (+650).