Brad Keselowski stayed on the track during a late caution on Sunday, and the gamble paid off with his first career win at the Coca-Cola 600.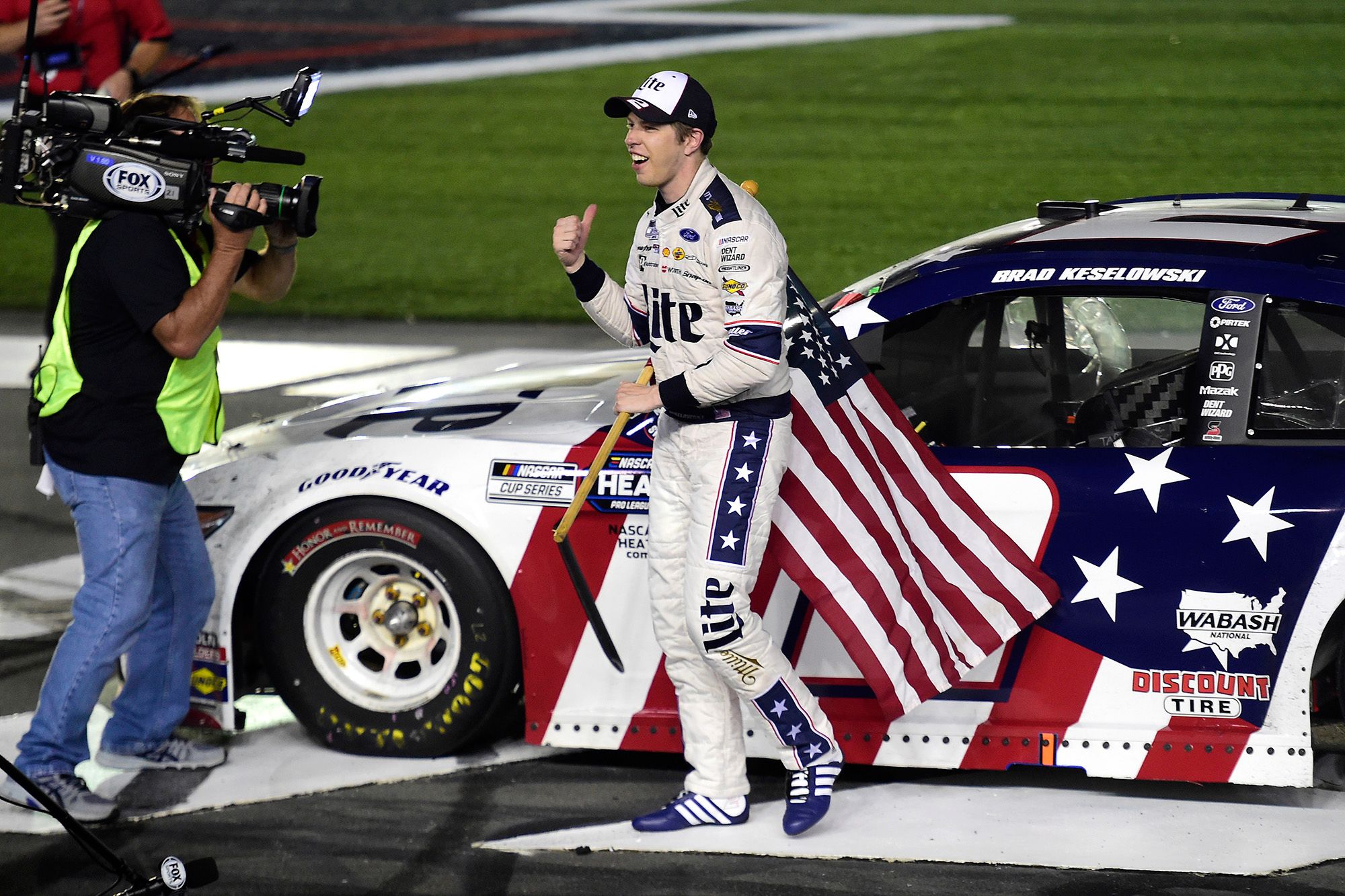 Keselowski booked his first victory of the 2020 season, narrowly edging out Jimmie Johnson by .293 seconds in overtime.
Keselowski Grabs Long-Awaited Major Title
Johnson's car failed a post-race inspection and was disqualified, moving Chase Elliott up into second place. Elliott held the lead by 1.6 seconds over Keselowski with just over two laps remaining when William Byron spun out with a flat tire. Elliot chose to pit, while eight drivers – including Keselowski – took their chances on old tires.
While Elliott was able to use his fresh tires to move up into third place – second, after Johnson's disqualification – that was as close as he could get in the two-lap overtime.
That means Keselowski earned a long-awaited title that had eluded him throughout his career.
"I feel like I have thrown this race away a handful of times, and I thought we were going to lose it today," Keselowski said afterward. "I have lost it the way Chase lost it, and it really stinks. And today we finally won it that way."
While Keselowski regretted that the win came without fans in attendance, he still regarded it as a major accomplishment.
"It's major. It's the Coke 600," Keselowski said. "That only leaves one major for me, the Daytona 500. We're checking them off. We may not have been the fastest car today, but, whoa, did we grind this one out."
Late Caution Leaves Elliott in Unenviable Position
Elliott was stunned by the caution in the dying moments of the race. With the contest sure to go into overtime, the leader was put in an impossible situation. If he pitted, many of the drivers behind him were sure to stay on the track to force him as far back in the pack as possible. Had he stayed out, the entire chase pack was likely to get fresh tires to track him down.
"You just try to make the best decision you can," Elliott said. "Those guys are just going to do the opposite of whatever we do. That's just a part of it. You make decisions and you live with them. It wasn't the pit call – I think being on offense is fine."
After Johnson's disqualification, Ryan Blaney moved up to third place, with Kyle Busch and Kevin Harvick rounding out the top five. Martin Truex Jr., Kurt Busch, Tyler Reddick, Christopher Bell, and Chris Buescher also booked top-10 finishes.
NASCAR continues its compacted schedule on Wednesday, as drivers will again compete at Charlotte Motor Speedway in the Alsco Uniforms 500. William Hill has Truex (+400) as the favorite to win Wednesday's race, ahead of Elliott (+500), Kyle Busch (+700), and Alex Bowman (+900). Keselowski comes in as a +1000 pick to win two straight in Charlotte.
In the overall NASCAR Cup Series Championship race, William Hill lists Harvick as the +500 pick to win the title for 2002, ahead of Kyle Busch (+600), Elliott (+650), and Joey Logano (+650).