The rhetoric was at full speed on Wednesday as Deontay Wilder and Luis Ortiz made their final comments about Saturday's Wilder-Ortiz II heavyweight fight. The two boxers will square off at the MGM Garden Arena in Las Vegas on Saturday.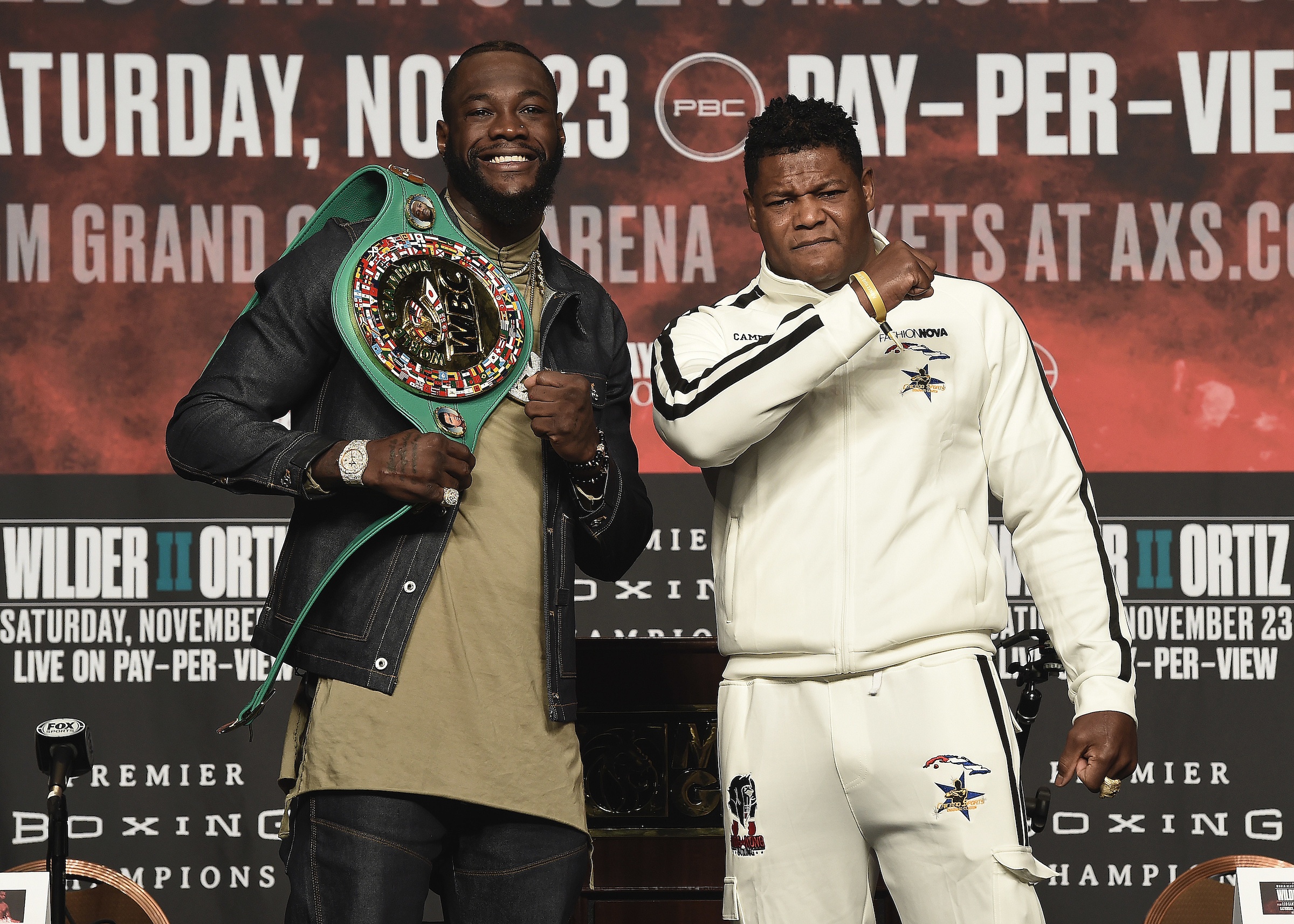 Ortiz  (31-1, 26 KOs) will try and dethrone Wilder for a second time. The first attempt was nearly two years ago. The now 40-year-old Cuban boxer, nicknamed "King Kong," had Wilder struggling, but the champion managed to recover and score a TKO in the 10th round.
Wilder said on Wednesday at the MGM that he has respect for Ortiz, and despite being at -650 to win the rematch, doesn't take him lightly.
"Luis Ortiz is one of the best in the world and one of the most dangerous men in boxing," Wilder said. "No one in the top 10 has given him an opportunity. They say he's old, but if that's the truth, then one of them should get in there with him."
Ortiz, who is +450 to win, was appreciative of the opportunity for Wilder-Ortiz II.
"I definitely want to thank Deontay, and my whole team, for getting me this opportunity for a rematch. This is what life is all about. This is not going to be my last opportunity. I'm here to fight and that's what you'll see on Saturday night."
Expect Knockout at Wilder-Ortiz II
That doesn't mean Wilder (41-0-1, 40 KOs) was predicting a close fight in Wilder-Ortiz II. The champion believes Ortiz will need a flawless fight if he has any hope of scoring an upset.
"We train very hard to be prepared and go to war," Wilder said. "You already know what to expect. The hard part is the waiting. This is what it's all about. I can't wait for Saturday night. My opponent has to be perfect for 12 rounds, and I only have to be perfect for one second."
That is exactly what Ortiz plans on doing.
"Like I said before, and Deontay said too, this is not going 12 rounds," Ortiz said. "One of us is getting knocked out. I wish there were no bells between rounds so we could just keep going."
Motivation For Both Fighters
Ortiz has talked about how he was upset that he lost the first fight of his professional career in March 2018 at the Barclays Center in Brooklyn. He said after the bout that he thought he had set up Wilder for a knockout, and then was surprised when the champ weathered the hail of punches Ortiz rained down on him.
Three rounds later, Ortiz was punched out and Wilder got the TKO in the 10th. That taught the challenger that for Wilder-Ortiz II he needed to be in much better shape. He committed himself to a diet and exercise regime that he truly believes will be the difference on Saturday.
"I don't like to lose. There were legitimate circumstances why I wasn't at my best the first fight. It was a fatigue stoppage. I believe if I had continued, I would have gotten the knockout. It was only fatigue, but I've corrected that this time around, so the better man will win."
Wilder said he is always in shape, and was ready for the second fight the minute it was announced.
"Luis Ortiz looks good, but I don't think it's going to matter against a fighter like me," Wilder said. "I'm in shape 365 days a year. I come to camp in shape. The first day of camp, we were sparring. It's always good to see my opponents in shape and prepared properly for a war. That's all I can ask. Because they know what they're in for when they go against me."
Ortiz claimed his new attitude and strategy will prevail.
"We will show you on Saturday night how we're going to win," Ortiz said. "When the bell rings it will be on display. But we're always ready to adapt. Everyone will see on Saturday night."