Bob McNair, the owner of the Houston Texans, died at the age of 81. McNair suffered from skin cancer for two decades, but an exact cause of death is unknown.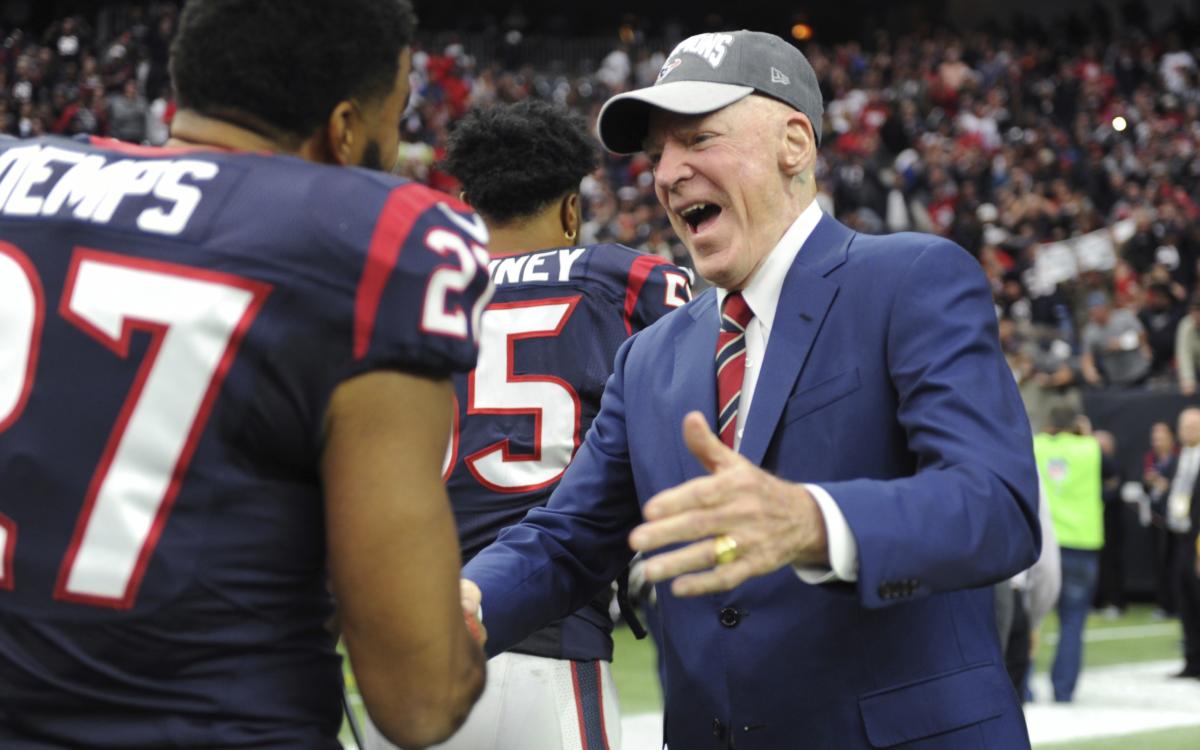 Riding Off into the Sunset
On Friday, the Houston Texans announced their owner passed away in a statement.
"It is with deep sadness that we announce Houston Texans Founder, Senior Chairman and Chief Executive Officer and philanthropist, Robert C. McNair passed away peacefully in Houston today with his loving wife, Janice, and his family by his side."
The statement did not reveal the cause of death. However, it has been public knowledge that McNair battled skin cancer over the last two decades. McNair is survived by his wife, Janice, and their four children.
"Rest In Peace Mr. McNair," Houston Texans star player JJ Watt tweeted on social media. "Thank you for giving myself and so many others an opportunity here in Houston. My thoughts are with Janice, Cal and the entire McNair family."
This is the second NFL team owner to pass away in 2018. Earlier this season, Paul Allen, the co-founder of Microsoft, passed away at the age of 65. Allen owned three professional sports teams including the Seattle Seahawks, Portland Trailblazers, and Seattle Sounders FC.
Carolinas to Texas
Robert C. McNair, born on January 1, 1937, grew up approximately an hour west of Charlotte, North Carolina. McNair attended the University of South Carolina in Columbia, SC and graduated with a degree in psychology in 1958.
With a job in sales, McNair moved to Houston, Texas in 1960. He began an executive car rental business, then a trucking company, which struggled and went near bankrupt.
In the 1980s, McNair shifted his focus and energy to energy. While the oil industry was collapsing in Texas, McNair took advantage of deregulation in the energy industry.
Rising to Power (Plants)
McNair started a new company utilizing cogeneration technology. Cogen Technologies would go on to own five major power plants across America.
McNair sold three Cogen power plants to Enron in 1999 for $1.5 billion. Overnight, he was a billionaire. McNair did not hold onto his windfall for very long. He donated a significant portion of the money and put in a $700 million bid to bring a pro football team back to Houston.
Houston Expansion
The Houston Oilers left Texas and relocated to Tennessee and renamed themselves the Tennessee Titans after the 1996 season.
In 1999, with the Enron money burning a hole in his pocket, McNair bid on an expansion team with the sole purpose to bring a team back to Houston. After an unanimous vote, the NFL approved the Houston Texans.
McNair paid the $700 million expansion fee and the Houston Texans were admitted as the 32nd team in the NFL. According to Forbes, the Texans are currently worth $2.8 billion.
The Texans played their first game in the 2002 season. McNair helped bring two Super Bowls to Houston's home stadium in 2004 and 2017.
The time in Houston was not without its fair share of controversies. In 2017, McNair had to walk back several controversial statements involving players protesting police violence against unarmed citizens by kneeling for the national anthem. McNair also caught heat for standing by his long-time friend and former Carolina Panthers owner.
McNair's son, Cal, is currently the chief operating officer of the Texans and has been handling day-to-day operations since Bob McNair stepped down in 2014. Cal played football at Texas in Austin as a walk-on.
Response Around the League
McNair's death prompted an outpouring of messages, including a statement from former President H.W. Bush.
"Bob McNair wasn't just the brightest point of light in Houston; he was one of the kindest and most generous people anywhere," President Bush said in an official statement. "Nobody cared — or helped people — more, and that's just one of the reasons I will always be proud Bob was my good friend. He was simply The Best. My most sincere condolences and family love go to Janice and her wonderful family."
"During his nearly two decades as an NFL owner, Bob McNair left a lasting mark on his city and our league," said NFL commissioner Roger Goodell. "His leadership and determination brought the NFL back to Houston, built a magnificent stadium that hosted two Super Bowls, and his beloved Texans are in the midst of another successful season and are again contending for a place in the postseason.
"Mr. McNair was an amazing man who made tremendous contributions to the NFL and the city of Houston," added Texans coach Bill O'Brien. "He was a very caring, thoughtful and passionate individual. As much as he cared about winning, I think the thing I will remember most about Mr. McNair is the way he cared about the players. I know how much giving back meant to him and his loyalty and generosity to the city of Houston and our community will never be forgotten. My thoughts and prayers are with Janice and the McNair family."
Former Texans star WR Andre Johnson posted on Instagram, "Can't thank you enough for giving a kid from Miami a chance to live out his dream of playing in the NFL. My deepest condolences goes out to the McNair family."
Rest In Peace Mr. McNair. Thank you for giving myself and so many others an opportunity here in Houston. My thoughts are with Janice, Cal and the entire McNair family.

— JJ Watt (@JJWatt) November 24, 2018
Philanthropy and Legacy
Forbes listed McNair as one of the richest sports owners America with a net worth valued at $3.8 billion.
McNair donated $100 million to Baylor University medical school to be used to build the Baylor College of Medicine McNair Campus and to also recruit the top physicians and scientists in the world.
McNair also created the Robert and Janice McNair Educational Foundation, which gives away millions to educational assistance. Including the Houston Texans charitable foundation, McNair donated over $500 million to medicine, science, education and faith-based organizations.