The Saint Louis Blues are one win away from winning the Stanley Cup after defeating the Boston Bruins 2-1 in Game 5 in Boston to take a 3-2 series lead. However, the victory has been tainted by an obvious no-call when the Blues' Tyler Bozak did not receive a penalty for tripping the Bruins' Noel Acciari on a play that resulted in a goal.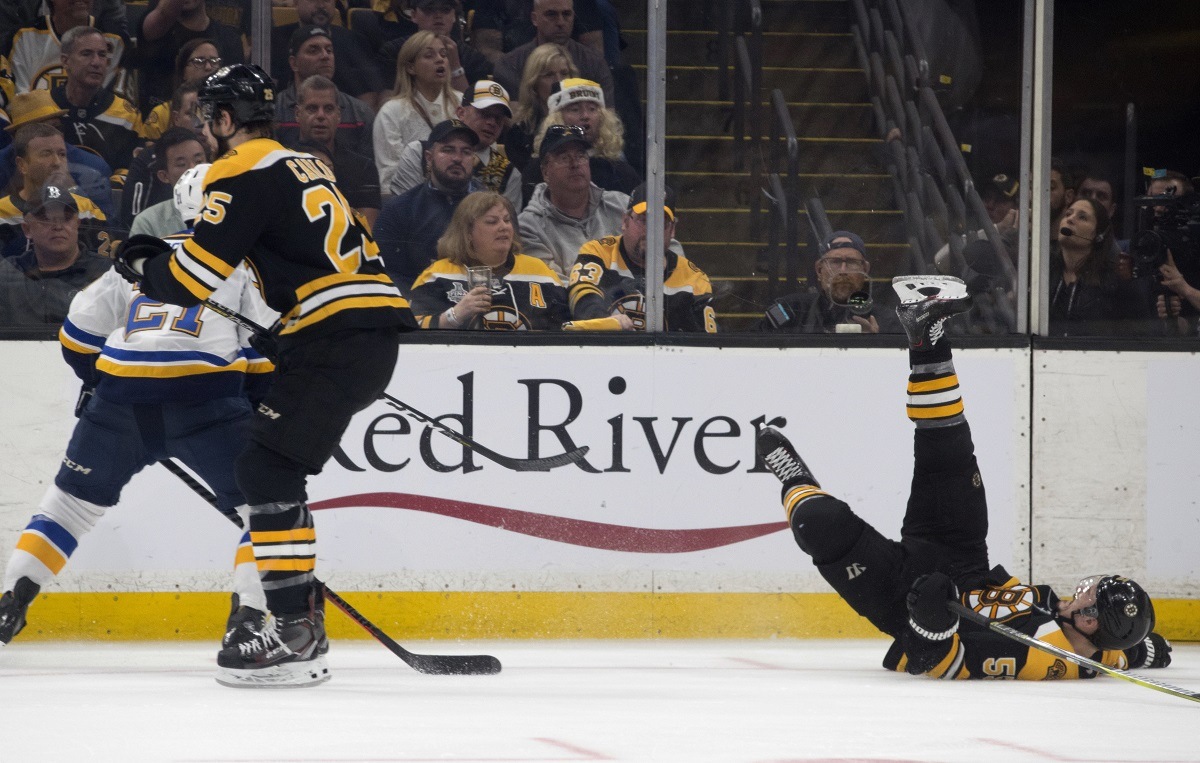 A couple of games after getting pulled by head coach Craig Berube, rookie goalie Jordan Binnington responded with back-to-back wins for the Blues. He held the Bruins to only one goal in Game 5 with 38 saves.
Ryan O'Reilly scored again for the Blues with a goal in the opening minute of the game. The Bruins trailed the rest of the game. In the third period, the Bozak trip on Acciari facilitated a goal by David Perron to put the Blues ahead 2-0.
Binnington gave up a late goal to Jake DeBrusk, but that's all the Bruins could muster against an impenetrable Binnington.
Tuukka Rask recorded 18 saves by allowed two goals for the Bruins.
Another Bad (No) Call from the Zebras
The officiating in the NHL playoffs have been inconsistent and sloppy. Typically, the refs swallow their whistles in the playoffs and let everyone play a rougher game.
The San Jose Sharks and Las Vegas Knights series experienced their share of poor officiating. The NHL even had to apologize for a bad call.
However, in this instance, the infraction happened in front of the zebras and they let the action play on. They stood by their no call, or what the suits refer to as a "judgement call". No mater what team you root for, it's hard to argue the evidence of Acciari's blatant trip up by Bozak.
"It's blatant," said Bruins head coach Bruce Cassidy. "It had a big effect on the game. It's the National Hockey League getting a black eye with their officiating in the playoffs."
"There are hundreds of judgement calls in every game. The official on that play, he viewed it and he didn't view it as a penalty at the time," said Steve Walkom, NHL's director of officiating.
Tyler Bozak gets away with this trip on Noel Acciari… 🤔#StanleyCup pic.twitter.com/gSmUhpnN8r

— Sportsnet (@Sportsnet) June 7, 2019
On Deck: Game 6
The series shifts back to St. Louis for the next game. The Blues not only have a shot to win the Stanley Cup, but they have a chance to hoist the Cup on their home ice.
"We have a big job ahead of us," said Berube. "That's the way I look at it."
Heading into Game 6, the Blues are slight home dogs at +105. The Bruins are favorites on the road to avoid elimination at -120.